Election 2015: The choice is clear – you can vote for a stable economy, or financial ruin
As part of i's election special, David Cameron gives you his final pitch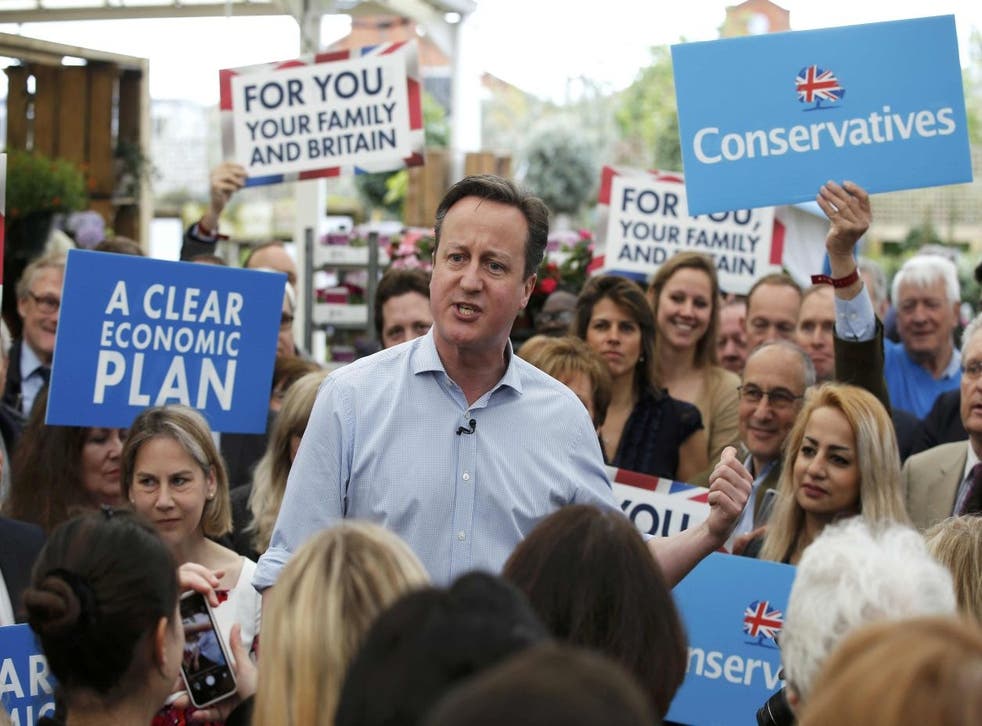 Tomorrow the people of Britain will make a momentous decision: between continuing to turn our country around, or taking us back to the dark days of higher borrowing, debt and taxes. It really is the most important election in a generation – the difference between recovery and ruin. And the outcome will have a profound effect on you, your family and our country.
Never forget what we inherited: the jobs that were lost, the homes that were repossessed, the businesses that went bust – all thanks to Labour's recklessness with the economy. And never forget what we did: turned the country with the deepest recession in its peacetime history into the fastest-growing major economy in the West.
People across Britain – the unemployed, the low-paid, the sick, the elderly – are depending on that strong economy. The best route out of poverty is a job and we've helped to create two million of them. That's more people in work than ever before. The best help for the low paid is tax cuts – and we've taken three million out of income tax.
The best hope for a young person's future is a decent education and training – and we've got a million more pupils in good or outstanding schools, two million into apprenticeships, and more people off to university than ever. We've only been able to protect our NHS because we got our economy on track. Look at Spain and Portugal: they've crashed their economies and cut their health services as a result. And for pensioners, we've been able to increase the State Pension by £950 a year compared to 2010.
The job is far from finished, though. We are pledging to eliminate our deficit and run a surplus. We'll create two million more jobs and aim for full employment: a job for everyone who wants one. We won't just cut the taxes of people on the Minimum Wage; if they work 30 hours a week, we'll cut out their income tax altogether. We'll create three million more apprenticeships, help thousands more young people onto the housing ladder, and help parents by doubling free childcare for three- and four-year-olds to 30 hours a week. Making life better for you – but only with a strong economy.
The alternative is handing back power to the people who crashed the economy. Ed Miliband can only get into No 10 with the SNP, in a nightmare alliance between the people who want to bankrupt Britain and the people who want to break up Britain. With Nicola Sturgeon approving every vote, do you think a strong economy for the whole of Britain is going to be their priority? Do you think they care about helping pupils, parents, pensioners across the UK? No – they don't even want to be in the UK.
So the choice is clear. Me as Prime Minister – or Ed Miliband as Prime Minister, held to ransom by the SNP. A strong economy, or a weak, unbalanced, unstable economy. A plan to make life better for you, or a whole load of promises and no way of delivering them. I say we need that stability, that strong economy. Families across the UK are depending on that. I can make the case for it. But only you can make a brighter future for Britain a reality, by voting Conservative tomorrow.
Register for free to continue reading
Registration is a free and easy way to support our truly independent journalism
By registering, you will also enjoy limited access to Premium articles, exclusive newsletters, commenting, and virtual events with our leading journalists
Already have an account? sign in
Register for free to continue reading
Registration is a free and easy way to support our truly independent journalism
By registering, you will also enjoy limited access to Premium articles, exclusive newsletters, commenting, and virtual events with our leading journalists
Already have an account? sign in
Join our new commenting forum
Join thought-provoking conversations, follow other Independent readers and see their replies