Elephant Appeal: The Kenyan canine unit putting elephant poachers off the scent
The business of protecting wildlife has now become an extremely professional and militarised affair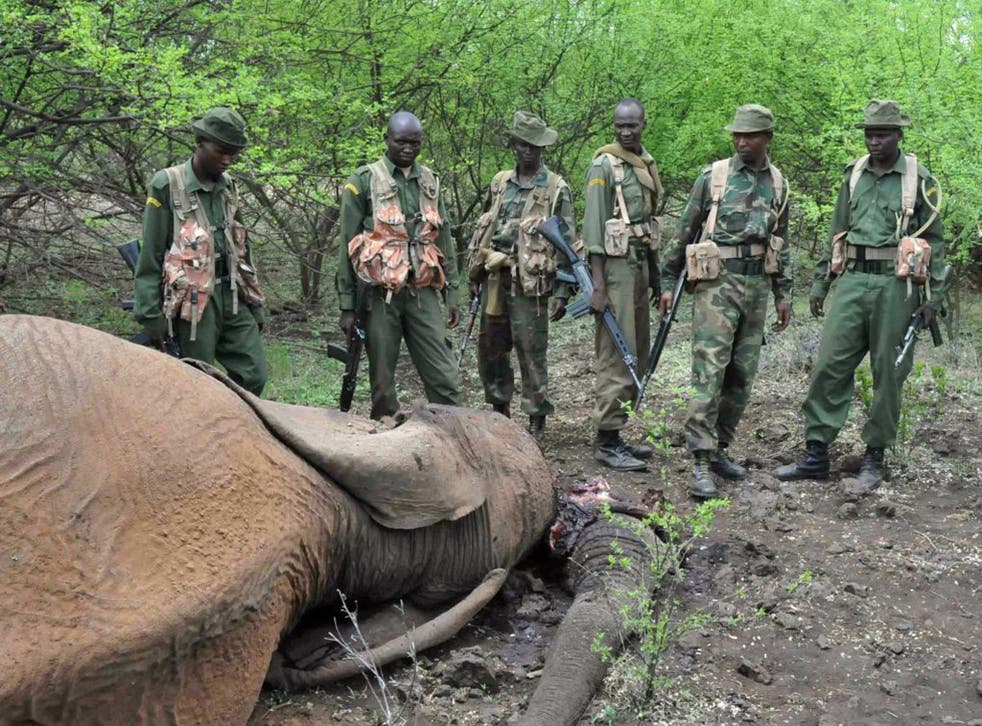 The attack dog was 200 yards away, its head just visible through the tips of the long grass in which it crouched.
I had already been warned that it weighed 100lbs and once it reached full speed it would be travelling at 35mph. Most disturbing of all was that its jaw had a biting strength of 40 pounds per square inch.
"He will go for the arm," the dog's handler had told me. "Then, if the person struggles, its teeth will shred the whole arm down to the wrist bone."
I had been fitted with a full body bite suit, which I was assured offered guaranteed protection. But, whatever the supposed effectiveness of the specialist clothing, the reality was that I now stood alone in the midst of an African savannah waiting for a dog to charge me – impossible not to dwell on the impact of those teeth.
I found myself in this situation as I had come to the Ol Pejeta Conservancy in the central Kenyan district of Laikipia to see the work done by the Space for Giants charity, the subject of this year's Independent Christmas campaign.
Ol Pejeta has some of the world's most threatened wildlife: not only elephants, but also rhinoceroses, including four of the only seven northern white rhino still in existence. That means they are constantly under attack from poachers.
To combat this, Space for Giants and its partners have had to put together their own defence force. So serious is the threat, and so ruthless the poachers, that training the teams that now patrol the conservancy is a former sergeant-major in the SAS who only recently left the regiment after 27 years' service.
The business of protecting wildlife has now become an extremely professional and militarised affair. The rangers, all reservists in the Kenyan police force, have the latest weaponry, primarily the German-made G3 rifle.
A rapid-response team can be deployed in a helicopter at the first sign of trouble. Motion detectors and even unmanned drones are being considered to try to stop the poaching gangs, who are slaughtering 100 elephants across Africa a day and are quite willing to kill any rangers who try to stop then.
This is why anti-poaching measures make up one of the key areas to which money donated by Independent readers will be focused, along with helping establish a new East African conservancy, local community outreach, and GPS tracking to gain a better understanding of elephant movement patterns.
The newest addition to the anti-poaching cause at Ol Pejeta is its dog unit. A dozen dogs, mostly Dutch Shepherds crossed with Malinois, are being trained to take down a poacher when instructed to. They are also able to scent weapons and even smell ivory on a person.
It is believed they will act as a powerful deterrent – and I was about to understand why.
The dog that was to be unleashed on me had been named Tarzan as he was so much bigger than the rest.
Once released, he came towards me at such speed that I was almost caught by surprise as he loomed before me – sharp fangs and black set eyes.
I had been told to turn my head and hang out my right arm, so he would go for it not my body. The impact as he seized my arm was enough to swing me off my feet and I almost sailed in a full circle through the air before crunching against the ground.
It took three men to get him finally to release his grip. Even restrained, he pulled against his leash so the man holding it had to set his legs against the ground to control him.
It was a pretty scary experience, especially the moments afterwards as he gripped and shook my arm with his jaw locked to the padding. Then there was no escaping his size and ferociousness.
"Do you want a second go?" Tarzan's handler asked me.
"Absolutely not," came my answer.
For the sake of Ol Pejeta's wildlife, let us just hope the elephant poachers prove as reluctant to confront him as I was at the prospect of having to face him once again.
To donate now, go here
Register for free to continue reading
Registration is a free and easy way to support our truly independent journalism
By registering, you will also enjoy limited access to Premium articles, exclusive newsletters, commenting, and virtual events with our leading journalists
Already have an account? sign in
Join our new commenting forum
Join thought-provoking conversations, follow other Independent readers and see their replies