Faceless drones won't solve Amazon's PR problem
Ten miles in 30 minutes? A teenager on a scooter could do that in less time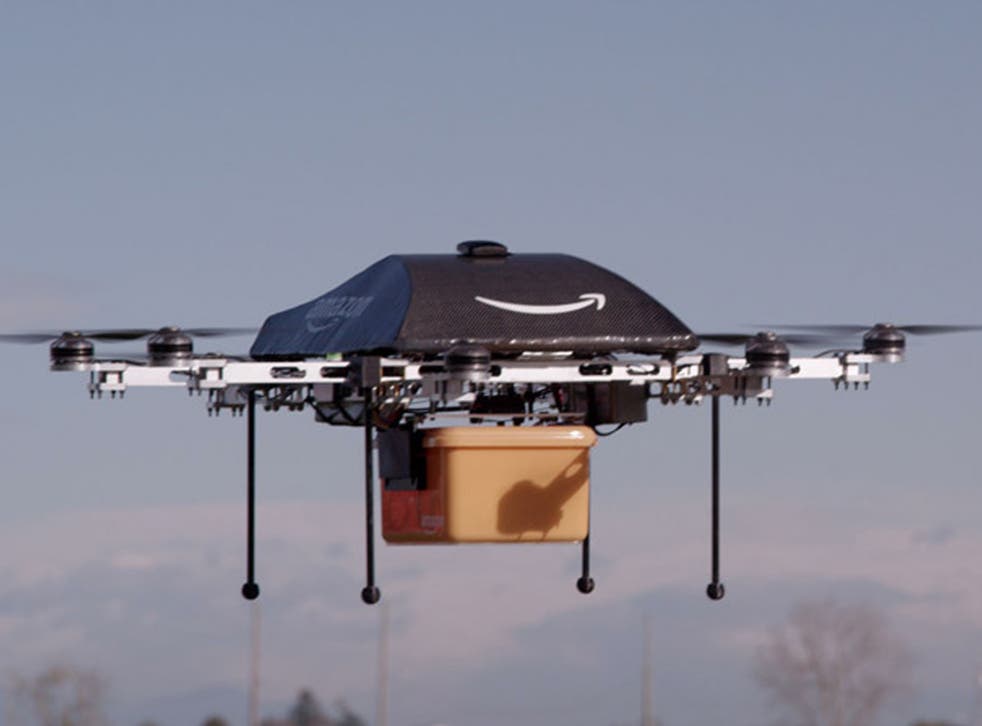 Amazon is in a tricky spot, PR-wise, on its busiest day of the year (its UK site took 41 orders per second on this day last year). The retailer is facing unprecedented scrutiny of journalists exposing working conditions (read on); calls for a boycott by MPs not impressed by its imaginative tax arrangements ; and the wrath of gamers who will receive their Playstation 4's after Christmas.
Either in response to a rare run of Amazon-bashing - or by coincidence - Jeff Bezos, the company's mercurial boss, last night revealed a fanciful vision of a future in which drones might deliver your stuff in 30 minutes. The video, given huge prominence on the CBS 60 Minutes program in the US, comes more than six months after Domino's Pizza pulled exactly the same stunt. But when you're Bezos nobody minds and, by morning, your story is everywhere.
First, the suggestion that the drone story might not be a PR stunt. Really? Give it five years, Bezos says. That's five years to work out a way to serve people who happen to live within 10 miles of an Amazon warehouse, while dealing with things like power lines, buildings, the lack of landing sites at your average flat, wind, vandalism, crashes, the risk of drone theft.
Also, ten miles in 30 minutes? A teenager on a scooter could do that in less time. But then a drone doesn't demand minimum wage (Amazon warehouse workers get a bit more). Given some of the recent coverage of the store's pay and working conditions, its vision of an unmanned future is especially timely.
A significant proportion of the thousands of people at its Swansea warehouse appear to be journalists. I went there in October to assess the retailer's impact on the former industrial towns where it tends to set up shop. Then, last week, BBC Panorama got in, undercover, to add to plenty of earlier reporting on tough regime (its reporter said workers there were "like robots…").
Yesterday, The Observer, acknowledging it had been scooped by Panorama, ran an excellent story by Carole Cadwalladr, who also managed to get undercover work in Swansea, and wrote similar things, as well as this:
"I wonder for a moment if we have committed the ultimate media absurdity and [Panorama's] undercover reporter… has secretly filmed me while I was secretly interviewing him."
He hadn't, as it happened, but it's no coincidence that people have questions about how a company this big works - to understand the thinking outside the box. And it's not only a conversation here. Amazon workers in Germany have gone on strike over pay and the company is facing fierce resistance in France to the threat it poses the independent book trade.
Amazon responded to the BBC film with a lengthy statement and a series of videos of its happiest "associates". Longer term, however, it may yet have to rethink it's marketing strategy. For 15 years in this country Amazon has triumphed simply thanks to the convenience and reliability of its service. But it will have to do more now, in its tax dealings as well as working conditions, to maintain that confidence. Faceless drones probably aren't the answer.
Register for free to continue reading
Registration is a free and easy way to support our truly independent journalism
By registering, you will also enjoy limited access to Premium articles, exclusive newsletters, commenting, and virtual events with our leading journalists
Already have an account? sign in
Join our new commenting forum
Join thought-provoking conversations, follow other Independent readers and see their replies