Fifty Shades of Grey: This enters a new terrain of toxicity – and no feminist can think otherwise
You don't always have to be "on top". But you do always have to be equal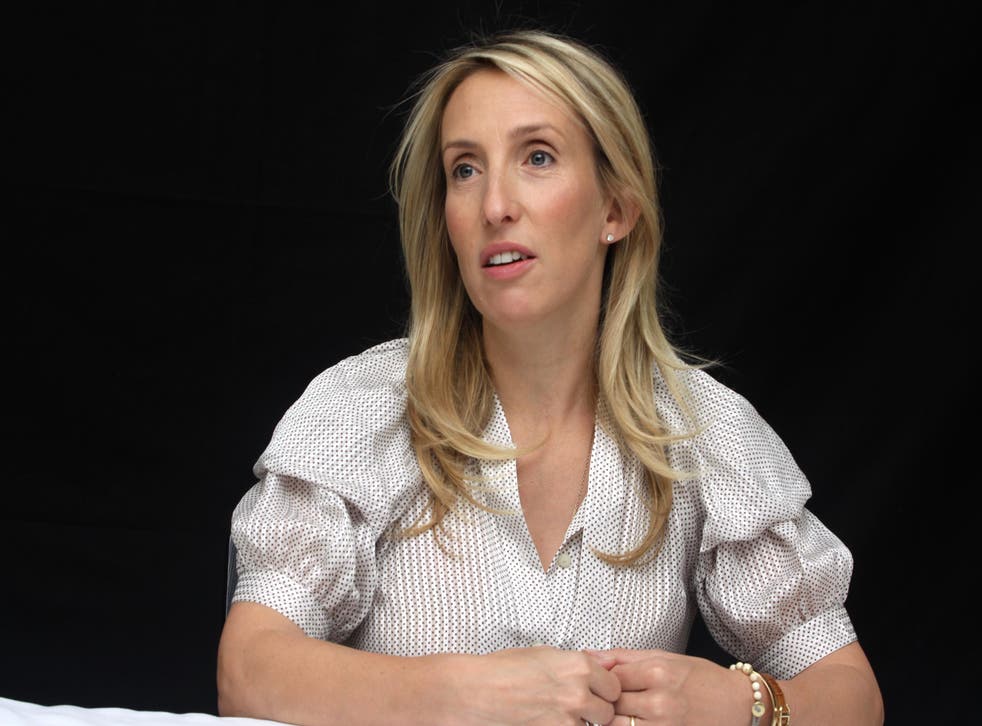 I haven't seen Fifty Shades of Grey, the movie, but no one else has seen it either – except the British Board of Film Classification, which gave it an 18 this week. It's about murder, mutilation and rape. It's a fairly serious business – which is why domestic violence campaigners in America have called for a boycott of the film, asking movie-goers to spend the cost of tickets on a donation to women's shelters instead: #50dollarsnot50shades.
The film is embargoed until its premiere in Berlin, just in time for worldwide release on Valentine's Day. Then again, I won't be going in any case. You'd have to tie me up to make me watch the thing. Just the thought of all that wealth porn and titillating sexual violence is vomit-inducing if you ask me.
Worse, I find, is the role of director Sam Taylor-Johnson – assigned to the job in what looks like an attempt to give the enterprise some ersatz artistic oomph and a whiff of credibility, in part because of her gender. Even in our sexist age, the producers would never have got away with a man looking down this particular lens.
A former Young British Artist, Taylor-Johnson has been doing the rounds of publicity and coolly defending herself, notably with the observation: "To be a feminist doesn't mean you always have to be on top." It's a great line. Well done to Taylor-Johnson – or the film's PR – for thinking that up. It's only a line, though – because almost in the same breath Taylor-Johnson admits that, before Fifty Shades, she was being passed over in the industry because she has recently taken time out to have two more children. "I'd go to meetings and they'd ask what I'd been up to since Nowhere Boy, and I'd say, 'I just had my fourth baby' – and I could feel myself being shuffled out the door".
So, clearly, she would like to be somewhere near the top – or, at the very least, she doesn't much like being unfairly underneath. She goes on to say that taking the Fifty Shades job was a "Machiavellian" tactic to move herself up the list. "If you can't beat them, join them" would be another way – my way – of putting it.
Perhaps STJ will climb further up that industry list as a result of this film. Who knows? What's for sure is that equality for all the rest of us women in the world will be shuffling a little further out the door.
I know there is an argument that the sex in Fifty Shades is consensual and that it's disrespectful to women into the BDSM scene (bondage, discipline, sadism, masochism) to suggest they are colluding in abuse, that you should be allowed to let yourself be tied up and blindfolded and whipped if that's what you want to do (and you should). It still doesn't mean that this film is going to advance the cause of womankind one iota.
It's a film where a woman lets a man beat her "out of love", where a woman is supposedly empowered by submitting – all wrapped up in a great big toxic fantasy of wealth and glamour. And the fact that the heroine walks away when it does become "abusive" doesn't make it OK. You can bet she'll be back for sequels.
"There will always be humourless people in the world," says Taylor-Johnson. That's me, I guess. But does the "it's only a bit of fun" argument really wash here? STJ says herself that she was being passed over in the workplace because of her sex. Quite. Millions of women all over the world suffer the injustice of inequality for this very reason. And for some it isn't just a case of not getting to direct that Hollywood movie you had your eye on. For countless women, sexual equality is about basic human rights – about freedom, poverty, health and access to education. It's about murder, mutilation, rape and domestic violence. It's a fairly serious business.
Fifty Shades of Grey film stills

Show all 24
The not-always-having-to-be-on-top idea implies that mostly feminists do want to be on top. It's just a short step from that to the old "feminists are man-haters" stick that men used to beat us with (no pun intended). The vast majority of feminists have fathers and brothers and sons (not to mention those who have male partners) – which means the vast majority of feminists not only like but love (individual) men. They don't want those men to suffer the inequality they suffer. In fact, feminists want to get rid of the whole one-up-the-other-down thing and always have done. So, no, you don't always have to be on top – but you do always have to be equal.
As for the literal "on top" part, it's true that you might prefer to be underneath in bed and still be a feminist. You might just be lazy, for instance. It could also be the case that you enjoy BDSM and are still a feminist – our sexuality chooses us, after all. But if it's the case that women have fantasies of being tied up to get past inbred guilt over their sexuality (to take their own agency out of it) – which makes sense to me – and if it's the case that women have the guilt in the first place only because of the sexist culture they grew up in, then what you can't do – in my view – is support a film that glorifies and normalises that fantasy and still be a feminist. A feminist hopes that fantasy will go away when sexism goes away.
A feminist doesn't want Fifty Shades and its like to be so normalised that she is offered a copy of the book along with her groceries – as I was once on the Ocado website. I complained, saying that I didn't want to be reminded of BDSM soft porn in this context and – to do Ocado credit – it apologised very promptly. But it goes to show that Ocado clearly didn't think it was odd to tout the book alongside the baby wipes and the Cif.
Fifty Shades was always said to be the book that took advantage of the new-found anonymity of Kindles – you could read it on the train and no one would know. I wish that had been the extent of it. Sorry to say, Fifty Shades became the book you could read on the train without a Kindle – in full-frontal paperback. I remember seeing one woman doing this with such a smug "So sue me" look on her face that I was convinced she had a dungeon in her basement.
Which brings us to Valentine's Day – the chosen day for the release of this dreaded film. Valentine's Day, if you please. Forgive me if I'm wrong, but isn't this the day that we celebrate love? Not that I like Valentine's Day – I hate Valentine's Day and its dreary red roses and dinners à deux – but my dislike of Fifty Shades is so great that it's brought me out in defence of Hallmark and love hearts and proposals on bended knee. The idea, presumably, is that couples will go to this film on Valentine's Day because they are in love. They will go to it on dates. I can hardly bear to imagine.
I feel for the men mostly. They'll come away thinking they need a million in the bank and a terrible way with the whip, when all they really want is a cuddle and a cooked breakfast. Surely if anything is going to give them performance anxiety, Fifty Shades is it. Not a great recipe for romance – and they are trying to sell this film as romance, a "dark fairy story", as Taylor-Johnson would have it. Because apparently wealthy businessman Christian Grey loves mousy heroine Anastasia so much he is helping her out of her shell (and into a nice pair of handcuffs). Great. And she's helping him by loving him despite his dark secret.
Daphne du Maurier's Rebecca comes to mind. Or Jane Eyre – sort of. Taming the beast. And it's true, big Hollywood romantic fantasies – such as Pretty Woman – have always been pretty toxic, but this one surely crosses into a whole new territory of dodgy relationship advice.
I may be misreading the whole damn thing. Perhaps the Fifty Shades phenomenon is actually a metaphor for the times we live in. Perhaps Grey stands for the super-rich and the corporations and the bankers who are having their way with us and we are Anastasia pretending to enjoy it because – really – we haven't got the gumption to complain. Now that would be a film worth watching. Maybe I'll be there next weekend after all. Maybe I'll take my Occupy mask and my "We are the 99 per cent" banner and nobble the couples coming out of the cinema. They'll be ready to sign my petition after watching Fifty Shades, won't they? They'll be ready to start the revolution, I would think.
Amy Jenkins is a screenwriter and a novelist
Register for free to continue reading
Registration is a free and easy way to support our truly independent journalism
By registering, you will also enjoy limited access to Premium articles, exclusive newsletters, commenting, and virtual events with our leading journalists
Already have an account? sign in
Register for free to continue reading
Registration is a free and easy way to support our truly independent journalism
By registering, you will also enjoy limited access to Premium articles, exclusive newsletters, commenting, and virtual events with our leading journalists
Already have an account? sign in
Join our new commenting forum
Join thought-provoking conversations, follow other Independent readers and see their replies