Food banks: Don't you people know how to make a banquet out of bugger all?
If these people knew how to cook, they'd be able to make nothing last for several weeks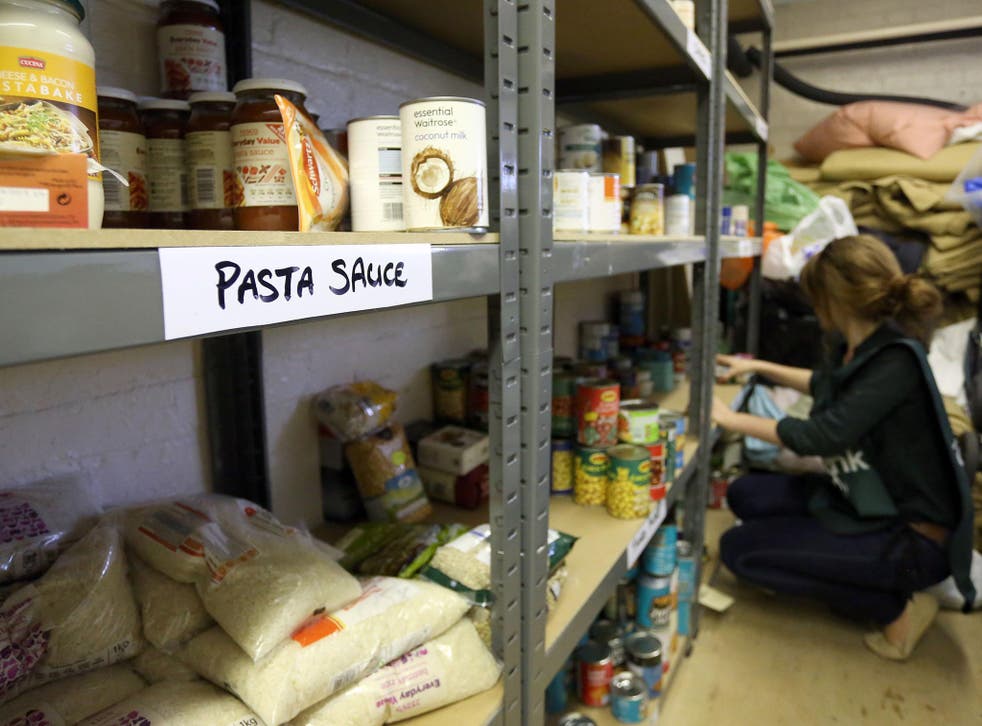 It's a shame the Conservative baroness had to apologise for suggesting some people go to food banks because "the poor have forgotten how to cook".
Baroness Jenkin could have helped millions with this theory, flying to villages in Somalia to announce: "I've come to save you all. Here's a recipe for making dumplings out of tree bark and ground-up pebbles. I got it from Heston Blumenthal. Practise this for a bit and you won't need to sponge off Oxfam, will you?" Maybe, along with other baronesses, she can record a song for Africa, where they sing the ingredients for a Bakewell tart.
You only have to glance at history to understand the point she was making. In Ireland in the 1840s, the potato famine took place because so many Irish spent all day playing the violin that they forgot how to grill a sausage, and those who survived left for America to learn how to make rice pudding.
Some people suggested her remarks were "taken out of context", so it might be fair to put the context back in. The Trussell Trust, which provides food banks, says the number relying on them is up 51 per cent since last year, and that benefit sanctions are the main cause. The Government disputes this, and it's probably right. It's just a coincidence that people tend to go to food banks roughly around the time their benefits stop. Some people are much too quick in jumping to the conclusion that there's a link between having your only source of income cut off, and running out of money. In any case, if these people knew how to cook, they'd be able to make nothing last for several weeks. In the 1950s, my grandmother made banquets out of nothing, including imaginary steak-and-kidney pudding and a buggerall fool for pudding, and it was even harder back then as she had to make do with powdered nothing.
But this is the reality of Britain's benefits culture, with millions of people every week looking around at piles of food in their house, then deciding: "I don't know how to boil any of it, so let's take our kids down the doctor's to apply for food vouchers and queue up at the food bank for a tin of spaghetti hoops instead." To be honest, we've all done it.
The homeless are even more annoying. These people you see sleeping in shop doorways aren't homeless as such, they've just forgotten the basic skills needed to build a house. The baroness said she could make a bowl of porridge for four pence, so with a pound's worth of porridge, it should be possible to build a three-bedroom terraced house with off-street parking – and you can lick the chimney for breakfast.
It's an impressive argument that the Conservatives are putting together, because they seem to be saying: "Since we've been in power, most people are worse off, and the poorest people have at last had their benefits cut. But the most exciting part is we've hardly started and need another five years to finish the job of making everyone even poorer."
In pictures: Food banks

Show all 9
If they get in again, by 2019 half the country will be relying on food banks, and a baroness will say: "This isn't a result of benefit cuts, it's because the poor have forgotten the basic art of cannibalism." Then they'll issue leaflets explaining with simple diagrams how to select the weakest member of the family and arrange them on to a spit.
So the context of the baroness's comments is a climate in which some call for tighter restrictions on food banks, such as the Conservative councillor near me who talked about people on "really good benefits… coming out with big bags of food. These people are not in need of these handouts."
And it's common to hear people complaining about the undeserving getting "free food". They must watch films of starving children on Comic Relief and start sobbing, then shout: "It makes me FURIOUS. That kid took a whole spoonful of rice off an aid worker for FREE, the greedy bastard."
Their problem is they're trying to assure their supporters they've cut benefits as they promised, but at the same time assure everyone these cuts aren't making anyone suffer. One way could be to insist food banks are actually a chain of restaurants with a poverty theme. They could get the Sunday magazines to write reviews such as: "The authentic crying children provoke an inclusive, if rustically urban, ambience. The aromas were intriguingly attractive – a blend of tinned apricots and a shivering old man – that carried an endearing air of 1930s nostalgia. For my aperitif I chose a packet of nappies, delightfully arranged in a blue plastic bag, and immediately I could see why this alluring establishment has already earned the custom of Sting and Gwyneth Paltrow."
Because Britain has proudly become a nation in which 913,000 people, over the past year, have had to rely on a food bank, the Conservatives should be less modest about this achievement. They could boast that here was yet another example of the boom in small businesses, with the food banks employing thousands of people in every town.
One way of getting George Osborne to assist them might be to persuade him that they were like normal banks, so the people running them will lose all the food, then reward themselves with a bonus of a warehouse full of pickled onions. Then instead of moaning about them, the Conservatives would bail them out with 70 billion quid.
Register for free to continue reading
Registration is a free and easy way to support our truly independent journalism
By registering, you will also enjoy limited access to Premium articles, exclusive newsletters, commenting, and virtual events with our leading journalists
Already have an account? sign in
Join our new commenting forum
Join thought-provoking conversations, follow other Independent readers and see their replies