A frosty G20 puts global warming on ice
The summit in Russia may herald the end of the stubborn global climate policy recession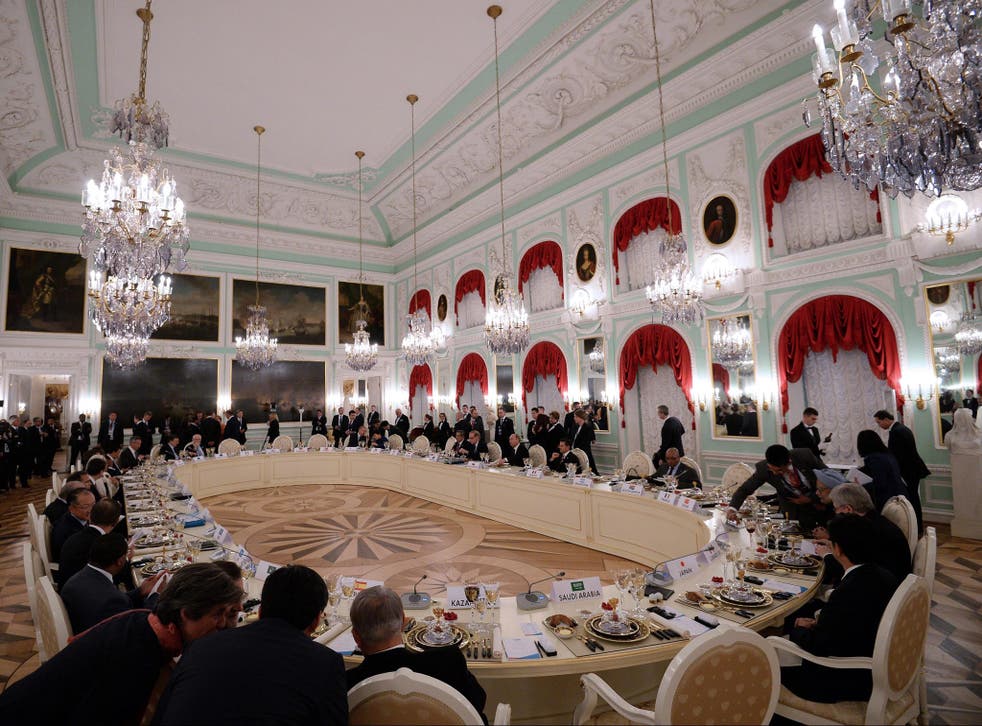 It took the frostiest international summit in years to take some heat out of global warming.
From the way the world's media covered the latest G20 meeting, you'd think the assembled leaders had failed to make even the smallest breakthrough on any major policy issue. But while the eyes of the world watched for ill-tempered body language between Vladimir Putin and Barack Obama, genuine progress was being made on the great policy challenge of our time: reducing greenhouse gas (GHG) emissions and preventing a global climate emergency and health scare.
Indeed the leaders of the world's largest economies did not spend all of last week eyeing each other warily over well-dressed plates of beef stroganoff. In fact, they hammered out a settlement to phase down the production and consumption of hydrofluorocarbons (HFCs) - dangerous climate pollutants thousands of times more potent than carbon dioxide.
HFCs are currently used around the world as refrigerant in homes, offices and vehicles, even though affordable and safe alternatives exist. Getting rid of them would reduce the equivalent of 100 billion tonnes of carbon dioxide by 2050 and avoid up to nearly 0.5 Celsius in global warming by 2100. That is massive. Eliminating HFCs is the largest, quickest and cheapest climate solution available today.
Before last week, Argentina, Brazil, India, and Saudi Arabia were unwilling to do anything about HFCs. But U.S. President Obama and Chinese President President Xi made an agreement earlier this year that set the stage for a colossal diplomatic breakthrough in the war against warming. The proposal the pair put to last week's summit involved amending a global agreement called the 1987 Montreal Protocol to cover HFCs. On the face of it, this seems a simple proposition; but by uniting global powers that elsewhere in the conference were at loggerheads in a major international crisis, the US and China have created new momentum and optimism for climate policy worldwide.
The G20 summit in Russia may have marked the end of the stubborn global climate policy recession. Beginning with the collapse of Lehman Brothers, and continuing through a string of financial, currency, employment and housing crises, world leaders have paid scant attention to the climate crisis despite mounting evidence of potentially catastrophic climate impacts around the world. The St. Petersburg G20 summit has returned climate action to the global political agenda.
In the coming weeks, the world's climate scientists will release a major report showing that climate change is more rapid and severe than previously understood. The magnitude of these findings will result in greater public pressure for climate solutions. Momentum may then continue to pick up: Climate change is on the agenda for Davos in January 2014 and U.N. Secretary General Ban Ki-moon will convene world leaders for a climate summit in September 2014. A critical goal at Davos and at the UN Secretary General's 2014 climate summit should be to push for the introduction of carbon pricing in most countries, starting with all G20 members.
Despite global policymakers' glacial pace of in this area, an international consensus still exists on the best way to reduce the world's carbon emissions: either by taxing them, or by trading them. In the former case, Governments make polluters pay for the GHGs they pump into the atmosphere; in the latter, they limit the quantity of gas that can be emitted and issue tradable permits to emit anything below that, creating an economic incentive to reduce your emissions and sell your permits on.
These models can be used to manage and reduce around 50 per cent of global emissions from fossil fuels. Crucially, both models ask that we place a price on the carbon emissions warming our planet.
At present, diplomats seeking to make this price a global reality must convince Argentina, Brazil, India, Indonesia, Mexico, Russia, Saudi Arabia and Turkey to join their G20 co-members in supporting it. While the United States and Canada don't yet have a carbon price at a national level, some of their major territories have introduced one and policy winds are blowing toward federal or national uptake. Brazil, Indonesia, Mexico and Turkey are heading in that the right direction, they just need a nudge. India's climate-change induced health epidemic is forcing the country to consider bold carbon reduction policies.
Perhaps it is too soon to say that last week's frosty summit will lead to a thaw in global climate policymaking. At the very least, though, it shows the progress world leaders can make when they seek sensible compromises away from the media's glare. We cannot underestimate the significance of the G20 low profile breakthrough on HFCs. Neither can we let things stop there. It seems that while the world's eyes are elsewhere, real progress can be made.
Join our new commenting forum
Join thought-provoking conversations, follow other Independent readers and see their replies