G8: 'There is one world – and we need to change how it is run'
Curing poverty, hunger, disease: Charity luminaries set out their stalls for Lough Erne summit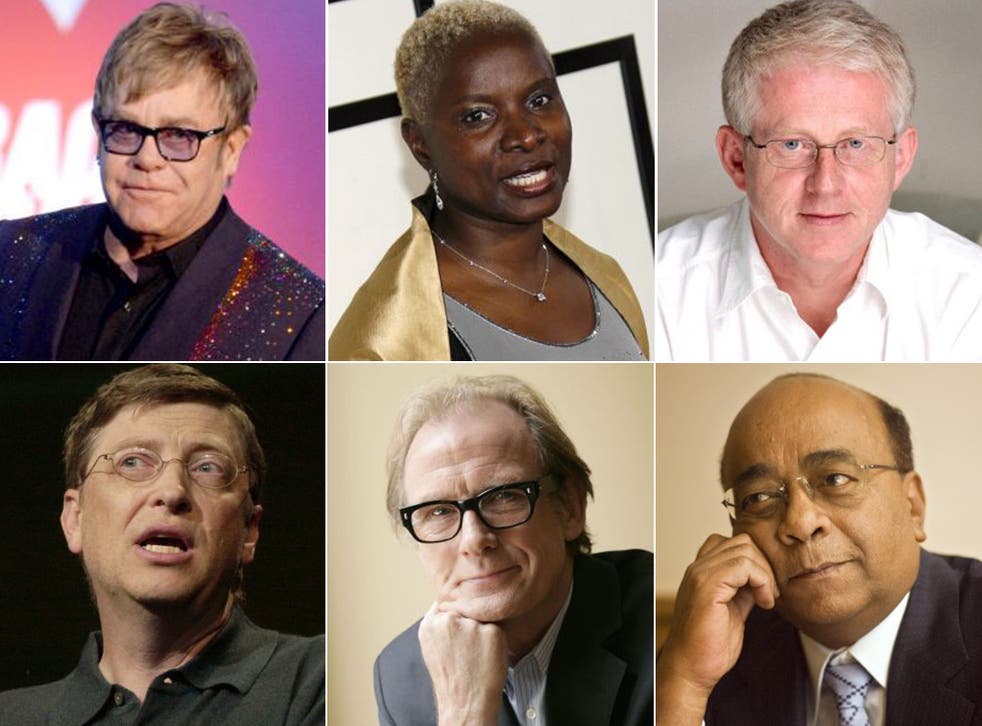 Richard Curtis
Writer, director and Comic Relief co-founder
"These last weeks, I've been working on a film about the power and importance of protest. And with each of the great battles of the past, you get a sense of how victory did not seem inevitable, and the previous state of affairs seemed normal. Victorian women did not have a vote and life went on. Gentlemen, Christians, who read Jane Austen, owned slaves. Sensitive people who wept at Casablanca were happy to talk about it afterwards in segregated restaurants in America. We are retrospectively utterly outraged at the lack of female suffrage, at segregation, at slavery. It's the same with extreme poverty and malnutrition right now.
"We sent film cameras out to Africa for Red Nose Day, and they easily found children dying of malnutrition. 3 million dying a year, either of hunger, or diseases that become fatal because of it. This is a huge emergency, and in a sane world it's obviously the prime subject the G8 should be dealing with. If we are not to be ashamed of our particular generational blindness, we should and must do everything to force the issue this and every week till the job is done."
Angélique Kidjo
Grammy award-winning Beninoise artist. Unicef and If ambassador
"I wanted to tell people of my own experience of malnutrition and hunger; how it has affected my friends and how heart-breaking it was to see them drop out of school. These children struggle to stay awake in school – I saw all of the effects of hunger and couldn't do anything to help, so I know what hunger does to people. How would I tackle it? By holding accountable the leaders to keep their word when they pledge. Talk is cheap. Action is expensive."
Sir Elton John
Musician & founder of the Elton John Aids Foundation
"The UK can be very proud of its role with the G8. In 2005 the focus on Africa led to massive progress: 5.4 million people started HIV treatment as a result of the brave pledge to get as close as possible to universal access to HIV prevention, treatment care and support. The world is now focused on how to achieve an "Aids-free generation" – one of the other bold commitments that was made at Gleneagles.
"Of course I'm pleased that this year there is still a focus on development –and a strong push to end hunger. We must hold firm to protect the most vulnerable in our world. But I want to see our government be even braver. We need to finish what we started – to get the job done. At Lough Erne the UK should be bold and ambitious: put £1bn into the Global Fund to fight Aids, TB and malaria, and urge all other G8 countries to make sure the Global Fund gets the $15bn it needs. We could start to see the end of Aids – and its sister diseases – if we keep the momentum. If rich countries would step up and put the right amount of money into the Global Fund then we shouldn't need to come back asking for more in eight years' time."
Bill Gates
Entrepreneur and co-chair of the Bill & Melinda Gates Foundation
"Increasingly, the global-development agenda is being driven by developing countries themselves. We welcome this and believe the G8 has a crucial role to play in supporting these countries to transition to self-sufficiency. The UK has shown impressive leadership and commitment to improving the lives of the poorest people in the world. Last weekend's Hunger Summit helped put nutrition at the top of the global agenda and was a significant step towards breaking the cycle of hunger and poverty."
Bill Nighy
Actor and If ambassador
"Even in today's age of austerity, the G8 has a chance to tackle the forgotten scandal of hunger. I've campaigned with Oxfam at G8 and G20 summits for nearly 10 years, and some of our wins along the way have made a huge difference to millions of the poorest people.
But I've visited developing countries and seen first-hand the devastation that hunger still causes to people's lives. The very poorest are struggling to keep pace with rising food prices. And when they fail there is no safety net. It is a disgrace that these countries are losing more than $160m-a-year from tax-dodging companies alone – the G8 must agree new rules to clamp down on the tax havens that let them get away with this. Tonight, 870 million people will go to bed hungry. The total population of the G8 is just 890 million. Just imagine the urgency to act if those 870 million lived in the G8 rather than in Africa, South Asia and other poor countries."
Mo Ibrahim
Sudanese-British entrepreneur
"This is the moment for G8 leaders to show real leadership on the issue of transparency in corporation tax and governance – an area that is crying out for solutions. We need international co-operation to sort out this mess, and until [it is] resolved we hold our breaths to see if our leaders can be really called leaders."
Register for free to continue reading
Registration is a free and easy way to support our truly independent journalism
By registering, you will also enjoy limited access to Premium articles, exclusive newsletters, commenting, and virtual events with our leading journalists
Already have an account? sign in
Register for free to continue reading
Registration is a free and easy way to support our truly independent journalism
By registering, you will also enjoy limited access to Premium articles, exclusive newsletters, commenting, and virtual events with our leading journalists
Already have an account? sign in
Join our new commenting forum
Join thought-provoking conversations, follow other Independent readers and see their replies