Gove: Ideologically committed, utterly zealous, and hated
His departure may raise a smile among teachers, but his record deserves a more in-depth scrutiny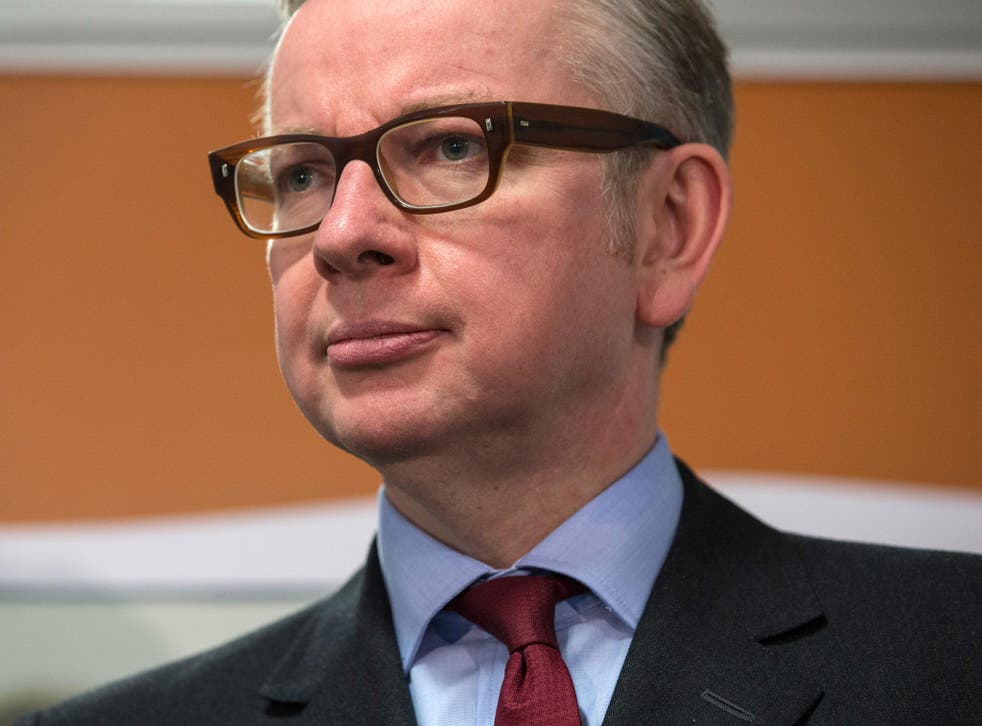 Michael Gove was described by a headteachers' leader yesterday as "radical and sincere" in his vision for education, but with prescriptions that were often "too hard to swallow".
Mr Gove was certainly the most ideologically committed and zealous Education Secretary I have ever come across. (He is the 15th I have reported upon since starting to write about education.). He was also the most hated by teachers' leaders.
In his four years in office, he has managed to transform vast swathes of the education system. Some of his earlier reforms have already born fruit - particularly his English Baccalaureate at GCSE level which has led to a marked improvement in the take-up of key academic subjects such as science and modern languages by pupils.
Under this, schools are ranked by the percentage of pupils who get top grade A* to C grade passes in five subject areas - English, maths, a language, a humanity - history or geographyand the sciences.
Without doubt, though, his biggest change is over the way schools are run. He massively increased the former Labour Government's academies programme - previously confined to struggling inner city schools - and introduced free schools to the educational landscape.
The idea of the free school was to introduce a new type of school - run by parents, teachers, charities and faith groups - to provide something different from the diet of a local authority run state education system.
There is no doubt some have been innovative and popular - witness a number of bilingual primary schools in which young children are taught in two different languages simultaneously, and the highly over-subsrcibed secondary school set up by writer and broadcaster Toby Young in Hammersmith, west London, which has put Latin back at the centre of the school curriculum.
Michael Gove's memorable moments

Show all 5
Unfortunately, there have also been some glaring failures. In particular, the New Discovery free school in Crawley, West Sussex, which had to close after inspectors revealed its pupils had made no progress in English and maths for a term. In addition, there were concerns over the Al Madinah free school in Derby - criticised for its failure to carry out adequate safety checks on staff.
Mr Gove has also come in for heavy criticism from public spending watchdogs over his plan to earmark £22 million for what he describes as a state school version of Eton - for boys from Brixton, south London - in the heart of the Sussex countryside, and splash out £40 million on a new free school in Westminster. It will be interesting to see if lavish projects like this survive in what is likely to be the less ideological regime of Nicky Morgan, his successor.
He has been thwarted in some of his reforms by his Liberal Democrat colleagues in the Coalition Government. A plan to replace GCSEs and return to an O-level style exam system was quickly vetoed by Deputy Prime Minister Nick Clegg who refused to countenance any return to CSEs that he felt would have had to go alongside such a move.
Nevertheless, he has still manage to introduce a widespread reform of examinations - which are returning to the days of end-of-year three-hour examinations instead of constant coursework.
Throughout, though, he has adopted a combative style which saw him liken his opponents in the education world to the "Blob" - a human eating ameoba in the 1950s science fiction film starring Steve McQueen.
Christine Blower, general secretary of the National Union of Teachers, said she expected a smile may have formed on the lips of many a teacher when they heard of his departure because of his treatment of them.
That may well be true - but his record deserves a more in-depth scrutiny. It is a mixed picture. Some of his reforms have genuinely benefited pupils, while others have taken a good idea and been derailed by a blinkered determination to push forward as far and as fast with them without considering the consequences.
Register for free to continue reading
Registration is a free and easy way to support our truly independent journalism
By registering, you will also enjoy limited access to Premium articles, exclusive newsletters, commenting, and virtual events with our leading journalists
Already have an account? sign in
Join our new commenting forum
Join thought-provoking conversations, follow other Independent readers and see their replies