Grace Dent: My Top 10 World Cup moments
From the impeccable chic of Thierry Henry to the Japanese fans who tidy up after themselves, there has already been so much to enjoy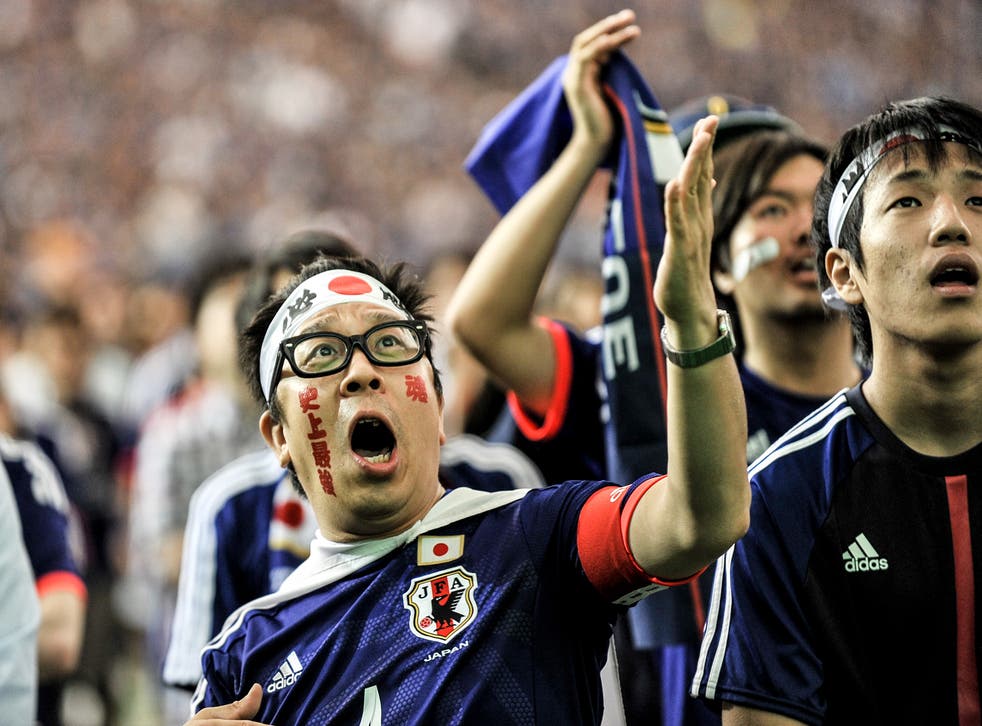 1. For, shall we say, less ardent football fans like myself, the World Cup is full of mystery and intrigue. Why are grown men in huddles in my pub swapping Panini stickers? Why is Glenn Hoddle wearing chinos which are so mightily snug I can see the outlines of perineum veins? And more pressingly, why, oh why was rapper Pitbull and Jennifer Lopez the highlight of the World Cup Opening Ceremony?
The pair stood on a raised plinth, honking through the official Fifa song "We Are One (Ola, Ola)", producing sound quality I last experienced after attaching portable speakers bought from Fleetwood market to a Sony Walkman in 1985. Of course, a practically silent Pitbull could be seen as a positive boon, him being one of those rap stars whose main schtick is to simply recount the minutiae of his last tax return – "I gotta car with gold riiiims, I got champaaaagne in my fridge!" over a backing track which typically evokes the dying throws of a demented bluebottle.
2. But the opening ceremony held so many more mysteries. Why were the dancers dressed as piles of sticks, zombies or pac-man ghosts? Who was the third wheel on stage with J-Lo and Pit-B – a blonde woman whom they didn't let speak? And who indeed watched the ceremony rehearsal and thought, "Y'know, this is all fine! I mean, sure, at the London 2012 Olympic Games they recreated the Industrial Revolution with replica smelted rings and thousands of extras covered in soot, but, y'know Gabriela over there has a skirt that looks a bit like a pineapple so, we're all good!" The search for answers continues.
3. Close monitoring of what the UK's menfolk have said on social media about the TV pundits proves that Britain has no gender inequality in the fine art of bitching. Poor, poor Phil Neville, eviscerated on Twitter for getting his Saturday night task done, albeit sounding slightly like a Texas Instruments Speak & Spell. "Burn him! Throw him in a well!" was the general mood of post-match reaction. Obviously, all these pundits are on a hiding to nothing as sofas the length and breadth of England are jampacked with people who would only have to be given the call and they'd cope with the pressure of commenting on live television with much greater aplomb.
4. My heart especially went out to Robbie Savage, a man who favours a khaki club-style mock-safari suit, leather bangles and a lustrous Sun-In speckled "rave curtains" hair-do and then finds himself cruelly plonked next to the elegant, fashion-forward Thierry Henry for Sunday's France v Honduras punditry. Henry's the sort of man who could pick up an invitation which read "Dresscode – twilight yacht-chic/formal supper", shrug nonchalantly then pick out seven suitable, stylish light knitwear/easy slack combos. No mortal man can compete with this.
5. And will no one think of poor strawberry blonde Gordon Strachan, left to broil in 40-degree heat, wearing Blue Brothers sunglasses during ITV's arduous "Hey, we're on the beach, just bantering" pre-Brazil v Croatia pundit fests. The man will resemble a smoky bacon Frazzle by the end of June. Get him a hat.
In pictures: Grace Dent's top 10 World Cup moments

Show all 10
6. What the BBC and ITV pundit teams are missing are voices that truly reflect the average World cup fan: people who relish and celebrate their ignorance of football, but irritatingly really want to join in as it's a world event. My call from BBC Sports to sit alongside Lineker and Clarence Seedorf – where I will pour forth with such contributions as "Those Hondurans are a bit punchy aren't they, is that allowed?", and "Jesus, the French team have got lovely strips, that Karim Benzema could take me for a croque-monsieur ANY DAY, am I right?" – can only be imminent.
7. The Japanese fans have been spotted earnestly cleaning the stadium after matches. Even after being beaten 2-1 by the Ivory Coast. Game over, bin-bags out, every paper cup, hot-dog wrapper and iota of trash removed from the Arena Pernambuco in Recife. Apparently, this is completely normal in Japan. I'm not sure why this is so lovely and slightly moving. Possibly because while J-Lo and Pitbull are so sure that "We Are One" when in reality our customs and priorities couldn't be more different.
8. As the great philosopher Madonna once said, "Italians Do It Better". Without wishing to sound like a traitor, my own capacity as an Englander for "expecting" slipped slightly when the Italian team swaggered down the steps clad in Dolce & Gabbana three-pieces resembling a brilliant advert for Levonelle One Step. I have seen pap pictures of Wayne Rooney simmering in a single, and it's just not the same. My pre-match research led to some perusing of the works of Andrea Pirlo, who, to my reckoning appears to be 50 per cent hirsute, smouldering, oddly cerebral seeming God-like being, partly super-powered ball-passing Robot from the Planet Woof.
9. Of course, Saturday's defeat cannot take away my pride in our true national talent: all-day drinking. The heroic sight of determined fans piggybacking 36 cans of Stella along high streets at 10am, set for a solid 11-hour pre-match build up, made my heart soar. Was Phil Neville's commentary really so bad, or were most critics on their second box of Lidl "mixed pays vin de table". The next morning in east London was like the Danny Boyle movie 28 Days Later with highly patriotic zombies.
10. I owe a much to the Japanese fan site @footy_bum_bot which gets to the nitty-gritty of what many women and gay men want from football coverage. Yes, yes, I know obviously not all women and obviously not all gay men, but obviously "some" and this is a gem. I'm unsure who this Japanese web genius is who is compiling surprisingly tasteful mid-play action shots of, say, Xabi Alonso's bottom vs Netherlands or Steven Gerrard's gluteus maximus muscles in mid-match physio, but I applaud this web warrior's work. It's been an excellent week, but the real winner is sport.
Register for free to continue reading
Registration is a free and easy way to support our truly independent journalism
By registering, you will also enjoy limited access to Premium articles, exclusive newsletters, commenting, and virtual events with our leading journalists
Already have an account? sign in
Join our new commenting forum
Join thought-provoking conversations, follow other Independent readers and see their replies