Greece debt crisis: History shows 'new drachma' is nothing to fear
When Ireland left the UK, it issued its own money but the punt was not truly separate until 1978 when it was unpegged from sterling - and no disasters immediately ensued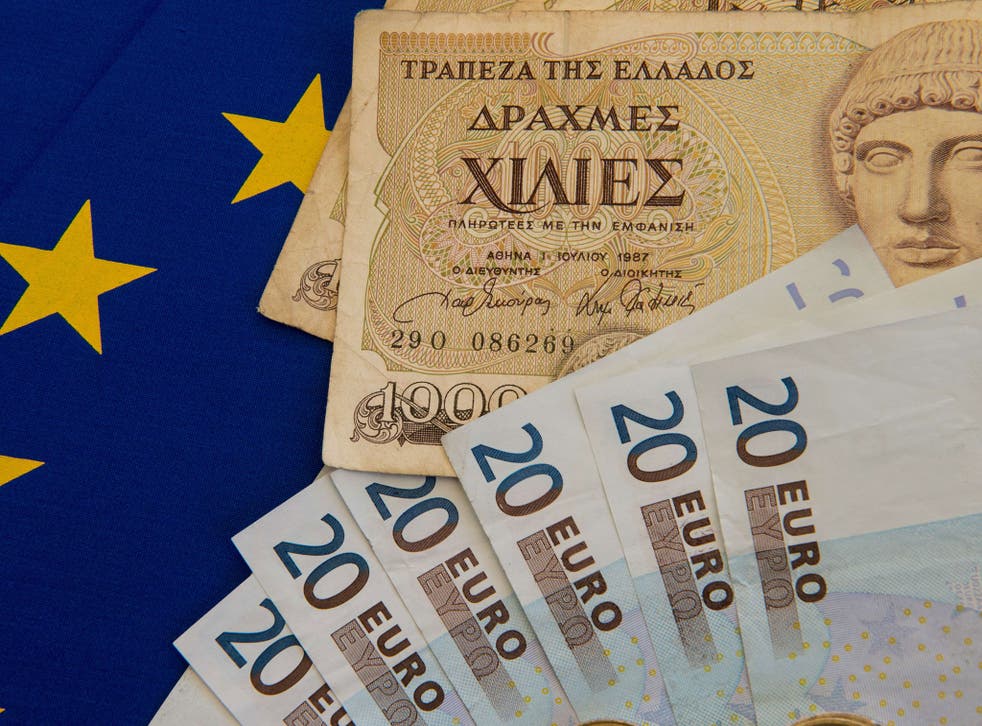 "Chaos" is the usual word ascribed to the prospect of Greece leaving the Eurozone and instituting a national currency once more, which, for the sake of this argument, we may call the "new drachma".
Yet, although it is unfamiliar territory and faces legal difficulties – because in the Eurozone, as in the United States, there seems no formal procedure for secession – it is eminently practical.
One way of doing it is to, more or less, go through the same process whereby Greece joined the euro, but in reverse. So at midnight on a certain date all bank accounts, company accounts, savings accounts, salaries, invoices and so on would be converted electronically from one currency, the euro, to the new drachma.
For administrative convenience this could be done on a one-for-one basis. You don't even need new drachma notes and coins, and such small change is in any case a tiny proportion of the stock of money in any modern economy. Those can come later on.
It has been done before, many times. Greece itself is no stranger to different currencies; it has had four in the last two centuries.
When the Soviet Union collapsed, it didn't have a proper convertible currency (one that could be traded internationally with ease) to re-organise. It did not take long for the former republics of the USSR to create their own currencies.
In pictures: Solidarity protest for Greece in London

Show all 7
Some, such as Georgia's, were quickly inflated beyond belief; the Georgian "coupon" was introduced in about 1991 and by 1993 was suffering an annual inflation rate of 15,606 per cent. Others, such as the Estonian kroon, fared better, so much so that it was easily absorbed into the euro in 2010. The Greek experience, so far as can be predicted, will be of high double digits (though Greece has also had episodes of hyperinflation in the past). At any rate, what happens to the new drachma is down to the policies of the Greek government and central bank. It does not necessarily have to be weak and feeble.
There are plenty of other examples too, usually associated with political change. The Czechs and Slovaks had a smooth fiscal as well as political separation in their "velvet divorce" in the early 1990s.
When Ireland left the UK in 1922, it issued its own money but the punt was not truly separate until 1978 when it was unpegged from sterling. No disasters immediately ensued.
Few territories in the former British empire are now linked to sterling. Incidentally, that former relationship – when nations such as India kept reserves in pounds at the Bank of England – proved an unwelcome complication in managing Britain's own troubled economy (as successive devaluations of sterling meant devaluing the value of these blameless states' reserves as well).
The break-up of the Austro Hungarian Empire and other polyglot groupings going back to the Hanseatic League and beyond also resulted in new monies, though in most cases they were linked to gold, so the effect was often cosmetic.
In any event, money is what money does and "fiat" money created by a state with no backing in real assets – gold, silver, land or another stable currency – only works if people accept it as a store of value and means of exchange.
To take another extreme example: you can buy a mint 100 Trillion Dollar Reserve Bank of Zimbabwe note (that's Z$100,000,000, 000,000) on eBay for £15 – a monument to the realities of monetary economics.
When currencies break down people turn to other means of exchange, like the cigarettes that passed for currency in Germany after the Second World War or US dollars today in much of hyperinflated Africa and Latin America. The Greeks, too, may find themselves still using euros to carry out their business if the new drachma becomes worthless. They would, of course, have no say in the European Central bank's decisions; the word "irony" has its roots in Greek, after all.
Register for free to continue reading
Registration is a free and easy way to support our truly independent journalism
By registering, you will also enjoy limited access to Premium articles, exclusive newsletters, commenting, and virtual events with our leading journalists
Already have an account? sign in
Register for free to continue reading
Registration is a free and easy way to support our truly independent journalism
By registering, you will also enjoy limited access to Premium articles, exclusive newsletters, commenting, and virtual events with our leading journalists
Already have an account? sign in
Join our new commenting forum
Join thought-provoking conversations, follow other Independent readers and see their replies