How did Manchester get so good at University Challenge? Fingers on the buzzers, please
In David Aaronovitch's day, Manchester University were the bolshy underdogs. Now they're an elite squad to be reckoned with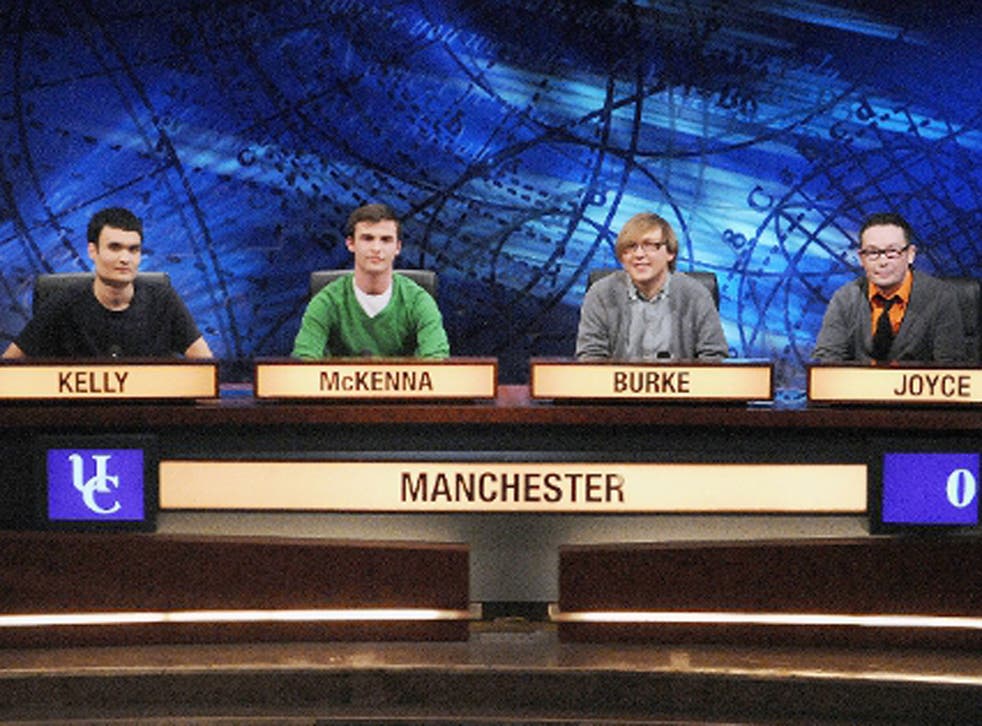 Here's your starter for ten. Which distinguished newspaper columnist, a man of erudition and experience who is a regular on political discussions, is so proud of his appearance on University Challenge that his Twitter profile picture shows him almost 40 years ago on the quiz show, fingers poised, ready to parade his knowledge before the nation? No need to buzz. The answer is David Aaronovitch, a man with whom I have something of a history.
When I was appointed editor of The Independent in 1998, Aaronovitch was one of the paper's leading columnists and was also television reviewer for the newspaper's Sunday title. In the course of a critical appreciation of that week's telly, Aaronovitch found time to pour scorn on my appointment. It was a rather curious thing to read in our sister paper, but he apologised to me for his infelicity (stopping short of the full Luis Suarez-style "unacceptable behaviour"), and we went on to become respectful colleagues and friends.
I have long been an admirer of Aaronovitch's, and we have occasionally appeared in debates together, where his combination of intellect, humour and articulacy make him a formidable performer. He is not, by nature, a bashful sort - he was President of the National Union of Students in his younger days - and his place in the folklore of University Challenge was assured by a spectacular performance in 1975 as part of the team representing Manchester University. The four-man team's answer to every question was either "Che Guevara", or "Karl Marx", or "Trotsky" or "Lenin" as a protest against Cambridge and Oxford being allowed to enter each of their colleges as individual teams. (It was a comment on the elitism of the show, apparently. Damn clever, these students.)
Anyway, it seems that the natural order of things has been reversed, and it's Manchester who are now the elite squad as far as University Challenge is concerned. In the past eight years, Manchester University has won the competition three times, has come second once, has reached the last four on three occasions, and is one step away from winning this year's prize. So it's not just in football where the city has a competitive edge (The FA Cup looks destined to go to Manchester City, while the Premier League, a less prestigious trophy this year, has gone to the city's other club.)
Manchester University's current pre-eminence is not a matter of happenstance: it has been meticulously plotted by the university librarian Stephen Pearson, who, over 15 years, has developed rigorous selection procedures for the team and has done everything other than psychometric testing and altitude training to ensure that the men and women who represent this great university are equal to anything Jeremy Paxman could throw at them. Pearson, a former contestant on Mastermind, orchestrates full-scale rehearsals of the show, believing that competition strategy - not to panic, good buzzer technique - is as important as knowing which island is the largest in the Greater Antilles.
It's certainly worked, and Manchester University has, not surprisingly, found TV success to be a powerful draw for prospective students. No wonder, also, that Mr Aaronovitch wants to be associated with winners. (By the way, Cuba is the largest island in the Greater Antilles).
Register for free to continue reading
Registration is a free and easy way to support our truly independent journalism
By registering, you will also enjoy limited access to Premium articles, exclusive newsletters, commenting, and virtual events with our leading journalists
Already have an account? sign in
Join our new commenting forum
Join thought-provoking conversations, follow other Independent readers and see their replies