How online dating is a sex-obsessed cattle market that makes you feel bad about yourself
It's not just Tinder that teaches you how to lose your self-esteem in ten swipes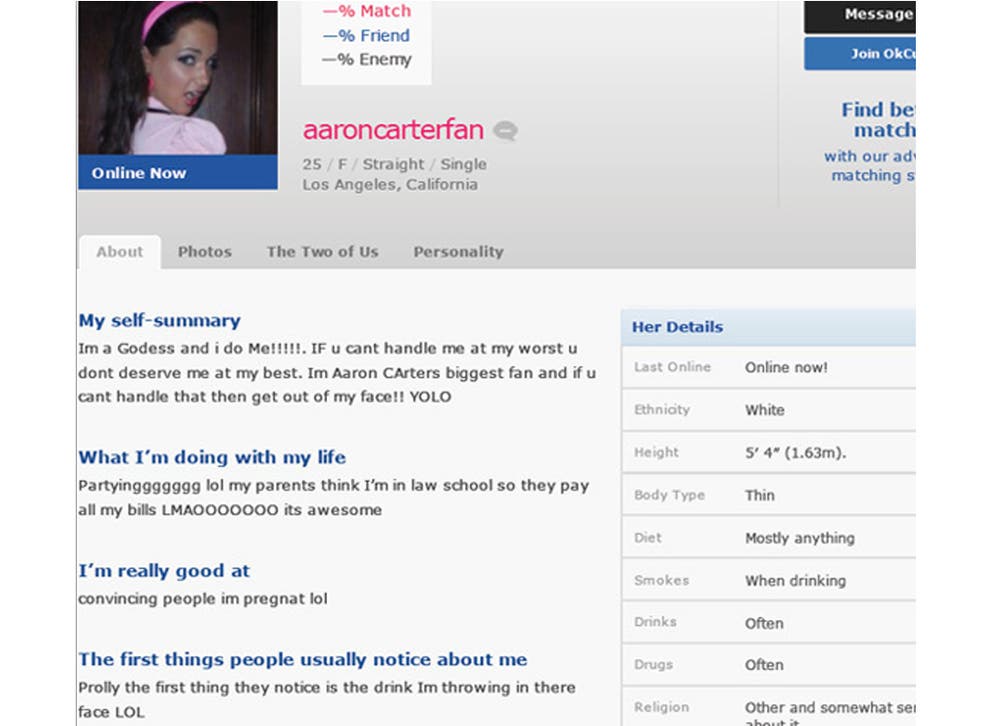 Who would have thought it? It appears men online are mainly looking for sex.
When columnist Alli Reed set up an fake online dating profile, she made out she was an insipid, malicious toe-rag of a human being. Yet because she used half-naked, cheekily captioned pictures of her model friend, dozens of men still messaged her. Even though her badly spelt, grammatically incorrect profile suggested she liked "knocking the cups out of homeless people's hands" and "convincing people I'm pregnat lol." They continued to hit on her even when she said she would tattoo them and pull out their teeth.
It doesn't surprise me. Anyone who has gone online dating will know that it's a fairly predatory pool of sex-hungry souls who click through these lonely corridors of faces. While plenty of people genuinely hope to find love, there are those who are fairly unscrupulous about getting laid along the way. It's not just Tinder that teaches you how to lose your self-esteem in ten swipes.
I've been there myself. Whilst on one site, I was messaged by a man who 'lived in London'. We went out for dinner. He revealed he didn't live in London, he was here on business. He said he was thinking of moving here and travelled here often.
When I later became friends with this man, he admitted that this wasn't true, and he had no intention of making me (or any of his dates) his girlfriend. He went online because when he was travelling to new cities he liked to have someone to have dinner with, who was available and who he could sleep with. He changed the city he 'lived in' on his profile to get new matches, depending on where he was travelling. Ouch.
Another of my online 'matches' saw me clutching a warm white wine with one hand and swatting his predatory paw away from my waistband with the other. This was a guy I'd just met and yet he thought my singleness meant my legs would ping open as soon as he bought me a drink. Another man I went on a date with text me the next day to say although he liked me, 'going forward' he saw our relationship 'as primarily being sexual'. I saw it primarily as being over.
Many men and women who are relaxed about who they chat up in bars join online dating sites with an unrealistic shopping list. Once online, it seems some people are rude, dismissive and have inflated expectations. Ali Reed's fake profile 'aaroncarterfan' may seem horrible, but it is definitely not the most ignorant I've seen. Some people add a list of what they 'DON'T WHATSOEVER WANT IN A PARTNER'. One man I (foolishly) messaged said: "Sorry I just don't like blondes at all." Luckily, I don't like idiots, so the feeling was mutual.
Anonymity makes people bold, and you only have to look at Twitter trolls to show that this boldness brings out some characters' baser instincts. The bantam behaviour of people online also may explain in part why men were not completely put off by 'aaroncarterfan'. It's questionable whether anyone would be able to get away with saying this in non-cyber life, so maybe men thought she was more normal than she first appeared. Maybe.
Yet despite all of this aaroncarterfan shouldn't make online daters despair. Profiles tend to reap the seeds they sow. The men who responded to the 'worst online dating profile ever' were probably some of the worst online daters ever. There are nice people out there. Even among those who write mildly bitter pieces about their personal dating experiences.
Register for free to continue reading
Registration is a free and easy way to support our truly independent journalism
By registering, you will also enjoy limited access to Premium articles, exclusive newsletters, commenting, and virtual events with our leading journalists
Already have an account? sign in
Register for free to continue reading
Registration is a free and easy way to support our truly independent journalism
By registering, you will also enjoy limited access to Premium articles, exclusive newsletters, commenting, and virtual events with our leading journalists
Already have an account? sign in
Join our new commenting forum
Join thought-provoking conversations, follow other Independent readers and see their replies