How the EU is thwarting states from continuing with capital punishment
Some states are trying to keep the show on the road with risky improvisation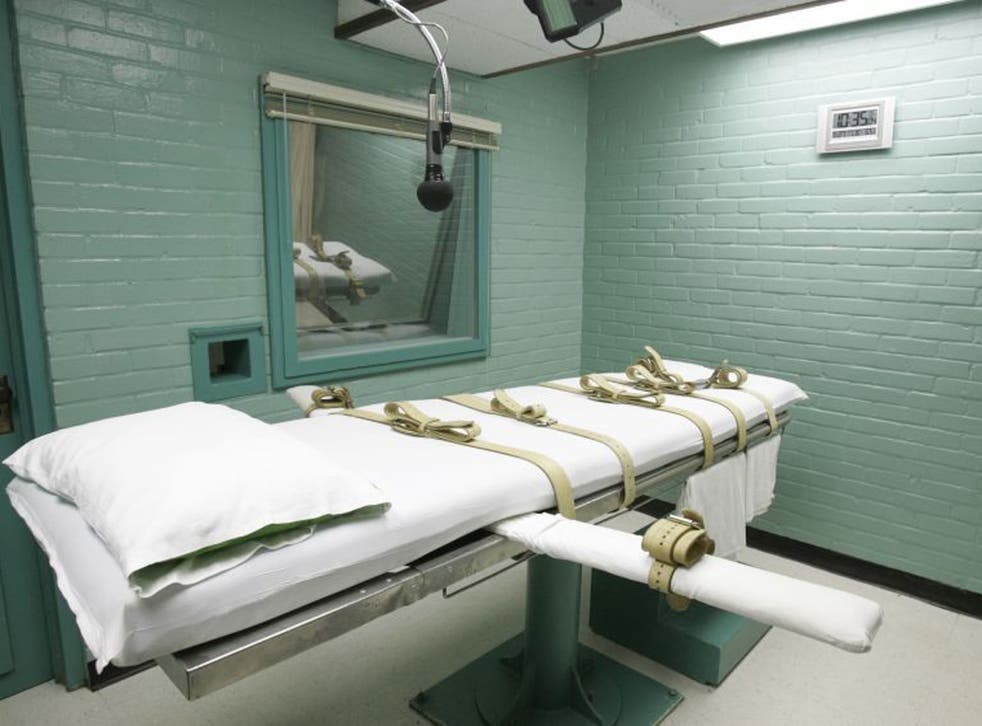 There is an unprecedented and deepening crisis in the execution industry in the United States and opponents don't know whether to celebrate or cry.
The European Union, almost by accident, is increasingly thwarting efforts by the 32 states with capital punishment on their books to keep the conveyor belt from death row to death chamber running by withholding the drugs traditionally used for lethal injections.
If corrections departments haven't already run out of those drugs what stocks they do have are passing their use-by dates.
Here's the good news: the rate of state-sponsored killings has thus been significantly slowed. Missouri has imposed a moratorium on executions until a new formula is settled on. But other states are trying to keep the show on the road by way of risky and macabre improvisation.
This morning, a child killer in Ohio, Ronald Phillips, 40, is due to be dispatched with a never-before-used cocktail of toxic juices. His manner of dying may or may not meet the Eighth Amendment provision forbidding "cruel or unusual punishment".
Pity the executioners. "We are going to continue to be affected by these pharmaceutical company decisions time and again, unless the death penalty states can find a pharmaceutical product that has some supply stability around it," lamented Chris Koster, Missouri's Attorney General, before musing out loud – one assumes for political effect – about reinstating the gas chamber. His opposite number in Arkansas, Dustin McDaniel, told state lawmakers that the electric chair might be his fallback method.
Trouble started in 2010 when an Illinois pharmaceutical company, Hospira, protested against one of its products, sodium thiopental, being used for state-sponsored murder and ceased production.
Arizona and others resorted to a less reputable source – Dream Pharma, a fly-by-night kitchen behind a driving school in Acton, London. That didn't last long. The UK and US authorities got wise and shut the traffic down.
The next best thing was pentobarbital, a powerful anaesthetic. But then its main manufacturer, Lundbeck Inc, of Denmark, also recoiled and blackballed US prisons. Since then, the German maker of the sedative Propofol, the knock-out drug blamed for Michael Jackson's death, has also vowed to stop exports to the US entirely if states use it for executions, as Missouri had precisely planned to do. Now Brussels has imposed its own restrictions on "execution drug" exports.
"It is ironic the way that Europe has had the kind of impact that it has been having," Deborah Denno, an expert on execution methods at the Fordham University Law School in New York, said this week. "And it has been huge."
But she also stressed that the risks inherent in the rush that is now on to muddle through with untested drug-mix protocols.
"The scramble is making it very difficult for departments of corrections to conduct executions and as a result they are resorting to desperate measures. It's trial and error," Ms Denno said.
One option being pursued notably by Texas, the most industrious of execution states, is tapping the services of so-called compounding pharmacies that offer to concoct knock-off, synthetic versions of the old drugs.
The problem is these shops are barely regulated and the quality of their products, according to critics, ranges from uneven to downright dodgy.
Others have called in the mixologists to see what can be done with readily available drugs. Last month, Florida became the first state to substitute sodium thiopental with midazolam, which induces deep relaxation and memory loss.
Just how well things went is a matter of debate. It was 14 minutes before William Happ was pronounced dead, double the normally expected time.
An AP witness said he "remained conscious longer and made more body movements after losing consciousness than other people executed recently by lethal injection".
Today, Ohio will deploy a slightly different formula for Phillips. But it, too, will use midazolam theoretically to put him under before another drug kicks in to stop the heart.
Again, witnesses will not know what to expect exactly. Unanswered is whether midazolam actually renders the victims fully unaware of what's happening. Only they will know that and they will never be in position to tell.
A Gallup poll last month found that 60 per cent of Americans favour keeping the death penalty for convicted murderers, the lowest support in nearly 41 years.
The arguments against capital punishment run from the obscene expense of running death rows and the appeals processes to matters of conscience and, of course, the ever-present risk of killing the innocent.
We might dare to hope that this macabre spectacle of execution states conducting experiments in their death chambers might further turn public opinion.
That Europe will have played a crucial role in that is sort of by the by, but something to be proud of nonetheless.
Register for free to continue reading
Registration is a free and easy way to support our truly independent journalism
By registering, you will also enjoy limited access to Premium articles, exclusive newsletters, commenting, and virtual events with our leading journalists
Already have an account? sign in
Join our new commenting forum
Join thought-provoking conversations, follow other Independent readers and see their replies