I can live with jibes about my Big Brother antics, but not this misrepresentation of Respect
George Galloway MP offers his response to Rob Marchant's criticisms of the Respect party and its members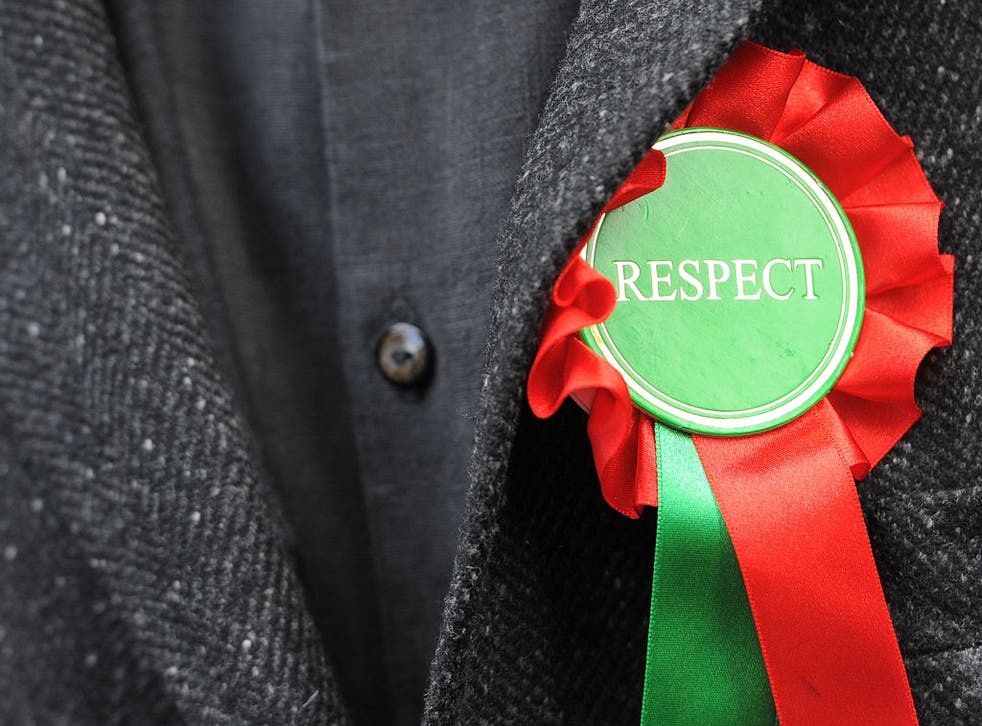 Some of the more glaring and risible errors in Rob Marchant's tirade may now have been removed – he was obviously off the day they did geography, mistaking Syria for Lebanon – but when he dredges up Tony Blair as a witness for his prosecution then it's time to press the delete button and reach for the sick bowl. A Blair quotation about Islamic extremism in the bible of capitalism, the Wall Street Journal, from the man whom most of the world views as the very exemplar of it, really is too much to stomach. Like the dodgy documents that Blair and his minion Alistair Campbell manufactured to produce a war, his comments about Respect and my electoral success are a pack of lies.
Hardly surprising, given those he chooses to consort with. He's a regular contributor to Harry's Place, whose contributors can be foully Zionist and borderline racist and whose targets have included John Pilger, the two Kens, Livingstone and Loach, Amnesty, Human Rights Watch, the Palestine Solidarity Campaign, Stop the War, as well as various Muslim organisations. Fine company I'd call it.
Now Marchant isn't going to let facts get in the way of a bilious rant but I am going to correct some of the more lurid anyway. How many times do I have to reiterate, in the context of rape, that no always means no, never yes, and that non-consensual sex is a crime. My comments were specifically about the Julian Assange case. Assange was set up. And smeared, a tactic Marchant enjoys. I'm not proposing to go into the sordid details here but it is a fact that the witness statements the two women belatedly gave were leaked by the police to the sensationalist Expressen newspaper. That Assange then gave a statement denying the rape allegations to the Swedish police, having first warned that it would be leaked to the same paper, and guess what.....?
My antics on Big Brother, which were actually the same stunts that BBC presenters and celebs get up for Children in Need, actually raised tens of thousands of pounds for the charity Interpal (another of Harry's contributor's targets) and paid for the wages of an extra caseworker in my constituency. So I can live with his cheap jibes.
What I can't live with is his deliberate misrepresentation of my election victory and Respect's programme and ideology. Three weeks before the Bradford West election I arrived in the constituency where the local party could be counted on one hand. What there was, however, was both a huge well-spring of goodwill mixed with a general disgust at the ruling Bradford Labour administration, which has done nothing about the massive hole in the heart of the city. That's the 23-acre site cleared now for almost a decade for a prestigious shopping and leisure development which has yet to happen and which the council has been powerless to effect.
Overlooking the hole is the iconic former Odeon building, now shrink-wrapped in plastic, which again Labour has failed dismally to salvage or come up with development ideas. These two 'aside from the war' issues, environmental ones, were crucial to my success in the election – an election in which I won by a landslide, and in every ward in the constituency. You don't need to be a psephologist to conclude that a huge number of those voters must have been non-Muslim or I couldn't have won by more than 10,000 votes.
Then there is the war, actually two of them, the ones which Marchant's leaders propelled us into and which he would rather like to ignore. Of course my opposition to the wars on Iraq and Afghanistan struck a fundamental note with concerned and angry young Muslims, of whom there are many, and not just in Bradford, as did my support for the rights of Palestinians, stretching back now almost 40 years. I always say what I mean and mean what I say and I haven't changed it to any prevailing orthodoxy or in the solicitation of a large donation, unlike the betrayers of New Labour.
I always say what I mean and mean what I say and I haven't changed it to any prevailing orthodoxy or in the solicitation of a large donation, unlike the betrayers of New Labour.
The attack on Lee Jasper, the Respect candidate in Croydon North, is equally despicable. Lee was not 'later cleared' over a funding controversy. He was innocent. Underwritten 36 times. Thirty-seven separate inquiries, largely provoked by a gutter newspaper, concluded so. And he will get a massive endorsement on November 27 in the by-election.
So that's my narrative, which Marchant and Blair don't get. It's about justice, for Muslims everywhere, for anyone and everyone exploited. We've put in place and supported corrupt kings and sheikhs all over the Middle East and we continue to do, as Cameron's latest arms-selling venture in the Middle East amply shows. The reasons that millions of people outside these shores and many within hate us is precisely because of this. That's the sense of grievance felt in Muslim communities wherever they are, repeatedly fed, not by me or Respect supporters, but by the people Marchant votes for, looks up to and endeavours to emulate.
Register for free to continue reading
Registration is a free and easy way to support our truly independent journalism
By registering, you will also enjoy limited access to Premium articles, exclusive newsletters, commenting, and virtual events with our leading journalists
Already have an account? sign in
Join our new commenting forum
Join thought-provoking conversations, follow other Independent readers and see their replies