I can't resist the lure of a powerful political drama
Plus, for such an artistic city, London can't do public art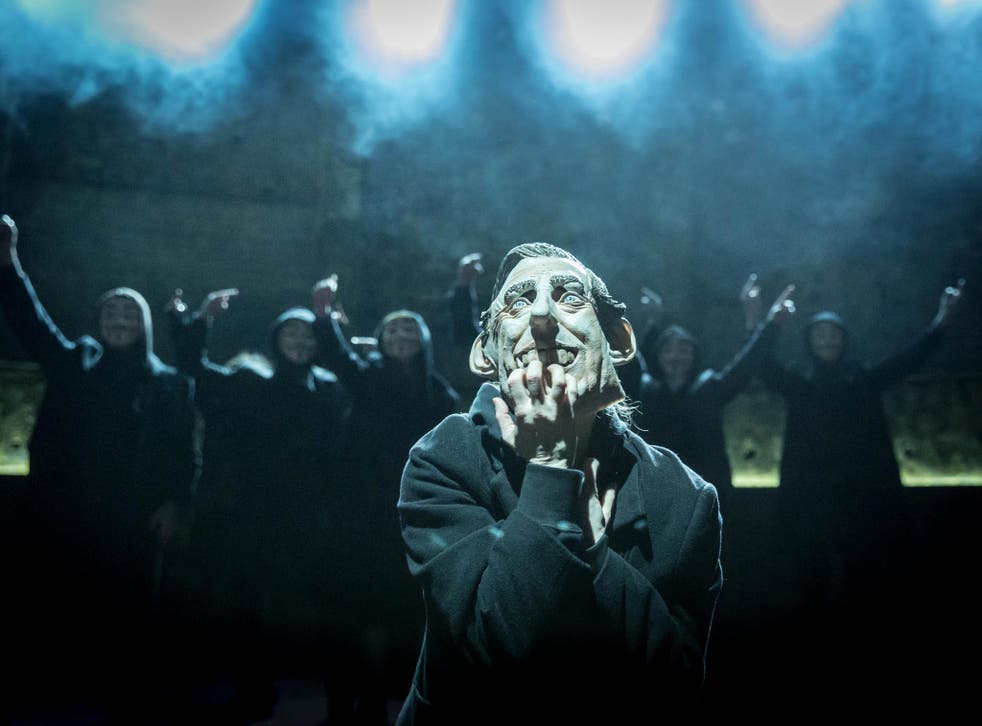 Timely and utterly engrossing, King Charles III, Mike Bartlett's examination of our monarchy, was one of my best evenings in the theatre for a long time. And it's in blank verse.
Royalty has already been a hit in the West End. The Audience reduced the Queen to a panto turn, reacting to a series of prime ministers with varying degrees of accuracy. Helen Mirren can turn in a super Queen, but our enjoyment is on a pretty superficial level. Handbagged is about the monarchy's relationship with a very determined prime minister. Both plays have been hugely popular, but they seem lightweight compared with King Charles III, which dares to imagine what might happen if our future king dared to take on Parliament and defend free speech.
I am a fan of Friedrich Schiller's Mary Stuart. The German playwright's examination of the last days of Mary, Queen of Scots is a masterpiece, brilliantly performed in the West End and then New York a few years ago, with Janet McTeer as Mary and Harriet Walter as Elizabeth. Schiller proves that a five-act political drama about the relationship between monarchy and power can be richly rewarding, and Bartlett is almost in his league.
King Charles III asks important questions about democracy and it doesn't stoop to mock its central character, with all his irritating foibles. Tim Pigott-Smith must win awards for his clever portrayal of Charles, an inspired performance which is oddly moving. I never thought I would write something sympathetic about Charles, but Bartlett made me rethink my existing prejudices. The only duff moment is when Diana appears as a ghost dispensing prophecies.
For such an artistic city, London can't do public art
In a few weeks' time, London will be packed with art dealers and collectors for the Frieze Art Fair. London occupies a key role in the contemporary art scene. Lots of rich people from all over the world have bought houses here, and art is the legitimate way to flaunt your wealth and display how smart you are.
So I find it hard to understand, given the rich pool of domestic talent which brings international dealers to London, how a piece of work as appalling as the Amy Winehouse statue that's been unveiled in Camden got the go-ahead from the local council.
The bronze likeness, by Scott Eaton, is an eyesore of the highest order, totally without artistic merit. The planners at Camden council, which makes such a fuss about its conservation areas, should apologise for allowing this tawdry crap to be erected in a public space. The vast majority of public art is garbage. And number one on my list of shame is the hideous monument to animals of war in the centre of Park Lane. Amy Winehouse was a huge talent, but why erect this tacky tribute? Better to give money to charities helping addicts.
All foam and no flavour – that's today's lager
A few years ago, I got paid to tell brewers what beer women liked. I had to taste loads of the stuff, and then rate the bottles and the packaging. The truth is, if they were the same colour I couldn't really tell one from another, and now I've discovered I'm not alone.
The Stockholm School of Economics asked people to sample different lagers blindfold, and they couldn't tell the difference between Budvar, Heineken and Stella Artois. Our choice of beers is all down to the vast amounts spent on advertising and packaging and nothing to do with taste, no matter what real-ale aficionados might claim. Plus, most of the major brewers such as SABMiller own several brands competing for exactly the same market – Grolsch and Peroni, for example – so whichever beverage you choose, the money is going to the same company.
I am sure that some microbreweries produce exciting stuff, but mass-produced beer is bland, boring and flavourless, isn't it?
There should be a time limit on police bail
Last week I wrote about the misuse of police bail which keeps people in a horrible limbo for months on end, often not knowing what they are accused of. In May 2013, more than 57,000 people were on bail, and more than 3,000 had been waiting for over six months to be told whether charges would be brought or not. In the meantime, they might lose their jobs, be the subject of harmful speculation and be under intense mental strain – only to be told that they will not face charges.
Now the Lib Dems are considering whether to put a time limit on pre-charge bail in their 2015 election manifesto. Another week has passed since I wrote about the fact that BBC presenter Paul Gambaccini was arrested by Operation Yewtree in November 2013, and still hasn't been charged with anything. Are the police really making active inquiries, or are they just inept? I think we know the answer.
To read Janet Street-Porter on the result of the Scottish Referendum, click here
Register for free to continue reading
Registration is a free and easy way to support our truly independent journalism
By registering, you will also enjoy limited access to Premium articles, exclusive newsletters, commenting, and virtual events with our leading journalists
Already have an account? sign in
Register for free to continue reading
Registration is a free and easy way to support our truly independent journalism
By registering, you will also enjoy limited access to Premium articles, exclusive newsletters, commenting, and virtual events with our leading journalists
Already have an account? sign in
Join our new commenting forum
Join thought-provoking conversations, follow other Independent readers and see their replies