I could have been a civil servant ... if I hadn't have been given the third degree
Marcus hit the Great Wall of Incomprehension while studying maths at university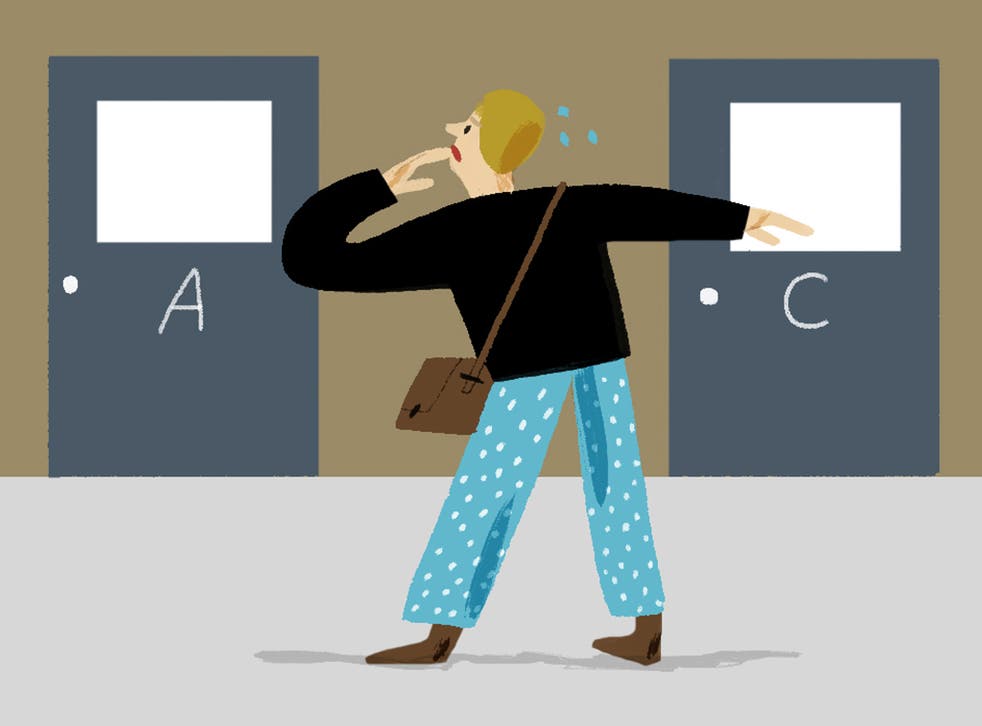 My daughter, aged 16 and in the first year of A-levels, has started having nightmares about exams. You know the sort of thing: you turn up and you don't have a pen, you can't find the room you're supposed to be in, you've forgotten to revise and you're wearing your pyjamas – or just your pants, and they're not that clean. It will be 35 years this summer since I last sat an exam, but this dream still lies in wait for me, a mugger of the subconscious.
Like many middle-class parents, we have been quietly geeing up our girl to work more hours than there are in a day to acquire A*s at A-level and thus secure passage to an ancient university, where they will work her even harder until her head explodes. But unlike most other middle-class parents, we ourselves harbour an ugly little secret. Her mother, the tall blonde woman, and I both went to an ancient university, but we both got thirds. I went one better: I got a third in my end-of-first-year-exams and a third in my finals. A double third. I was waiting for the call to ask me if I wanted to stay on and do some research, but for some reason it never came.
The tall blonde woman read English, but what she really loved was acting. While very occasionally turning up to a tutorial, and even more infrequently writing an essay, she spent most of her waking hours rehearsing or performing in plays, or sitting in cafés wearing actorish scarves and talking thespian hogwash. In short, she had a ball. Given her absolute lack of focus on her course, I think her third-class degree was quite an achievement, and I believe she does too.
I, on the other hand, read mathematics. I'd been rather good at it at school, but as so many people do with maths, I finally hit the Great Wall of Incomprehension. Some people hit the Wall with 2+2=4, others at GCSE and more than a few during A-levels when they have to start differentiating and integrating. I hit The Wall during my first year at university. No, sorry, don't get this. What was that again? No, you've lost me. There was no option to change course, as there was nothing else I was any good at. I just had to struggle on through. Given my lack of aptitude, I think my third-class degree was quite an achievement, and I believe my tutors did too.
Disasters like these can have unexpected consequences. I took the fast-stream Civil Service exam, passed it and reached the final board stage of interviews, before someone read my form and realised that I had a third, which invalidated the whole application. I could have been a civil servant for the past 35 years. I could have been a contender.
What has come home to me more recently, though, is something deeper. Unlike some people I know, I have never suffered from "impostor syndrome", that sense that we are only a whisker away from being found out, and thus being unmasked as a fraud and not quite good enough. I have never felt that for a second. For years I assumed that this was the result of a good, healthy arrogance, of a kind that manages Premier League football teams or annexes the Sudetenland. But it wasn't. It was the result of having been unmasked already. I was utterly found out as an undergraduate. Actual failure, it turns out, inoculates you against fear of failure. Although not further failure, sadly – but that's another story.
Register for free to continue reading
Registration is a free and easy way to support our truly independent journalism
By registering, you will also enjoy limited access to Premium articles, exclusive newsletters, commenting, and virtual events with our leading journalists
Already have an account? sign in
Join our new commenting forum
Join thought-provoking conversations, follow other Independent readers and see their replies