I've had enough of people insinuating that Ukip is racist – it's simply not true
It brings to my mind the observation that goes: 'The fascists of the future will call themselves anti-fascists'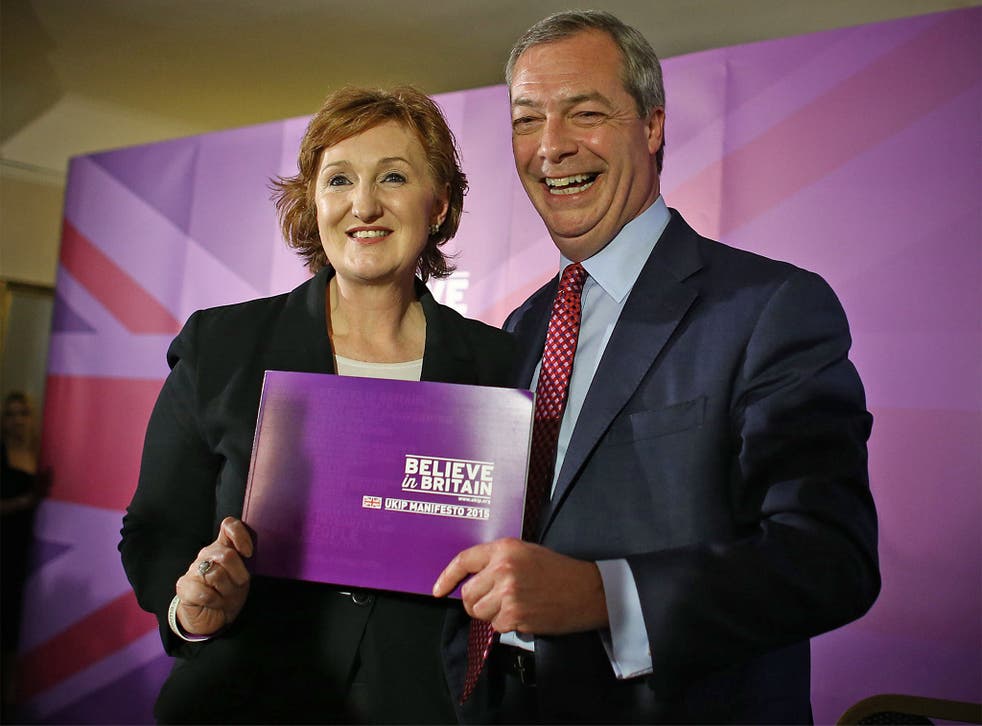 The Ukip manifesto launch this week was met with confusion on the part of Westminster journalists who, for the most part, couldn't seem to muster up an interesting question between them in the immediate moments after our policy chief Suzanne Evans finished speaking at the Thurrock Hotel.
We had confounded them – with a fully costed manifesto that had been audited by the independent Centre for Economic and Business Research think-tank. So instead, the media aftermath relied almost exclusively upon the pictures inside the document, rather than the policies, which still, 24 hours later, cannot be challenged.
We announced a low tax revolution this week. We announced our ethical, points-based immigration system. We challenged the Conservative Party on defence. We challenged the Labour party on welfare, housing, and the National Health Service.
So it actually didn't surprise me when the silly question that seems to have gone viral online emerged from the mouth of a journalist in the room: "Are you happy that the only black face in the [manifesto] is on the Overseas Aid page?"
Cue the groans from the audience. And what followed was the most extraordinary, unscripted, unprompted show of force from Ukip's black and minority ethnic candidates and supporters in the room, who have had enough of white, middle-class journalists calling them "racist".
Columnists and reporters took to Twitter and their newspapers to bemoan the fact that the audience booed and jeered the question, which if you think about it, had racist overtones itself. Whatever happened to: "I have a dream…?" Remember that? Not to judge people by the colour of their skin? And here we are, as a political party that attracts support from almost every immigrant group in this country, being asked questions pertaining to the colour of people's skin. You couldn't make it up.
General election 2015: The worst gaffes and controversies

Show all 36
Indeed, whether skin colour or race, the journalist seems to have missed the point, clearly laid out on page 10 of the manifesto, alongside a picture of our immigration spokesman Steven Woolfe, who is half-black and half-Jewish himself. It reads, in big, bold letters: "Space, not race".
Now whether or not you believe that mass immigration has placed a strain on our NHS, housing, school places and more in the past decade, you surely cannot think, for a second that Ukip members should sit down quietly twiddling their thumbs while they're being sneered at and smeared.
Speaking to some of our BME candidates since the incident, it's clear that they're not just tired of these heckles from the mainly white, middle-class press, but they're also passionate about defending themselves and Ukip.
Our candidate in Bradford West, Owais Rajput, was shoved at a hustings last week in his home town.
And you know what happened to me in my local pub just a few weeks ago.
These questions, and their implications, by the media, are leading to Ukip members being abused. And we know where a lot of the aggression is coming from too.
It's ironic if you think about it: that the militant left is now virtually in bed with the right-wing press in its opposition to Ukip. The trade-union funded activists that are being bussed in, en masse, to South Thanet, for instance, are doing more to divide people than any political organisation has in decades in this country. They're seeding hatred and resentment, and they're inciting vandalism and public disorder.
It brings to my mind the observation, often misattributed to Winston Churchill, that goes: "The fascists of the future will call themselves anti-fascists."
And this is precisely what's going on, with groups that try and hide behind heart-shaped logos and promises of better futures. In fact, these groups have more in common with the British National Party than they do with genuine, freedom-loving, democracy-embracing activism. So for Ukip and its supporters, this whole obsession with race and skin colour is wearing a bit thin.
The point about this week is that Ukip set the new gold standard for manifesto launches: with independent verification of our spending plans and serious policies to create a Britain that is better, not just for a few, but for everyone.
With commitments to defence spending, a brownfield housing revolution, £18bn of tax cuts, £3bn more per year for NHS frontline services, reductions in our foreign aid spending, and taking the minimum wage out of tax altogether – I couldn't have said it better than Suzanne Evans did yesterday when launching the manifesto: we seem to be covering a lot of ground for a "single-issue party". It's tropes like these, coupled with the race obsession, that the media needs to learn to drop. They're tired, old, and offensive, and, more than anything, they're driving more people into the arms of Ukip, which the establishment is supposed to be afraid of, isn't it?
Register for free to continue reading
Registration is a free and easy way to support our truly independent journalism
By registering, you will also enjoy limited access to Premium articles, exclusive newsletters, commenting, and virtual events with our leading journalists
Already have an account? sign in
Register for free to continue reading
Registration is a free and easy way to support our truly independent journalism
By registering, you will also enjoy limited access to Premium articles, exclusive newsletters, commenting, and virtual events with our leading journalists
Already have an account? sign in
Join our new commenting forum
Join thought-provoking conversations, follow other Independent readers and see their replies