I was smacked as a child. It shouldn't be illegal
The debate as to whether we should smack our children has been reignited - but as long as it's reasonable, smacking does no harm.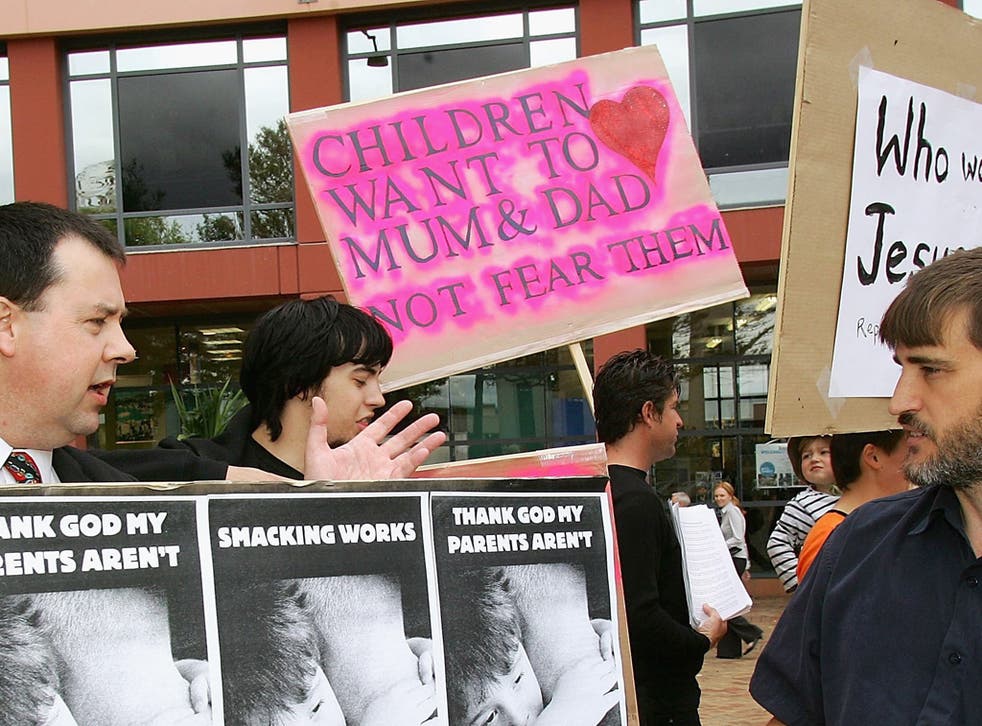 In my house growing up, there weren't many punishments. My brother and I were expected to know how we ought to behave, and if we failed to do so, we'd be talked with rationally and expected to feel appropriate remorse, which my parents (correctly) judged to be deterrent enough against most wrongdoing.
I remember one occasion, though, when I was probably about 10, on a Saturday morning, when my long-suffering, stressed-out mum – who worked a 40-hour week, plus overtime, and who always had to use her weekends to clean and cook and do the laundry – was trying to hoover the lounge.
I'd been shrieking at her all morning, deliberately attention-seeking and getting in her way. Then I think I knocked over a vase (or another breakable item – although I can't remember exactly). What I do remember is that she bellowed my name and smacked me on the wrist. It stung a little, but the thing I was most stunned by was that I'd made her so upset. It gave me pause and it's obviously stuck with me.
So it was with interest that I read Victoria Turk's article advocating a total ban on smacking of children, following the release of a woman who'd been imprisoned for choosing to bang her two sons' heads together. But I think this suggestion is misguided.
The view against smacking is that the law is confused and unclear; that it leaves a "grey area" which leads to some parents misinterpreting the matter and using unreasonable force. Is that really the problem? If some parents don't know when to say when, is that realistically a direct result of a lack of clarity in the law? Did the woman in this particular case, in the heat of the moment, examine her knowledge of the Children's Act 2004 and judge that banging her two sons' heads together constituted an acceptable smack, thus misinterpreting the law?
In the case in question, the woman caused bruising to one of the boys' ears, which is why she found herself imprisoned for 18 months. Although clearly her method of disciplining her children crossed the line of acceptability, her prison sentence was (probably rightly) found to be disproportionate, and the woman was later released.
So is the logical next step to ban smacking altogether just for the sake of clarity? Well, why would it be? How would it be policed? How would we divert the resources to deal with a potential resulting increase in court cases? Don't get me wrong – I think hitting your child is a poor way to discipline them, and Burk rightly notes the NSPCC's suggestion that there are far better ways to do it. But there are a huge number of parents out there – including many hard-pressed working mums and dads with a huge amount on their plates – who occasionally smack their kids.
Do we really want to criminalise a mother who momentarily loses her cool while she's trying to cook dinner over the noise of three shrieking toddlers, one of whom has just reached for a pan of boiling water? Say she clips him over the ear and he mentions it to a neighbour or teacher - is it alright to take her to court for it? Would it have been alright to fine or imprison my mum for slapping my wrists? It's a sledgehammer to crack a nut.
The law is there to protect children and dole out justice. I don't see how dragging parents who are trying their best through the courts is in their children's interests; or in the interests of the public at large. The vast majority of mothers, fathers and carers know what the limits are.
As my mum says, "Parents are extremely provoked people. Why criminalise them unnecessarily?"
Disagree? Read the alternate view: Smacking children should be banned completely
Register for free to continue reading
Registration is a free and easy way to support our truly independent journalism
By registering, you will also enjoy limited access to Premium articles, exclusive newsletters, commenting, and virtual events with our leading journalists
Already have an account? sign in
Join our new commenting forum
Join thought-provoking conversations, follow other Independent readers and see their replies