Icons bid for power: Aung Suu Kyi and Hillary Clinton are facing a huge task
Clinton deserves more credit than anyone for Suu Kyi's stunning leap, but time has a cruel way of turning political triumphs into pratfalls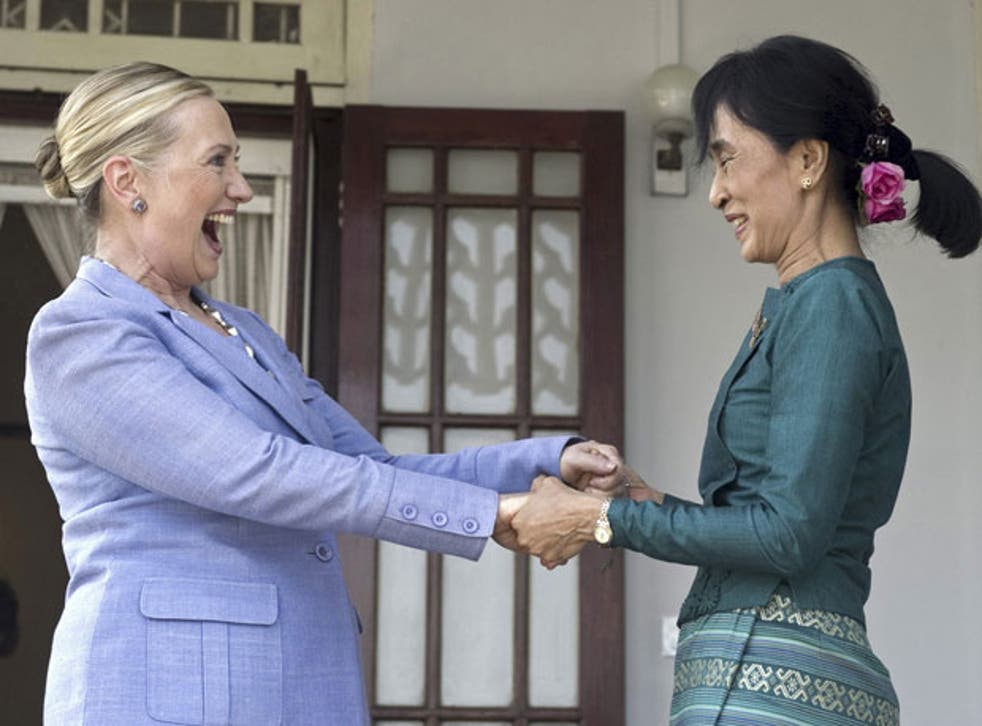 For Hillary Clinton and Aung San Suu Kyi, the political was about as personal as it can get. When Ms Clinton became Secretary of State in 2009, she chose to break with precedent and visit Asia before anywhere else: as she writes in her memoir Hard Choices, it was her idea to put that region "at the top of our diplomatic agenda." And at the end of her Asian road, in November 2011, was Aung San Suu Kyi: one year out of detention, with 15 years of enforced solitude behind her and the road ahead unclear.
Now both stand at uncannily similar junctures. Both have declared – Hillary only this week, Suu Kyi more than a year ago – a desire to become president. Both seemingly got a head start from those close to them, Suu from her father Aung San, Hillary from Bill. Both enjoy massive fame at home and abroad, though their vociferous supporters are potentially matched by powerful opponents.
Hillary Clinton deserves more credit than anyone for Suu Kyi's stunning leap, from martyrdom and marginality into the political mainstream: Ms Clinton staked her early credit at the State Department on achieving the improbable goal of turning Burma around, and it remains an outstanding achievement of her four-year run. But time has a cruel way of turning political triumphs into pratfalls. And if Suu Kyi's presidential bid were to fail at the first real test, as seems likely, it could seriously undermine Hillary's analogous effort next year. Like acrobats bound together in a circus stunt, they could together soar to the heights, or crash to the ground.
At their first meeting in November 2011, it is hard to know which of the two was more in awe of the other. But the sisterhood of these ambitious women, perennially balked, bullied and betrayed by the male establishment, quickly melted the barriers. "We were both wearing white," Ms Clinton wrote in her memoir, Hard Choices. "It seemed like an auspicious coincidence. After so many years of reading and thinking about this celebrated Burmese dissident, we were finally face to face…I felt we had known each other for a lifetime, even though we had just met…Soon we were chatting, strategizing and laughing like old friends."
The strategy on which they agreed in 2011 was that Suu Kyi should stand for a parliamentary seat when by-elections were held in April 2012: ending her isolation, proving her continuing popularity and bringing her into regular contact with the hard men of the junta who had now unconvincingly morphed into democrats. And that is what happened. Her success, after an ebullient campaign, was resounding, and she and more than 40 of her party colleagues entered parliament.
In pictures: Hillary Clinton's 2016 presidential bid

Show all 30
But three years on, how has that strategy played out? Suu Kyi has been forced to walk a tightrope, to avoid alienating the ex-generals who still hold all the real power and with whom she must hob-nob in parliament, while trying to hang on to her esteem among the Burmese public. If she has succeeded, it has been at the cost of alienating many of her friends in the West with her mealy-mouthed approach to the Rohingya tragedy.
Meanwhile there remains the constitution, which bars her from running for president, and ensures the military holds the political trump cards indefinitely. She and her colleagues are still a long way from getting it reformed. Five million Burmese signed a petition demanding such change, and a referendum has been promised for next month. But as Britain's Bingham Centre for the Rule of Law concluded, it is the hardest constitution in the world to change. It was deliberately written that way by the cunning ex-General Thein Sein, now the President. It was already in force when Suu Kyi and Hillary chatted and laughed in Rangoon, as it was when the Burmese visited the American and they sat "in a cosy nook outside the kitchen in my home in Washington, just the two of us."
A more acute politician than Hillary Clinton would have noticed the bear trap Thein Sein had set for Suu Kyi – one which may in time ensnare them both. In politics, euphoria is a dangerous drug.
Register for free to continue reading
Registration is a free and easy way to support our truly independent journalism
By registering, you will also enjoy limited access to Premium articles, exclusive newsletters, commenting, and virtual events with our leading journalists
Already have an account? sign in
Register for free to continue reading
Registration is a free and easy way to support our truly independent journalism
By registering, you will also enjoy limited access to Premium articles, exclusive newsletters, commenting, and virtual events with our leading journalists
Already have an account? sign in
Join our new commenting forum
Join thought-provoking conversations, follow other Independent readers and see their replies