If history and petropolitics teach us anything, it's that the collapse of Iraq shouldn't come as surprise
You only need to go back ten years to see how this was a crisis waiting to happen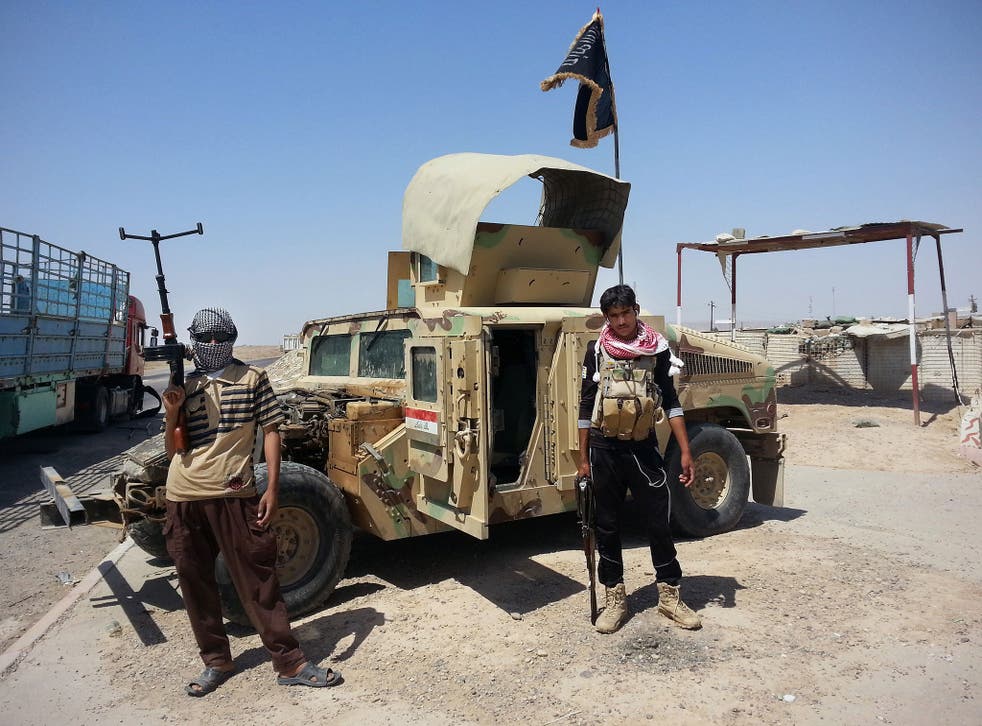 So while Obama's Spartan 300 deploy to Iraq's Thermopylae, it's worth taking a look at why the new Sunni Islamist caliphate of Iraq should have come as no surprise to any of us.
Horror it may be. Shock it is not. Take Tel Afar, the Iraqi town close to Iraq's border with Syria – when the border still existed, that is – which has just "fallen" to the rebels. The Americans were scrambling to hold on to this frontier way station almost 10 years ago and had to "recapture" it from Al-Qaeda-style insurgents at least once.
Indeed, Hassan Jamal Sulieman Oweydah, a Palestinian from the Mieh Mieh refugee camp in Lebanon, rammed his car into an American convoy at Tel Afar in December of 2004.
He was the first Palestinian "martyr" in the war against the US occupation of Iraq – and came from the same "Levant" forming part of the title of the Iraqi-Syrian rebel group.
"The last time I saw Hassan, he was standing in the gateway you've just walked through," his mother told me two years later. By then, 25 other Palestinians had been killed in Iraq.
"I thought he was going to go and I might not see him again and I said to 'come back'. But he said, 'Leaving is not like returning. It is not important for me to return.' "
Hassan's Palestinian friend Ahmed al-Faran later blew himself up in a suicide bomb attack in Fallujah, another of the towns now invested by the Islamist Sunni rebels of Iraq. Twice, the Americans had to "capture" Mosul before they left Iraq. And for well over a year before its "capture" this month – although the country's flag flew over official buildings – large parts of the city remained effectively outside government control.
And who can be surprised at the "capture" of Haditha, announced to the now-familiar consternation on Saturday night. As a centre of Sunni anti-Western resistance, was it not bound to fall to the Islamic State of Iraq and the Levant (Isis) and its chums?
And has everyone forgotten – for not a soul mentioned this yesterday – that this was the scene of the most infamous US war crime in Iraq, the massacre by US marines of 24 unarmed men, women and children in November 2005, a slaughter supposedly carried out in revenge for the killing of a marine in the town.
In pictures: Iraq crisis

Show all 98
Compared to the My Lai massacre in Vietnam, Haditha was an obvious choice for conquest. Who in Haditha would die for Nouri al-Maliki, America's own favourite as Iraqi leader (at least he was, until last week)?
Of course, we may rage to our hearts' content at the destruction of our whole absurd Iraqi project. The New York Times columnist Roger Cohen, normally the calmest of fellows, was in historical wrath mode only last week. "Iraq and Syria ... were rotten to the core, as ripe for dismemberment as the Ottoman Empire a century ago, sickened by the personality cults of brutal rulers, cracking at the internal lines of fracture colonial overseers chose to disregard," Cohen roared. "They were in a state of postponed decomposition."
Well, not really. Outrageous though the Sykes-Picot agreement was, it did at least leave Ottoman Mesopotamia in one piece (although France wanted Mosul for itself). The problem was that the Brits foisted a Sunni king from Arabia on to the country and thus ensured that the people would never exercise real freedom, and never learn the benefits of such dignity.
It was, as we know, about oil — the same reason for the 2003 Anglo-American invasion and the strike north by US forces to capture Mosul. If the city's major export was – let us say – asparagus, does anyone believe the 82nd Airborne would have been sent there?
And oil still remains – weirdly — an unspoken reason for this new war. Sure, it's a blow to the Iraqi government to lose the oil facilities of Baiji. But it's much more of a victory for Saudi Arabia – which funds the bearded Islamists swarming across Iraq – since the capture of Mosul has cut the city's oil supplies to the outside world and closed down output from Baiji itself.
Saudi Arabia's claim to be the greatest oil producer in the world is no longer threatened by Shia Iraq's output, nor the undiscovered reserves which might turn Iraq into the greatest oil producer and which lie, quite literally, under the boots of the al-Qa'ida-inspired Salafists who now threaten Maliki.
The tomb-desecration apparently already under way in Mosul is not unlike the destruction of images in the Syrian city of Raqqa, which the very same Islamists long ago included in the caliphate. It's just what the Wahabi-style Taliban did to the Buddhas of Bamian in Afghanistan in 2001. And the Taliban – let us remember, oh please, let's not forget – were funded by the very same Saudi Arabia.
Iraq's tragedy is terrifying enough – for the Christians of the country, for the new cities of refugees moving across its borders, for the sectarianisation of the whole Middle East – without stubbornly refusing to accept that this whole revolt has been going on for years, that hatred of America plays a foundation role and that our Saudi mates are lock, stock and barrel behind it. Officially, they deny this. Unofficially, they have been boasting for years of their support for the Syrian Islamists who fight the Alawite (Shia) Bashar al-Assad – who are exactly the same as those now threatening Baghdad.
One Middle East newspaper last week wrote scathingly of the failure of Arab "unity". The Arabs had failed to unite over "Palestine". They had failed to unite through nationalism or Baathism. The only true unity evident of late was that of refugees. Refugees from Palestine, from Syria, from Iraq, from Somalia and Sudan and South Sudan. It might be time, the paper concluded, for the Arab League to offer refugees their own seat in time for the next Arab Summit.
And, of course, today let's remember Lebanon and Hassan Oweydah who killed himself in Tel Afar all those years ago. He even arranged for his mother to receive a videotape – she showed it to me – of him cheerfully waving goodbye as he drove off to "martyrdom" in his bomb-rigged car.
The Salafists of Syria and Iraq have received arms and money via their Sunni militant allies in Lebanon – part of the frontier town of Ersal has for months been a virtual Islamist enclave inside Lebanon.
The "Levant" means Lebanon as well as Syria. And if they're victorious in destroying Iraq and Assad of Syria, many of these young men will return "home" to Lebanon. In their thousands. Perhaps that should be our "thought for the day" as we gasp, breathless, at the news from Baghdad.
* In a number of articles in June we made reference to funding for the terrorist organisation Isis having been channelled to the group from Saudi Arabia. The Saudi Embassy has asked us to make clear that the position of the Saudi Arabian government is unequivocal condemnation of the actions of Isis and its members and that the Kingdom has taken positive action to discourage any private funding or support for Isis or other extremists by Saudi citizens for ISIS. Since March 2014 the Saudi government has blacklisted religious extremist groups in the Kingdom, criminalising affiliation to, or participation in the activities of, organisations such as Isis. (Statement added 23/9/14)
Register for free to continue reading
Registration is a free and easy way to support our truly independent journalism
By registering, you will also enjoy limited access to Premium articles, exclusive newsletters, commenting, and virtual events with our leading journalists
Already have an account? sign in