If only other post-Soviet leaders would follow Mikheil Saakashvili's dignified example in Georgia
The president has shown true statesmanship in a region blighted by autocracy and corruption. Our writer, a citizen of Georgia, salutes his brave and noble stance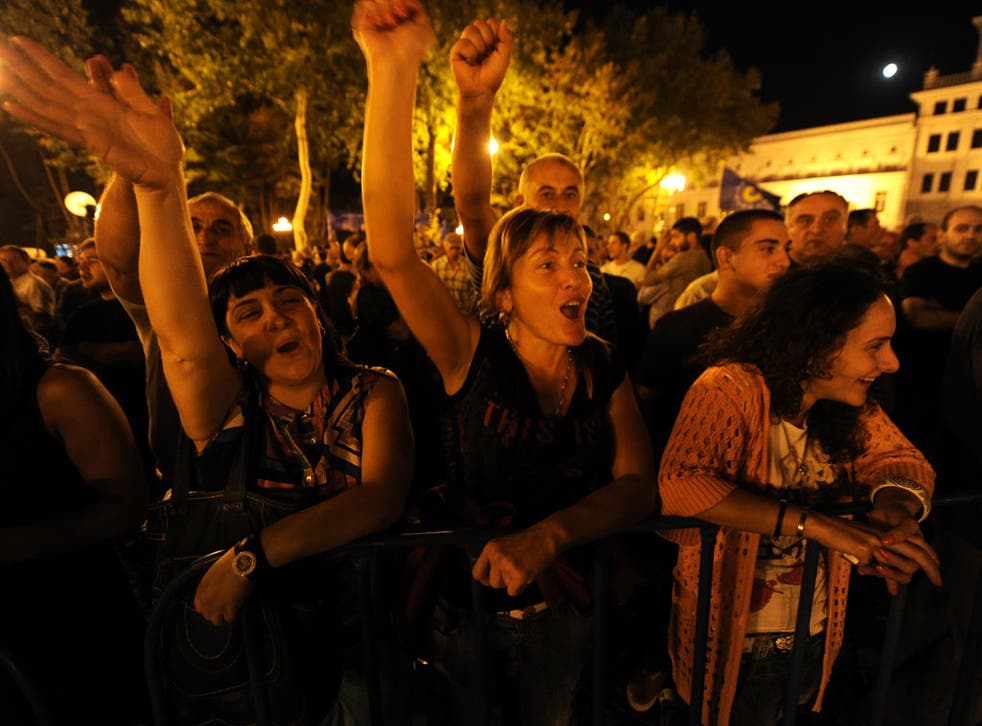 You can be forgiven for having missed it, but something amazing has happened in Georgia. For the first time in its post-Soviet history, political power has transferred peacefully and democratically from one force to another, through an election, not through a revolution. That might not sound like much—it happens in Western Europe all the time—but in the former Soviet Union, and especially in the war-torn, impoverished Caucasus, it is a hugely important moment.
When pro-government television stations released the results of early exit polls on Monday night, most Georgians did a double take. For years the channels had been the loyal mouthpieces of President Saakashvili and his ruling United National Movement party, yet here they were, predicting that the UNM were going to lose. While many opposition supporters began to celebrate, others worried. Georgia's electoral system meant that even if it lost the popular vote, the UNM could still pick up the most seats in first-past-the-post constituencies. Reports began to trickle in of special forces raiding polling stations, results were delayed. Many people, myself included, could not believe that the party that had ruled for nine years, usually efficiently but often ruthlessly, was going to just step aside.
But then, in a terse but dignified video address on Tuesday, President Saakashvili conceded that his party had lost control of parliament to the Georgian Dream, an opposition coalition headed by billionaire oligarch Bidzina Ivanishvili, and was going into opposition. It was a watershed moment, but it immediately seemed mundane. Georgian Dream supporters, who had been predicting stolen elections and blood in the streets, started betting on who'd get what ministerial post. UNM partisans, who had forecast a Russian invasion in the event of a win for Bidzina, posted "Che Sera Sera" on their facebooks, and tweeted "Keep Calm and Carry On" pictures.
But good humour aside — this is a very big deal: up till now in Georgian politics you only accept the results of the elections if it suits you, otherwise you claim they are rigged (indeed, the Georgian Dream had spent months complaining that the elections were pre-rigged, just in case they happened to lose). Secondly, Georgia has never had a real opposition before, instead having super-dominant ruling parties intent on monopolizing power and a shoal of more or less serious minnow opposition movements. With some of the biggest beasts of the Georgian political jungle now in opposition, we can be sure that the new party of power will not have an easy ride.
I am not a supporter of either the UNM or the Georgian Dream, but whoever you prefer there is now a real chance to entrench Georgian democracy permanently, and to end the bitterness and polarization that has afflicted the country. This is far from a sure bet: Saakashvili has more than a year left on his presidential term, and it is his responsibility to nominate the next Prime Minister. Ivanishvili has called for his resignation, but an uneasy cohabitation is probably more likely, at least for the time being. Nonetheless, there is cause for optimism. Ivanishvili has promised there will be no witch-hunts, and that many political appointees will keep their jobs.
Most important, though, is the example this sets to the region as a whole. Neighbouring Armenia, half-heartedly experimenting with its own reforms, will get a shot in the arm. The tyrannised people of Azerbaijan should also take heart. But it is in Russia that Georgia's lessons should be best studied. The massive neighbour that has undermined, invaded and dismembered Georgia ever since independence has had a lot to say about the democratic deficit in Tbilisi, but it has never had a democratic transfer of power in its history, and it doesn't look likely to have one anytime soon.
But what about Saakashvili, the man who was swept to power in the bloodless Rose Revolution, and who was said to have changed Georgia into a "beacon of democracy"? By losing the election, or rather, by allowing the election to be lost, he has secured his legacy. He took Georgia from a failed state to a place that holds proper elections. For years, Georgia watchers have bemoaned the erosion of democracy in Georgia, and the creeping authoritarianism of the Saakashvili government. Some believed he would never relinquish power, gripping it for decades like a Caucasian Mugabe. By conceding defeat, he has proved them wrong, and proved that Georgia is indeed the democracy we all hoped it would be.
Register for free to continue reading
Registration is a free and easy way to support our truly independent journalism
By registering, you will also enjoy limited access to Premium articles, exclusive newsletters, commenting, and virtual events with our leading journalists
Already have an account? sign in
Register for free to continue reading
Registration is a free and easy way to support our truly independent journalism
By registering, you will also enjoy limited access to Premium articles, exclusive newsletters, commenting, and virtual events with our leading journalists
Already have an account? sign in
Join our new commenting forum
Join thought-provoking conversations, follow other Independent readers and see their replies