If the quenelle isn't Jew-hating, why is it performed on the railway track to Auschwitz
In all my table-tennis triumphs while studying at Cambridge, I never felt the need to touch my right shoulder in tribute to F R Leavis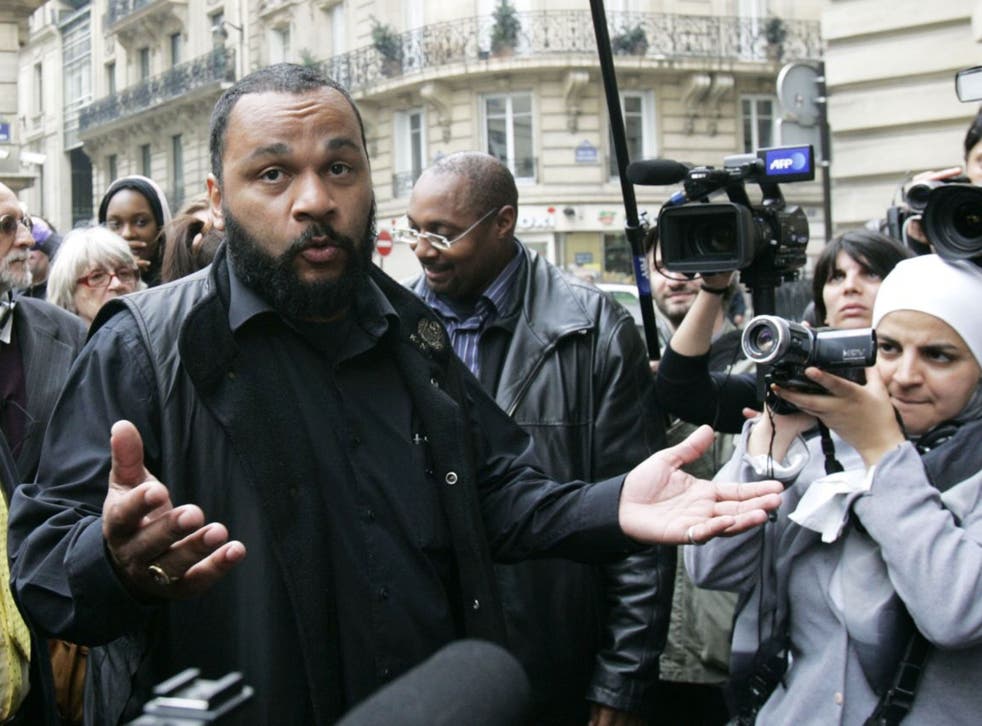 Où sont les neiges d'antan? Pardon my French, reader, but nostalgia always takes a French form with me. Particularly nostalgia for old-style anti-Semitism. Where are they now, the charming European Jew-haters of yesteryear, with their arm bands, forged Protocols, Dreyfusphobia and theories of racial purity? Candid, open, no pretending that they were something other, no complaining that they'd been smeared when you called them what they were. And now look! You can't find a Jew-hater to meet your eye.
How it is that anti-Semitism has become such a hole-and-corner activity in the West, why saying what anti-Semites have always said lacks the courage of its own convictions, and those who say it complain of being smeared the minute you call them out – these are matters for another column. Today, we confine ourselves to hand gestures that look like one thing and apparently mean another. You think that was a Nazi salute I just gave? Reader, I resent the smear. I was just hailing a taxi.
Take the "quenelle", a gesture widely considered to be an inversion of the salute with which Germans once expressed devotion to their Führer, made popular today in France by the comedian Dieudonné M'bala M'bala and copied by many of his supporters including the West Bromwich Albion footballer Nicolas Anelka. Variously of Real Madrid, Paris St Germain, Arsenal, Liverpool, Manchester City, Fernerbahce, Bolton Wanderers, Chelsea, Shanghai Shenua, Juventus, and now West Brom – so a player who either doesn't know the meaning of loyalty, or simply can't make his mind up, but one who, whichever way you look at it, has become as rich as a Jew on transfer fees (and don't dare smear me with the charge of anti-Semitism: I am not an anti-Semite) – Anelka recently made a show of giving this salute while playing against West Ham, but was quick to deny that anti-Semitism had anything to do with it. He did it for Dieudonné, he said.
Why it was necessary to show solidarity with a French comedian at Upton Park, Anelka has yet to explain. Respect? The admiration that a person who uses his body feels for a person who uses his mind? I won many a game of ping-pong while reading English at Cambridge, but I have to tell you I never once felt the urge to touch my right shoulder with my left hand as a mark of my admiration for F R Leavis.
Dieudonné M'bala M'bala also refutes the Nazi charge. He is anti-establishment, not anti-Jew, he is at pains to explain, and very definitely an anti-Zionist, not an anti-Semite. Well, we know better in this column than to make the mistake of supposing that the one is just another name for the other, no matter that the language used to denigrate Israel is sometimes so close to the language used immemorially to denigrate Jews that we must be forgiven if we occasionally conflate the two. After all, doesn't Dieudonné M'bala M'bala himself occasionally do the same? "When the wind turns, I don't think he'll have time to pack a suitcase," he said recently of a Jewish journalist (a Frenchman, not an Israeli) who'd upset him. "When I hear Patrick Cohen talking, you see, I think of gas ovens." If that is anti-Zionism as distinct from anti-Semitism, you can see why some of us get confused.
It's always worth distinguishing between bigotries, if one can, but when their resemblances start to outnumber their differences, Dr Johnson's famous dictum that there's "no settling the point of precedency between a louse and a flea" comes to mind. It might matter to the delusional megalomaniac that he doesn't think he's God, just Napoleon Bonaparte, but he's a delusional megalomaniac either way.
As for the quenelle itself, both M'bala M'bala and Anelka have some explaining to do. If it isn't anti-Semitic, then how come its adherents perform it grinning outside Jewish shops and museums, in front of synagogues, Jewish cemeteries and Holocaust memorials, outside Jewish schools including the Ozar Hatorah school in Toulouse where, in 2012, a gunman shot dead three Jewish children and a teacher, in front of posters of Anne Frank and, should there still be ambiguity, on the railway track leading into Auschwitz? Auschwitz, Mr Anelka. That's not a football team.
Of those who allow themselves to be photographed being Nazis without uniforms, or are only too happy to post photographs they took themselves, some will doubtless be more foolish than malignant. I don't mean foolish in the sense of having no idea what they're doing – that excuse won't wash for any of them: this isn't just an expression of Jew-hating, it's a celebration of Jew-hating's history – but foolish in that they think expressing Nazi sympathies on a selfie isn't all that big a deal.
So how, only 60 years after the Shoah, and when overt anti-Semitism is considered to be in poor taste, has this come about? Has the flea finally joined forces with the louse? Could it be that sparks from the coals of fire which anti-Zionists heap on Israel have flown wide of the mark, that the furious rhetoric of anti-Zionist denunciation has not, after all, kept the Jew separate from the Jewish state? Is nostalgia for good old French-style Jew-hating more widespread than we realise – just calling itself by another name? Whatever the explanation, Upton Park is not in France, and when it is witness to a Nazi salute, we should not take the matter lightly.
In the meantime, here's a tip for anyone afraid his "innocent" gesture will be misinterpreted. Don't make it. When it comes to signs and language, no one is innocent of history. After the last century's murderous madness, where every salute sanctioned a massacre, the only safe place for your hand is in your pocket. What the safest place is for Dieudonné M'bala M'bala and Nicolas Anelka is not for me to say.
Register for free to continue reading
Registration is a free and easy way to support our truly independent journalism
By registering, you will also enjoy limited access to Premium articles, exclusive newsletters, commenting, and virtual events with our leading journalists
Already have an account? sign in
Join our new commenting forum
Join thought-provoking conversations, follow other Independent readers and see their replies