War with Isis: If US wants to destroy the group, it will need to train Syrians and Iraqis
For as long as President Obama continues to resist sending US ground forces to battle Isis, his policy is in reality one merely of containment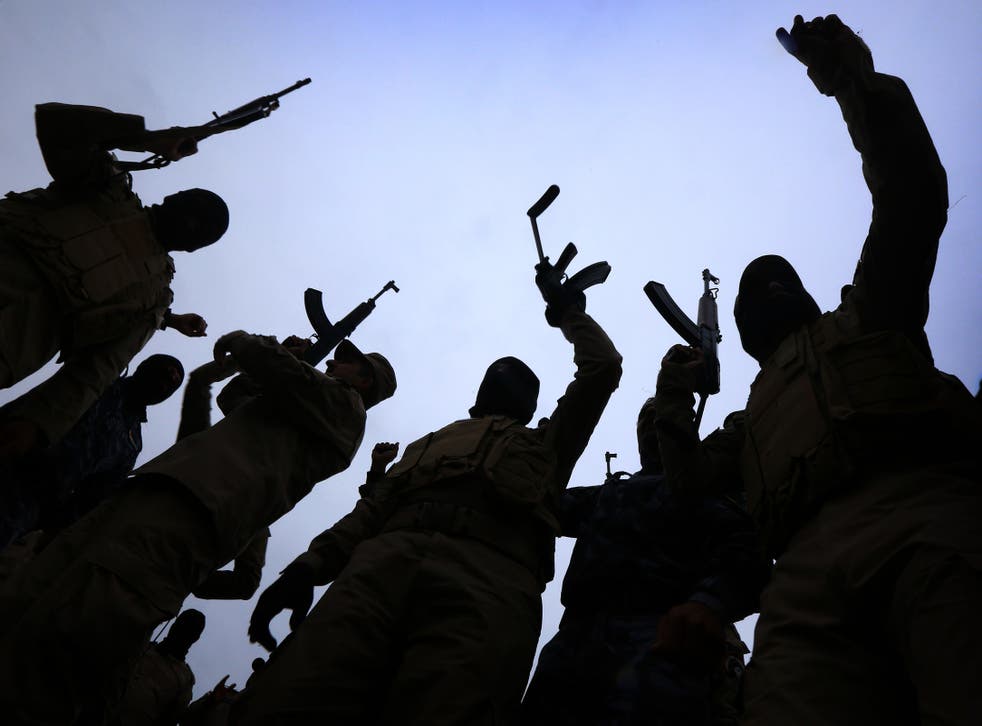 Launching air strikes last August in Iraq to blunt the galloping advance of Isis across the country was one thing, but it was barely a month before the Pentagon alongside Arab allies expanded the campaign into Syria. The reasoning was clear. If Isis was ignoring the border between the countries, then so should we.
Britain, however, is only dropping bombs on Isis targets in Iraq, using Tornado aircraft or drones in a campaign that began in September. The UK also has troops in Iraq advising the army as well as Kurdish Peshmerga fighters, and is supplying some equipment to the Kurds.
That aerial campaign has continued without pause ever since. In Syria, the US has backing from Jordan, Bahrain, Qatar and the United Arab Emirates but is nonetheless carrying the biggest burden, as in Iraq. The cost to the US has so far reached almost $3bn, officials said this week. Last month, the Pentagon suggested that, since the campaign started, some 10,000 Isis fighters in Iraq and Syria had been killed.
Each day, Central Command gives a round-up of targets struck in the previous 24 hours. Usually, the list in Iraq is a good deal longer than in Syria. (Three in Syria, 10 in Iraq, in its bulletin of 1 July.) The Department of Defence says so far the US and its partners have destroyed 7,655 Isis targets, among those, 98 tanks and 472 "staging areas" for Isis combat operations.
The purpose of the effort, as consistently described by US officials and indeed by President Barack Obama, is to "degrade and ultimately destroy" Isis.
It remains unclear, however, how much closer the coalition is to that goal nine months later or whether it has really made any progress.
For as long as President Obama continues to resist sending US ground forces to battle Isis, his policy is in reality one merely of containment. The Pentagon's only hope of ultimate destruction of the caliphate depends for now on arming, supporting and training Syrians and Iraqis to do the job themselves.
In Iraq that has meant the deployment of so-called non-combat "military advisers". Recently, President Obama authorised sending an additional 500 advisers to supplement the 3,000 in the country. They are being told to stay away from the front lines. This week, the Pentagon conceded it is falling far short of its stated target of training 5,400 Syrian rebels annually to fight Isis.
The White House asked Congress for $500m to train Syrians in June 2014, but the effort didn't get under way until May this year. The numbers being trained: just 100, officials admitted.
"We are trying to recruit people who ... have the right mindset and ideology to fight Isis," Defence Secretary Ashton Carter told the House Armed Services Committee on 17 June. "It's hard to identify people who meet those criteria."
In numbers the fight against Isis
* August 2014: US-led coalition to combat Isis is formed.
* Various countries contribute aircraft; military aid to local ground forces; military advisers to train local forces in-country; and bases for operations and training.
* 62 countries form the coalition, from Albania to the US.
* 14 nations comprise the Combined Joint Task Force – Operation Inherent Resolve (OIR). These countries fly military strikes against Isis targets. The US has carried out the bulk of the strikes, alongside the Iraqi air force. Targets in Iraq have also been hit by planes and drones from Australia, Belgium, Canada, Denmark, France, Jordan, The Netherlands and the UK.
* Bahrain, Canada, Jordan, Saudi Arabia, the UAE, and the US have struck at targets in Syria.
* More than 3,600 air strikes against both countries have been carried out, according to the US military.
* Countries helping train Iraqi forces include Australia, Germany, Italy, New Zealand, Norway and Spain – they have trained more than 9,000 Iraqi troops; about 3,200 are still in training. Altogether, 3,550 US military personnel and 1,500 coalition troops are involved.
* According to the MoD, the UK contribution to OIR consists of more than 50 tons of non-lethal equipment: 40 heavy machine guns, almost half a million rounds of ammunition, and 1,000 IED detectors. The UK has also delivered 300 tons of weapons and ammunition on behalf of other donors.
* The MoD said that about 1,000 UK military personnel were engaged in anti-Isis operations –from air strikes and supporting intelligence and surveillance to training and refuelling missions.
Register for free to continue reading
Registration is a free and easy way to support our truly independent journalism
By registering, you will also enjoy limited access to Premium articles, exclusive newsletters, commenting, and virtual events with our leading journalists
Already have an account? sign in
Join our new commenting forum
Join thought-provoking conversations, follow other Independent readers and see their replies