In Britain as in Europe, the protests against austerity have failed. We have to try another way
What our columnist calls the Great Reverse - a slide in general wellbeing married with a removal of rights that have been won over decade - deserves a robust response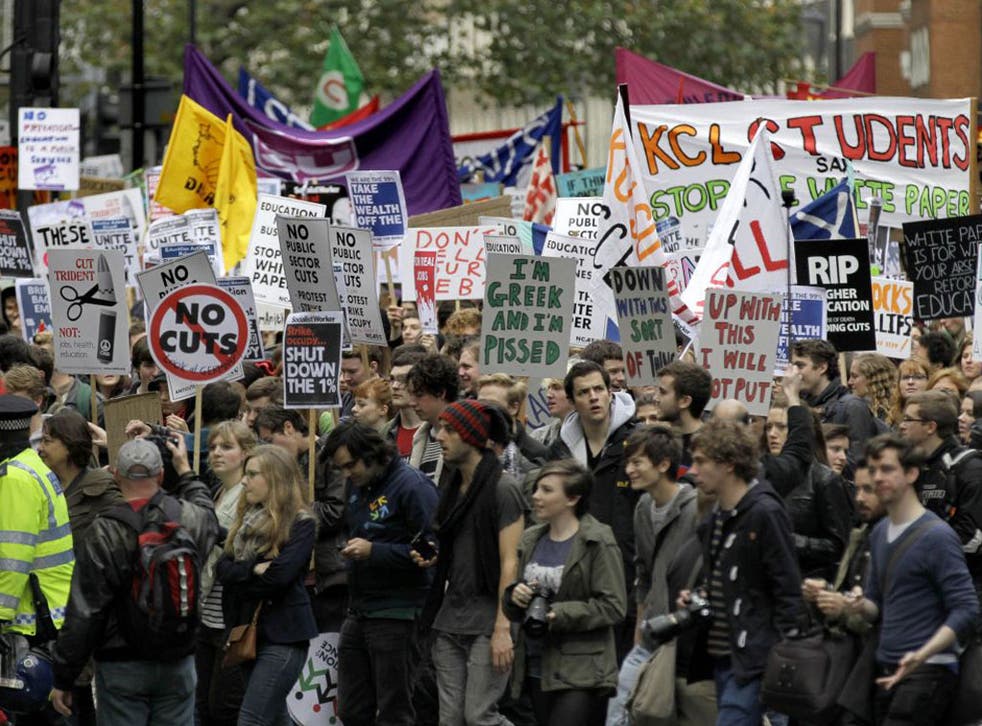 If you're lacking in inspiration, go and chat to the students of Featherstone Sixth Form in Southall, like I did last Friday. They will shatter any clichéd prejudices about an apathetic X-Factor generation who stare blankly when politics is even mentioned, only to vote enthusiastically when it comes to Big Brother. These bright young women and men were full of excitement and eloquence as they discussed their futures, as well as those of Britain and the world; and they were full of fury and frustration about the fact their generation was the first to face being poorer than their parents since Berlin fell to the Allies.
But there was something else that struck me: and, having done dozens of talks across Britain in the past year, it was uncomfortably familiar. There was a hint of hopelessness: of the futility of protest that could easily be brushed away by the powerful. My appeal to precedent – of the successful movement against the Poll Tax which helped topple Maggie, or the Leeds bin collectors who defeated an attempt to slash their pay by up to a third in 2009 – was indulged, but I'm not sure it was particularly convincing. And here I saw the story of what has happened to the movement against the Government, or austerity, or whatever you want to call it, since 2010. The anger is there; the fear of the future is evident; and yet hope – a crucial ingredient of progressive change – was missing.
Great Reverse
Sure, there has hardly been a shortage of outcry against the Tory assault. We have yet to settle on a name for this crisis, but the Great Reverse sums it up: a slide in general wellbeing married with a removal of rights that have been won over decades. In Britain – as across Europe – the crisis has been used to slash taxes on the wealthy while hiking them on everyone else, privatise and decimate services, demolish benefits for the unemployed and working poor, and strip workers of their rights.
Before November 2010, there was a sense that the Brits were somehow not like the quick-tempered Greeks and French, airbrushing our proud history of dissent and struggle. That complacency collapsed when tens of thousands of students emerged both on the streets and the political stage, sparking weeks of protests and occupations. The young had been berated for being apathetic; now they were met with batons, police kettles and the contempt of the mainstream media for crying out against political betrayal. But although the Government tripled tuition fees, the students gave others inspiration: Unite's leader, Len McCluskey, admitted they had put the trade unions "on the spot".
Making up lost ground, the trade unions organised the biggest workers' demonstration in a generation last March, followed eight months later by the largest strike since my great-grandfather joined hundreds of thousands of others in downing tools in the 1926 general strike. UK Uncut has occupied shops and banks with the message that tax avoidance at the top is worth over 20 times more than benefit fraud at the bottom. Occupy camped outside the steps of St Paul's Cathedral and reminded us who caused the crisis (members of the still booming top 1 per cent) and who is being made to pay (the rest of us).
But even the most zealous agitator would struggle to claim that the momentum has been maintained as the Great Reverse sets in. According to the Office for National Statistics, the average Briton is 13 per cent poorer than when Lehman Brothers toppled: that's a drop in living standards more than three times greater than the last recession. The Resolution Foundation believes that households will still be worse off by the end of the decade than they were at the start of the century. It is without precedent in modern times.
So where is a sustained movement against this Great Reverse? Even Mervyn King, the Governor of the Bank of England, has expressed surprise that there is not greater anger. And it boils down to two ingenious strategies by the Government. First, to redirect people's fury from those who caused the crisis, to their neighbours down the street. Secondly, manipulating the absence of a coherent alternative offered by the Opposition, leading to a widespread sense of resignation.
Demonisation
The first has, in truth, been devastatingly effective. The former Lib Dem minister Sarah Teather recounted the Government's demonisation strategy at the weekend; her lip apparently trembled as she did so. "Whenever there is any hint of opposition, they wheel out a caricature of a family, usually a very large family, probably black," she confessed. This deliberate attempt "to stoke up envy and division between people in order to gain popularity at the expense of children's lives is immoral," she said.
That welfare spending is so high because private landlords charge extortionate rents, businesses don't pay their workers properly, and so many have been kicked out of work, is intentionally hidden. Supermarket checkout workers with no pensions are encouraged to point at the nurse next door and think, "I've been robbed, so why shouldn't they be robbed, too?"
The Labour leadership has yet to offer a real alternative to the Great Reverse, and the anti-austerity movement's solutions are often fragmented and little more than slogans. There was no organised left to present a case when the crash began, leaving a perversely emboldened New Right to turn the crisis into a resurgent neo-liberal project. People may be angry, but they are busy, too: many are exhausted juggling jobs and children, and will not give up weekends and evenings unless they believe their efforts are contributing to a worthwhile cause.
So this is what we must do. First, challenge the demonisation strategy by giving a voice to those being pummelled by austerity. As George Lakoff, the US political linguist, points out, people connect better with stories than facts and statistics. Second, present a coherent alternative that is communicated in a way that resonates with people who live outside the political bubble. Bring down welfare spending with council housing, rent controls, a living wage, and jobs; clamp down on tax avoidance and make the wealthy pay more; have proper public control of bailed-out banks, and use them as the focus of an industrial strategy that creates skilled, secure jobs, like Germany has done.
Social change happens because of struggle and sacrifice from below, not generosity and goodwill from above. But unless the frustrations of those bright young things in Southall are given a political direction, they will not fight back and the Great Reverse will go on. As Tony Benn puts it, progressive movements depend on "the flame of anger against injustice, and the flame of hope you can build a better world". We have the anger. Now we need to work on the hope.
Register for free to continue reading
Registration is a free and easy way to support our truly independent journalism
By registering, you will also enjoy limited access to Premium articles, exclusive newsletters, commenting, and virtual events with our leading journalists
Already have an account? sign in
Join our new commenting forum
Join thought-provoking conversations, follow other Independent readers and see their replies