In modern warfare, it's the civilians who suffer most of all
From MH17 to Gaza, there's no distinction between soldiers and non-combatants caught in the crossfire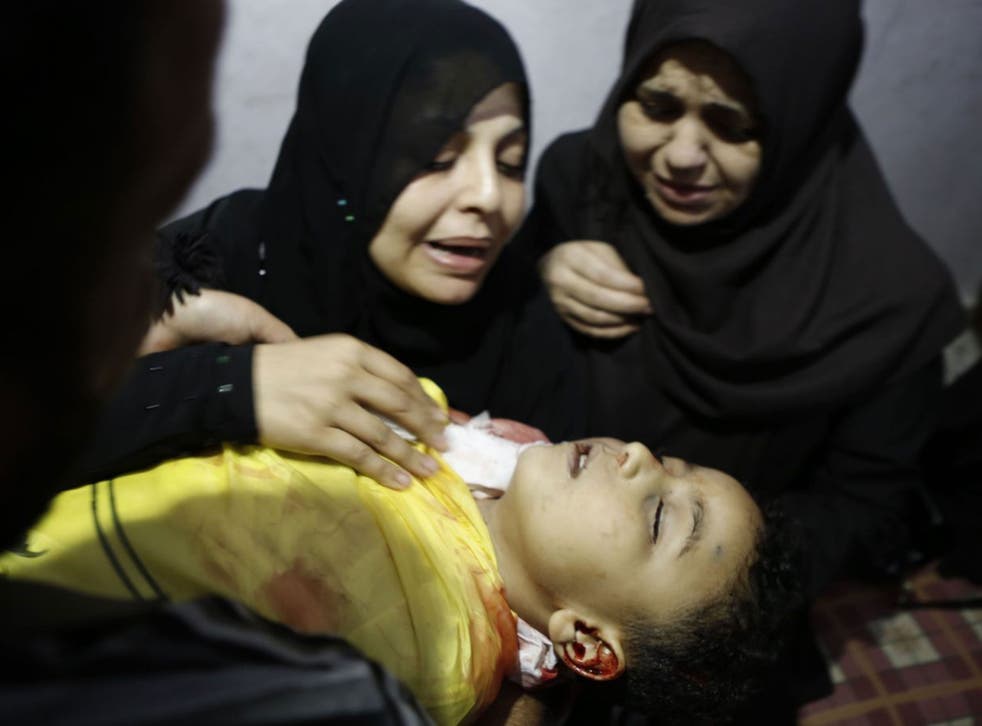 One evening last week, two sets of terrible images dominated TV bulletins, news websites and social media. From eastern Ukraine, pictures emerged of wreckage and dead bodies, the latter sometimes pixelated, following the shooting down of a Malaysia Airlines passenger plane. At the same time, in Gaza, flares lit up the night sky as the Israeli army followed days of shelling with a ground assault.
Almost 300 passengers and crew were killed in the plane crash that day, while at least 24 Palestinians and an Israeli soldier died in Gaza.
The conflicts in Ukraine and Gaza are very different but they have this in common: as in almost all modern wars, the people who suffer most are civilians. The passengers on flight MH17 had no connection with the fighting 33,000ft below their aircraft; officials in Gaza say that three-quarters of the people killed since Israeli military operations began almost two weeks ago have been non-combatants. The Israelis counter that the deaths are the fault of the terrorist group Hamas, which places rocket launchers in civilian areas, but apportioning blame does not reduce the death toll among women, children and the elderly.
Modern forms of warfare are waged relentlessly against non-combatants. Just over a century ago, the ratio of military to civilian casualties was eight to one. By the 1990s, that figure had reversed. Think of a modern conflict – Iraq, Syria, Sierra Leone, Bosnia, Kosovo – and the pictures that come to mind are endless columns of refugees and the debris-strewn bodies of women and children. In Sierra Leone a few years ago, I was shocked by the number of amputees I encountered, men and women in their twenties who mutilated by coked-up teenage "rebels" during the country's savage civil war.
Spreading fear in civilian populations is a key element of modern warfare. Two world wars have created an understandable horror of large-scale conflict, but an unintended consequence has been the widespread adoption of tactics which make no distinction between soldiers and civilians. We have grown used to the idea that civilians may be attacked by non-state actors, usually terrorist groups, on the streets of New York, London or Madrid. But similar tactics are being used by some governments, usually through proxy militias, and Russia is one of the worst offenders. The Russian president Vladimir Putin is a master of double-speak, encouraging toxic forms of nationalism which have stoked ethnic conflict in neighbouring countries, while publicly condemning violence.
No one seriously believes that Ukrainian separatist groups would have been able to seize areas in the east of the country without substantial assistance from Russia. The separatists have shot down at least 11 Ukrainian military aircraft since June, using Russian-built surface-to-air missiles. It is hard to imagine that they would deliberately target a foreign airliner, and a more likely explanation is that they mistakenly believed it was a Ukrainian military transport plane. But while the mass murder of almost 300 civilians feels like a game-changer, Putin and his allies may have made a rapid calculation that they can sow sufficient confusion to get away with it.
Putin is a shameless user of propaganda and he has cowed much of the Russian media into toeing the government's line. Russia was placed 148th in the 2014 World Press Freedom Index compiled by Reporters Without Borders; the organisation has previously highlighted an "unacceptable failure to punish all those who have murdered or attacked journalists". The murder of the investigative reporter Anna Politkovskaya, who was assassinated in Moscow on Putin's birthday in 2006, is a case in point; last month five Chechen men were convicted of the killing, but her family believes that the person who ordered the hit is still at large. No one has ever been charged in connection with the death of Sergei Magnitsky, a whistle-blowing accountant at a Moscow law firm, who died in dreadful prison conditions in 2009 after implicating police, the judiciary and tax officials in a massive fraud.
The coverage of the MH17 crash was too much for one journalist, a correspondent at the London office of the state-owned TV station, Russia Today. Sara Firth resigned in protest, claiming that the first rule of the station's style book is "blame Ukraine". Many journalists already shun Russia Today as a shameless propaganda outlet but it is worth remembering that the WikiLeaks founder, Julian Assange, lent it respectability by presenting his own show on the station. His interviewees included Noam Chomsky, Tariq Ali, and Ecuador's president, Rafael Correa.
In Ukraine, at the site of the plane crash, Russian-backed separatists have been doing their best to conceal evidence of what is being described as a war crime. This is surely right, but it points to an uncomfortable fact: in recent years, as governments and human-rights organisations have pushed for international tribunals to punish war crimes, the risks to civilians have increased exponentially. Indeed, according to the academic Mary Kaldor, behaviour which used to be proscribed in war, including atrocities against non-combatants, now constitutes "an essential component" of modern warfare.
There is a danger, when so many civilians are dying – the total number of dead in Gaza rose above 300 yesterday – that it starts to seem inevitable. But it is happening because of a reluctance by the international community to restore and enforce the rule of law. Corruption, inequality and the return of nationalism are breeding grounds for conflict, and the events of last week demonstrate that none of us is immune from the ghastly consequences of modern warfare. It shouldn't take mass murder in the sky over Ukraine to persuade our leaders that they need to identify and prosecute those who commit war crimes, no matter how important they are.
Register for free to continue reading
Registration is a free and easy way to support our truly independent journalism
By registering, you will also enjoy limited access to Premium articles, exclusive newsletters, commenting, and virtual events with our leading journalists
Already have an account? sign in
Register for free to continue reading
Registration is a free and easy way to support our truly independent journalism
By registering, you will also enjoy limited access to Premium articles, exclusive newsletters, commenting, and virtual events with our leading journalists
Already have an account? sign in
Join our new commenting forum
Join thought-provoking conversations, follow other Independent readers and see their replies