In Ukipland there's a pint waiting for Russell Brand and Nigel Farage
They like to think they're opposites but when it comes to women, I can't help thinking they'd find common ground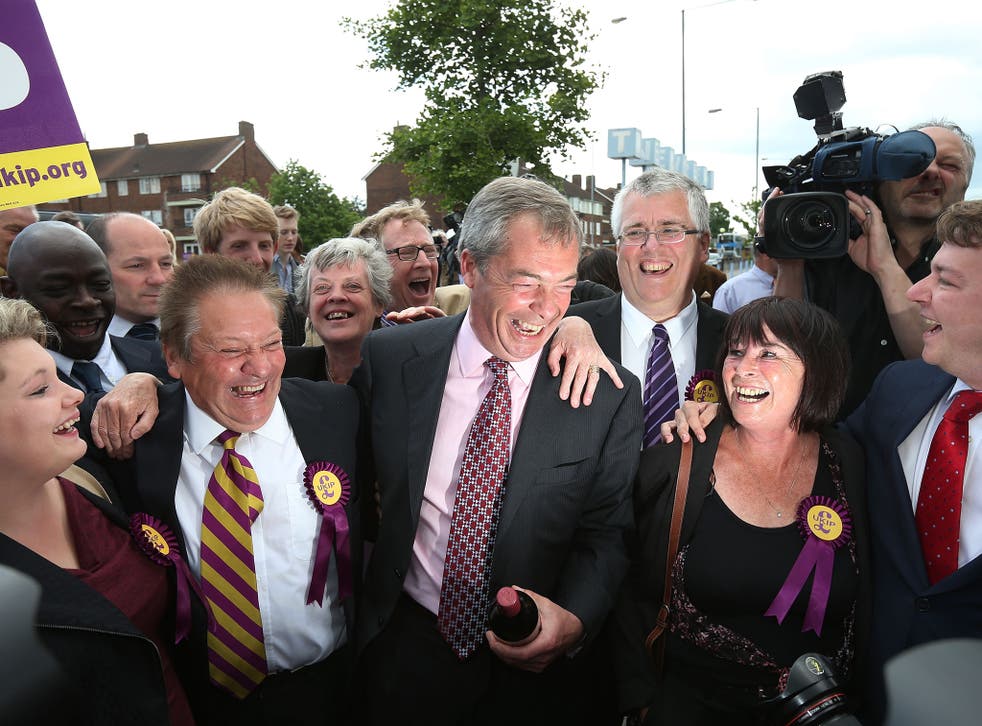 I've been thinking lately about "Greeneland", the term used to signify the imaginary world created by the novelist Graham Greene. Greeneland is an unsettling place, characterised by shifting identities and the fear of betrayal. It's not so very different, in some respects, from Ukipland, a fictional country where the old values are no longer respected and people yearn for vanished certainties.
It is also a place, we learned last week, where a man called Mr Bird met a woman called Ms Bolter – I kid you not, to quote Nigel Farage – with farcical consequences. Bird & Bolter sounds like an old firm of solicitors where the senior partner has just stepped out for lunch at his club. Mr Bird does indeed have a club, the Oxford and Cambridge in Pall Mall, to which he invited Ms Bolter for dinner so they could continue an interview earlier in the day to assess her potential as a Ukip parliamentary candidate.
Sadly, when Bird invited her to dinner on a later occasion, she was wearing the wrong clothes. He gallantly offered to buy her a dress and shoes to replace the jeans skirt and Dr Martens she was wearing, a detail which makes me wonder if she ever quite got the Ukip thing. Her Cinderella-like transformation was such a success Mr Bird was able to pay her one of the highest compliments in the Ukip lexicon: "Now you look like the sort of girl that can get into a taxi." In Ukipland, even the taxis have dress codes.
It's a universe where men are men, and the lady wife cleans behind the fridge before joining hubby in the lounge bar. It's not, at first glance, the kind of place where Russell Brand would fit in, and Farage couldn't hide his disdain when the two men met on Question Time. Brand uses chapstick, something a real chap would never do, and Farage mocked the comedian's "personal make-up artist" in a column he wrote after the event. He even described Brand as "limp", implying the comedian had failed to meet Ukip's exacting but traditional standard of masculinity, despite the sexual exploits for which he has been feted in the popular press.
Baiting Brand was no doubt a welcome diversion from the problems Ukip's Bird was having with Bolter, who had decided his behaviour was a bit too masculine and accused him of sexual harassment. It was a far cry from the heady days of the Ukip conference in September when Bird, recently appointed as the party's general secretary, introduced Bolter as one of its star candidates. So keen was he to characterise her as a poster girl for diversity that he read out chunks of her CV, including the claims that she read PPE at Wadham College, Oxford, and "nowadays teaches at a local comprehensive school in east London". She was even, to top it all, a defector from Labour.
Not for the first time, it turned out that Ukip had failed to do the most basic due diligence. As Bird released squirm-making texts between himself and Bolter, claiming they had been in a consensual relationship for all of two weeks, Oxford University denied that she had even been one of its students. Barking and Dagenham council weighed in, saying she had not worked at any school in the borough since September 2013. Then it emerged that Bolter's Labour party membership had lapsed when she failed to pay her subscription.
Russell Brand's Most Controversial Quips

Show all 19
Eighteen months ago, Farage admitted that the party had not checked the background of all 1,700 people who put themselves forward as candidates. Among other embarrassments, Ukip hopefuls have appeared in a Jimmy Savile mask, blamed the Holocaust on Jews, and been photographed giving a Nazi salute; according to Farage, the latter gesture was misunderstood and the candidate was "imitating a pot plant". Then there was the former MEP Godfrey Bloom, who complained that women don't clean behind the fridge properly, criticised aid to "bongo bongo land" and resigned after calling female activists "sluts".
Bird, who denies sexually harassing Bolter, appeared before a Ukip disciplinary committee on Friday. Around the same time, reports began to circulate that Richard Desmond, owner of Express newspapers, is to donate £300,000 to the party. Until he sold them in 2004, Desmond published a string of porn magazines; he still owns several "adult" TV channels. The donation brings closer the possibility of the Express titles endorsing Ukip at the election.
All of this points up the irony of some people hailing Brand, a four-time winner of The Sun's Shagger of the Year contest, as modernity's counterblast to Ukip. True, he challenged Farage on immigration last week, but he called women MPs "love" and kept talking over them. Brand and Farage like to think they're opposites but when it comes to the fair sex, I can't help thinking they'd find common ground over a pint in Ukipland.
Register for free to continue reading
Registration is a free and easy way to support our truly independent journalism
By registering, you will also enjoy limited access to Premium articles, exclusive newsletters, commenting, and virtual events with our leading journalists
Already have an account? sign in
Register for free to continue reading
Registration is a free and easy way to support our truly independent journalism
By registering, you will also enjoy limited access to Premium articles, exclusive newsletters, commenting, and virtual events with our leading journalists
Already have an account? sign in
Join our new commenting forum
Join thought-provoking conversations, follow other Independent readers and see their replies