Iraq crisis: John Kerry's search for moderates is five years late
The US Secretary of State talks of 'pushing back' against Isis – but who will do this pushing?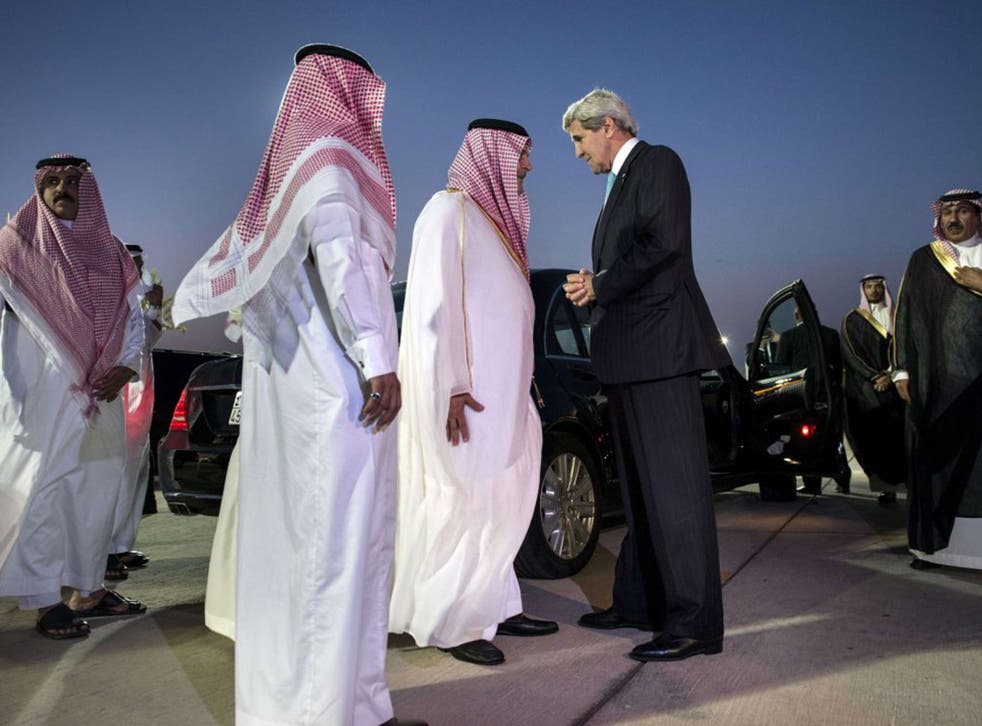 Defenders of the US Secretary of State, John Kerry, sometimes concede that he is a well-meaning windbag but argue that, if he does little good as he rushes around the world, he has done little real harm.
But going by his latest foray to Iraq, Saudi Arabia and other parts of the Middle East, this estimate may have to be revised. As the situations in Iraq and Syria deteriorate after the fall of northern Iraq to jihadis, Kerry brings to these twin crises a shallowness of understanding that can only make them worse.
Take the Secretary of State's latest idea about what to do in Syria and Iraq, expressed at the start of a meeting with the Saudi-supported Syrian opposition leader, Ahmad al-Jarba, in Jeddah last week. Kerry said that "obviously, in light of what has happened in Iraq, we have even more to talk about in terms of the moderate opposition in Syria, which has the ability to be a very important player in pushing back against the presence of Isis and to have them not just in Syria, but also in Iraq." The fogginess of the sentence probably reflects Kerry's befuddled thought processes about what is happening.
But for all their wooliness, Kerry's words reveal that he is the victim of two important misconceptions about what is happening in Syria and Iraq. The extent of American policy failure, which led to the Islamic State of Iraq and the Levant (variously called either Isil or Isis) taking over a great swath of territory since the fall of Mosul on 10 June, has been understated.
For 18 months, Iraqi leaders having told anybody who would listen that the opposition in Syria was dominated by jihadis such as Isis, Jabhat al-Nusra (the official al-Qa'ida representative) and Ahrar al-Sham. The Iraqis expressed complete conviction that unless the US did something to close down the civil war in Syria then this would inevitably destabilise Iraq.
In pictures: Iraq crisis

Show all 98
Over the past week, everybody in Western capitals and many people in Baghdad have been blaming Iraq's Prime Minister, Nouri al-Maliki, for the present disaster – and with good reason. But what really destroyed the political and military status quo in Iraq was not Maliki's misdeeds but the civil war in Syria and the fact that the predominant military force in the Sunni opposition since the end of 2012 has been al-Qa'ida-type groups just as opposed, for sectarian reasons, to the government in Baghdad as to the one in Damascus.
The moderate Syrian military opposition scarcely exists inside the country any more and the Free Syrian Army is losing rather than gaining ground. There is no substance to Kerry's idea that it, or other, armed moderates are important players in Syria or that they are in a position "to push back" against Isis's ferocious battle groups, not only in Syria but in Iraq.
At the same moment as Kerry was lauding the potential of the moderate opposition in Syria, a much more accurate description of the real situation was being told to a news agency by Abdullah, a 27-year-old former Free Syrian Army fighter, who said he left the FSA when Isis overran his hometown of al-Bab in northern Syria in the spring, killing two of his friends. He said he quit because "I realised that our uprising has been hijacked by others, and that nothing will be settled unless there is an agreement between Iran and Saudi Arabia: that's not worth dying for".
The "moderate" opposition in Syria was crumbling long before the fall of Mosul, but Isis's victories in Iraq have given it a tremendous boost in prestige, morale, money and equipment. It holds parades in Syria with tanks and Humvees captured in Iraq. In the past two weeks it has besieged Deir ez-Zor, whose capture would leave it in control of the whole Euphrates valley from Fallujah through western Iraq and eastern Syria to Jarabulus on the Turkey border.
In another important development, besieged Jabhat al-Nusra fighters in the town of Boukamal, on the border with Iraq, defected this week and joined Isis which already holds the Iraqi side of the border.
The crucial point here, one that Kerry and Washington should try to grasp, is that the opposition in Syria is controlled by jihadis, and within the jihadi constellation it is Isis that dominates more than ever. Yet it is at this moment that President Obama is asking Congress for $500m (£300m) to equip and train "appropriately vetted" opposition fighters who are supposedly going to fight both Bashar al-Assad and Isis, Jabhat al-Nusra and the other jihadis. And, of course, these fighters will be seen by all sides as mercenary pawns of the Americans, Saudis and Qataris.
Again, the idea is so silly that maybe the US administration is only pretending to have a policy in Syria and Iraq. Maliki has openly identified Saudi Arabia and Qatar as funding terrorism in Iraq so one more Saudi-backed Sunni gang playing a role will be wholly unwelcome in Baghdad.
Kerry's faith in the Syrian moderate opposition is reminiscent of Alden Pyle, the undercover CIA agent in Graham Greene's novel The Quiet American, who believes in a "Third Force" in Vietnam in the 1950s that is neither colonialist nor Communist. In fact, the Third Force is wholly an American creation.
Kerry has been searching for a Third Force in Iraq, in this case in the shape of moderate Sunni leaders to be included in a new Iraqi government to be led by somebody other than Nouri al-Maliki.
That may be easier said than done, since the Sunni leaders on offer are discredited politicians regarded by their own community as agile in feathering their own nests but not much else. Maliki should go, not only because he is a hate figure for the Sunni, but because he is catastrophically incompetent and incapable of directing a war against Isis. And war there is bound to be, because Isis is not in the business of negotiating compromises but of building a sort of religious fascist state in which Shia and Christians will be killed or expelled.
The time for genuinely inclusive governments and power sharing between communities was five years ago. Both the Sunni and the Kurds have now taken by force what they could not obtain by constitutional means. They are not going to reverse course into a united Iraq from which they have just escaped. If the US seriously wants to combat Isis it will have to look beyond non-existent moderate forces.
Register for free to continue reading
Registration is a free and easy way to support our truly independent journalism
By registering, you will also enjoy limited access to Premium articles, exclusive newsletters, commenting, and virtual events with our leading journalists
Already have an account? sign in
Join our new commenting forum
Join thought-provoking conversations, follow other Independent readers and see their replies