Is anyone in Britain still listening to George Galloway's Respect Party? And should they be?
A survey of their candidates tells up plenty not just about its personnel but it's philosophy too. How did they come to be part of Britain's political Left?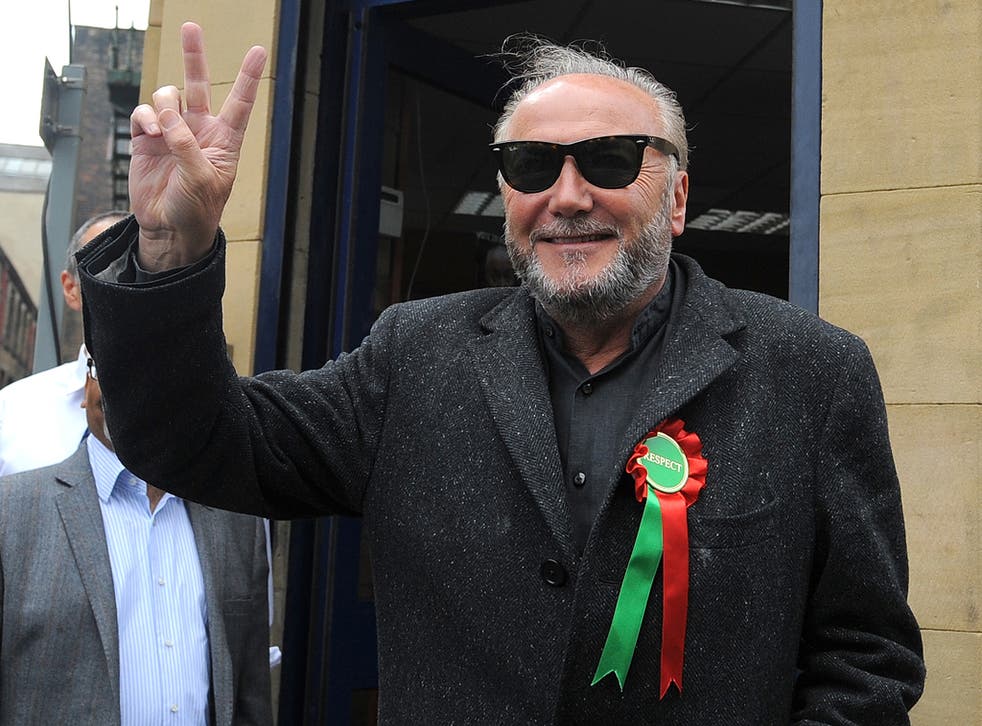 In the last fortnight, two by-election candidates have been announced for Respect, a party to which by-elections afford an unusually good opportunity for national exposure; or even an upset, as happened in Bradford West. But, after recent events, it faces these elections in a fairly rocky state.
A brief recap: since George Galloway's March return to the Commons, his views on rape – that penetration did not always require a woman's consent, specifically, in Julian Assange's case, in a situation where consensual sex between the complainant and Julian Assange had apparently taken place earlier the same night – were considered "unacceptable" enough to trigger the resignation of Respect's leader, Selma Yaqoob, in September, as well as the original candidate for Manchester Central, Kate Hudson.
But it's not as if the signs that Galloway's views stretched the bounds of public acceptability weren't there long before. Among many others, he was memorably saluting the "indefatigability" of Saddam Hussein, long after the Kuwait invasion.
Neither is Yaqoob herself, who once described 7/7 attacks as "reprisal events", someone of particularly palatable views; but she often seems a more astute, presentable politician than he. Not that, further to Galloway's notorious scenes on Celebrity Big Brother and his continuing presenter slots on Iran's propaganda channel PressTV, he set the bar very high.
Unpleasant
Perhaps surprisingly, though, many still seem to feel that Respect has a place in the left pantheon, despite both the apparent lack of clear ideology and growing evidence of the unpleasant views of some of its leading figures.
The original political stew that created Respect in 2004 comprised green activists, old-fashioned peaceniks, old hard left, plus ethnic and religious community activists. But it was particularly in Muslim communities, where there was anti-war resentment, that it found support. And these groups were united not so much by what they believed in, but rather by what they were against: the Western, pro-American establishment of which they were the helpless victims. My enemy's enemy and all that.
Indeed, in the time-honoured far-left tradition, when you have slim chances of obtaining power, it is far easier to unite activists against a common enemy than in favour of a realistic programme (incidentally in 2008, also in time-honoured fashion and as a gift to satirists everywhere, they managed to split. Splitters).
Did those Muslim communities feel let down by New Labour, as Respect might argue? Probably, but not in the way you might think. Aside from the war, Labour locally had often either coddled them or simply left them to their own devices, wary of losing seats in those areas where there was a close relationship with community elders, who would help round up votes at election time. This, in turn, had the effect of alienating younger, independent-minded voters, unhappy at being told how to vote, as Demos' David Goodhart has convincingly argued.
Then, with a war on which Britain was clearly divided, Respect's founders saw their moment. As it happened, the head of the main left party was also a key figure in what they saw as a conspiracy of pro-war Western leaders, which left them lacking a natural home in the mainstream left. So the twin forces of increasing disconnection with Labour, and a popular common cause, gave rise to a new party.
It was easy to tap into the discontent in Britain's Muslim communities, and in doing so discover a new source of willing participants for political projects. However, the views of Respect's members not only vary widely but, like Galloway's, have regularly crossed the boundaries of acceptability.
So last year you could observe the thuggish Tower Hamlets chair, Carole Swords, shouting "Go back to Russia!" – during a protest (she was later convicted for an attack on a Jewish man). Or Naz Khan, a local volunteer in Bradford, even after questioning whether Hitler was really "the bad guy". A spokesman for Galloway later clarified: "Since joining Respect and talking with George and other leading figures, she now deeply regrets and repudiates that posting," he said. "And, as any view later in the thread will confirm, she has praised seminal Jewish figures." He added that Respect was built on its opposition to racism.
And we haven't even started on the two by-election candidates.
Seriously?
In Croydon North, they have Mr Lee Jasper – that's right, the Livingstone adviser who was forced to resign in 2008 after a funding controversy. While he was later cleared, perhaps more disturbing are some documented race-related incidents, for example when he accused anti-racism campaigners Searchlight, astonishingly of, collusion with racism. Or when he tweeted that "black people can't be racist".
Then for Manchester Central, there's the less well-known Catherine Higgins but, for the comedy value she represents to some commentators, she really shouldn't be. You can make your own mind up by taking a look at this Facebook page.
But we continue to regard them straight-faced: in the labour movement or, for example, in the Guardian's Comment is Free website, where we give column inches to Galloway, or even quote his wise words without irony. Are there decent members of Respect? There surely must be. But should they be taken seriously as a political party?
Given the lack of broad coherence of positive aims, and the sheer unpleasantness of some of its members' views, the reasonable answer is surely no: even had it ever been credible, it's difficult to see Respect today as much more than an electoral vehicle for Galloway.
At which point, you might still simply dismiss it as a relatively harmless by-product of free speech. But when you add in that the result of its agenda – whether or not all its members intend this – is seemingly to feed the sense of grievance within Muslim communities, a problem of truly global import, its image darkens. As Tony Blair put it in the Wall Street Journal:
"We will not defeat extremism…until we defeat its narrative. This narrative is Islam as a victim of the West, locked in an inevitable cultural conflict with it."
Looked at in that light, these examples make Respect seem something more: it becomes a malignant, rather than a benignly foolish, political force.
Register for free to continue reading
Registration is a free and easy way to support our truly independent journalism
By registering, you will also enjoy limited access to Premium articles, exclusive newsletters, commenting, and virtual events with our leading journalists
Already have an account? sign in
Join our new commenting forum
Join thought-provoking conversations, follow other Independent readers and see their replies