Is Ed Miliband hungry enough for power? That's the real test - as his brother David knows only too well
To become Prime Minister, it's not even good enough to say and do the right things. As Tony Blair proved, you have to brim with energy and determination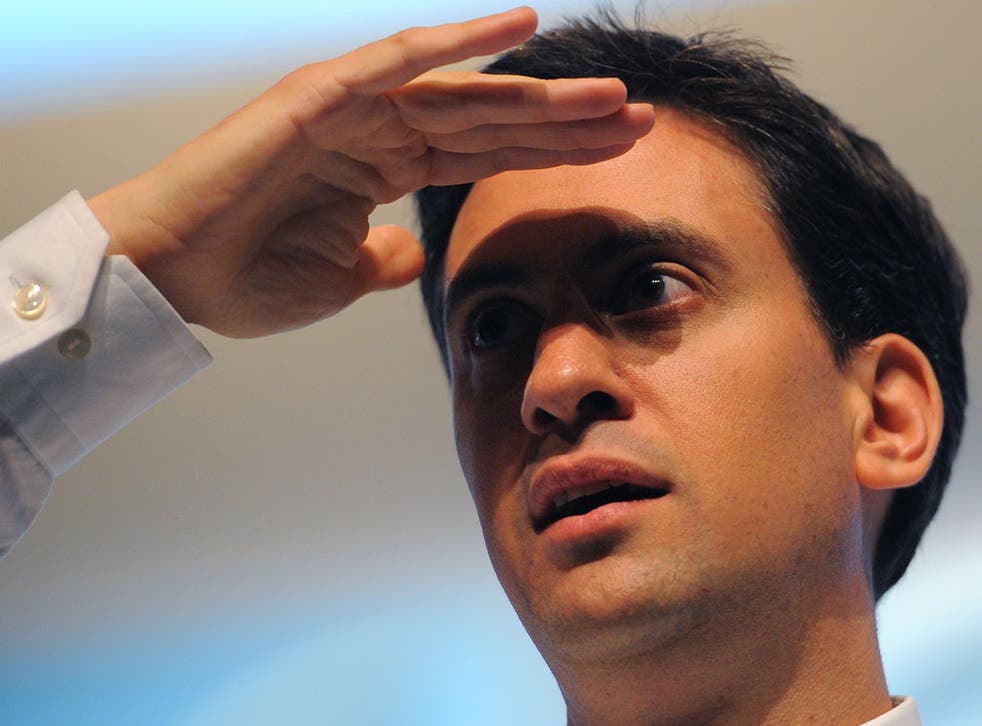 Ed Miliband is not short of advice as he prepares to deliver his leader's speech. And not all of it comes from the newspapers and commentators he professes not to read. Kick out the Blairites and return the party to the working classes. Have a public row with Len McCluskey and reassure middle Britain. Cut the waffle and come up with some concrete policies the public can relate to. Try to look prime ministerial. Speak in a language the voters understand.
Much of the advice is contradictory and clearly none of it very welcome. His patient smile and calm demeanor suggest he has no intention of being pushed this way or that by people who may or may not have his and his party's best interests at heart.
Yet there is one man he should listen to. A person whose own experience of fighting an election and losing could stop Ed from making the same mistakes. His brother David.
David Miliband has much to offer on policy and his experience and intelligence would add considerable weight to the shadow cabinet. But this is not an appeal for the elder Miliband to come in from the cold. It is merely to suggest that Ed should learn a lesson from why he's out in the cold in the first place.
David Miliband would be leader today if he had fought a different kind of campaign for the leadership. He behaved as if his popularity in the opinion polls and his strong support among MPs and party members meant he had the election in the bag. There was an air of entitlement about him that alienated enough people to cost him victory. In short he didn't look hungry enough to win.
Ed didn't win just because he cosied up to the unions. He and his team did the maths and fought for every vote. For many early doubters about his leadership qualities, that ruthless determination to do whatever it took to succeed offered hope. If he could do that to get the job, perhaps he could do the same to get Labour back in power.
At the half-way stage to the next election, the Ed Miliband we see today seems to have lost that steely resolve. Yes, he has kept steady under fire. He hasn't let the criticism get to him. He exudes a confidence that suggests he knows just what he's doing. But he doesn't look hungry to win.
The voters pick up on mood as much as policy, perhaps more so. His Zen-like self-assurance may have calmed his party, but the debate is no longer about Labour it is about the country. He's right to believe that the messianic quality of some of Tony Blair's speeches when he was leader of the opposition wouldn't work today. The severity of the global economic crisis and the failure of any leader anywhere in the world to come up with a quick-fix solution means the public aren't looking for a savior.
But Blair's frenetic activity from 1994-97 not only grabbed headlines. It grabbed the voters' attention. Here was a man brimming with energy and determination. Every election Blair ever fought he treated as if he were the underdog. When everybody else thought he couldn't lose he campaigned as if defeat was a real possibility. You could see it in his eyes.
So from this week's speech onwards Ed Miliband should look, sound and act as if winning is all that matters to him. The electorate won't hand him the election on a plate. They want to see him work for it day in, day out. He has to show them he cares enough about them to go out and fight for their support.
Ask David. Thinking you deserve to win is not enough to ensure it actually happens.
Register for free to continue reading
Registration is a free and easy way to support our truly independent journalism
By registering, you will also enjoy limited access to Premium articles, exclusive newsletters, commenting, and virtual events with our leading journalists
Already have an account? sign in
Register for free to continue reading
Registration is a free and easy way to support our truly independent journalism
By registering, you will also enjoy limited access to Premium articles, exclusive newsletters, commenting, and virtual events with our leading journalists
Already have an account? sign in
Join our new commenting forum
Join thought-provoking conversations, follow other Independent readers and see their replies