Is FOMO depriving us of our ability to exist in the present and take pleasure in the here and now?
As Twitter's traffic statistics reveal, we're keeping one eye on the television while trying to compose an aperçu worthy of wider circulation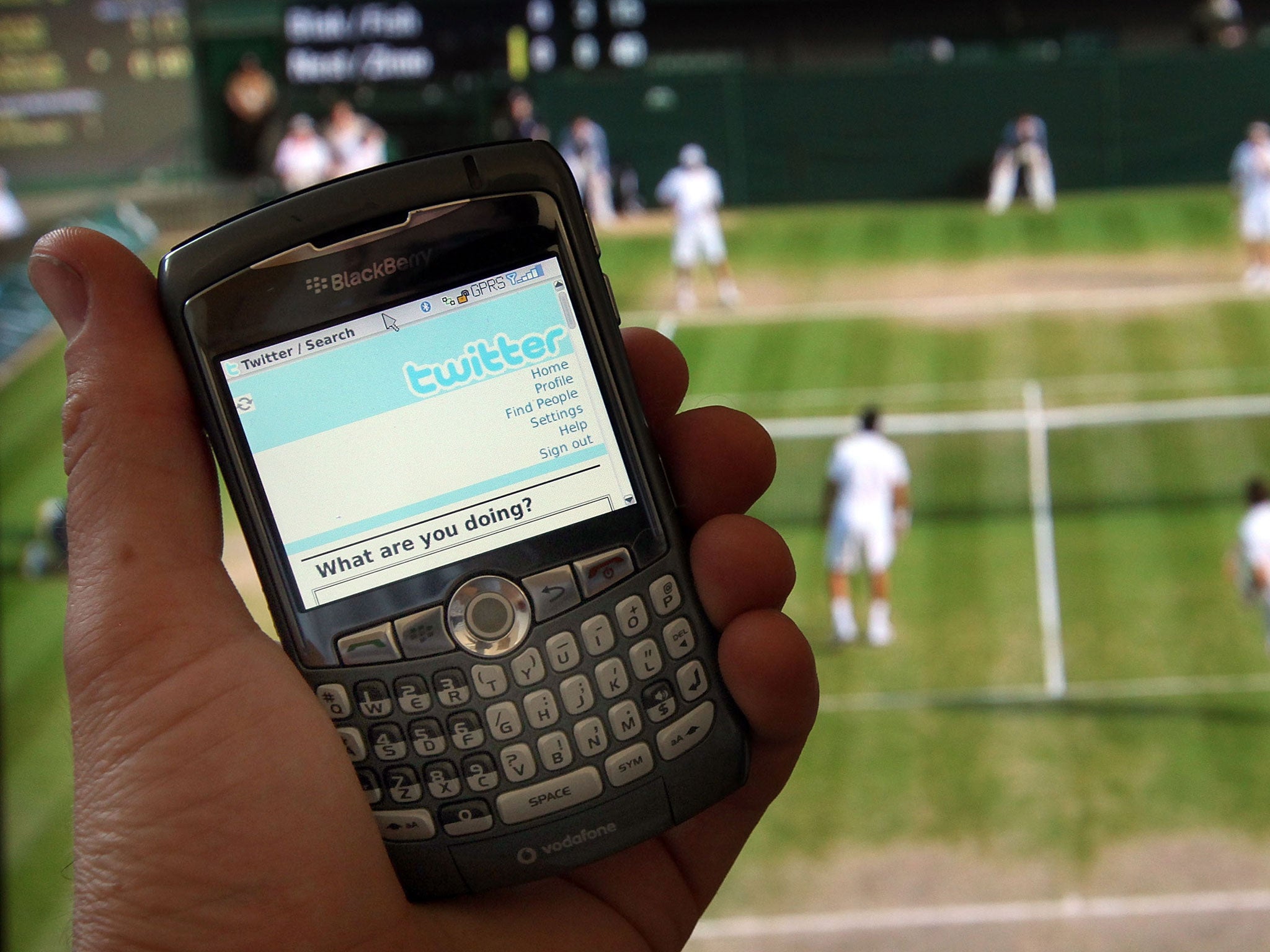 The fear of missing out (or FOMO, in the acronymic argot of the age) has been recognised as a genuine psychological disorder brought on by the advance of technology, and the amount of choice available to individuals these days. I call it "centre court syndrome".
It's as if you've got the best tickets at Wimbledon, you're watching Andy Murray play Roger Federer, and you hear a thunderous burst of applause from Court 13: you're immediately paralysed with anxiety, unable to enjoy what's in front of you because you feel something better, more exciting, more important is happening elsewhere. In the world of Facebook and Twitter, this equates to seeing someone post pictures from a party you weren't at, or share holiday snaps from a glamorous location, or to eavesdropping on an exchange of tweets about a film that has passed you by, or a trend of which you are simply not aware.
The envy of others, and the desire to be ahead of the game, is nothing new. It used to be called keeping up with the Joneses. But now it's much harder to keep up, because the Jones family is posting, or sharing, or tweeting in that self-aggrandising way of theirs, calculated to make you feel inferior or insecure. You could, of course, unplug yourself from your mobile, but that would be like withdrawing from real life: it would be as if your very being couldn't find a signal.
The need for constant communication, coupled with the thirst for non-stop stimulation, was highlighted yesterday by Twitter's traffic statistics which revealed that 60 per cent of British Twitter followers use the medium to share with the nation their views on what's happening on the box. In other words, they're keeping one eye on Lord Grantham, while trying to compose an aperçu worthy of wider circulation. Clearly, this gives people the sense of taking part in a national conversation, but it does make you wonder how much attention they are paying to the programme that's the subject of their critique.
Also, isn't there a danger that, if this trend continues, we will lose the ability altogether of existing in the present, to take pleasure in the here and now? We'll always be on that metaphorical Court 13.
Talking of Downton Abbey, the Twitter stats do reveal some interesting patterns about Britain's favourite period soap: most of the traffic is during the programme itself, rather than - as is the case with Homeland, for instance - during the commercial breaks or at its conclusion. Perhaps "Downton" is the first show targeted, albeit unwittingly, at the Twitter generation: because there's very little in the way of action, and plenty to comment upon - Lady Mary's frocks, Mrs Patmore's pies and whether Matthew was sacrificed so that Dan Stevens can go to Hollywood - it makes for the perfect Sunday evening watch-and-tweet experience.
No need to feel you're missing out, as everyone's plugged into the same channel. And, as it's Monday morning, one last thought on Twitter, which comes from Jamie Theakston. "Being popular on Twitter is like being on the cool table in the cafeteria of a lunatic asylum". With that, I welcome you to the working week.
Join our commenting forum
Join thought-provoking conversations, follow other Independent readers and see their replies