Is Russia and China's 'Nato of the East' more than a Potemkin alliance?
The two nations' navies have already conducted exercises together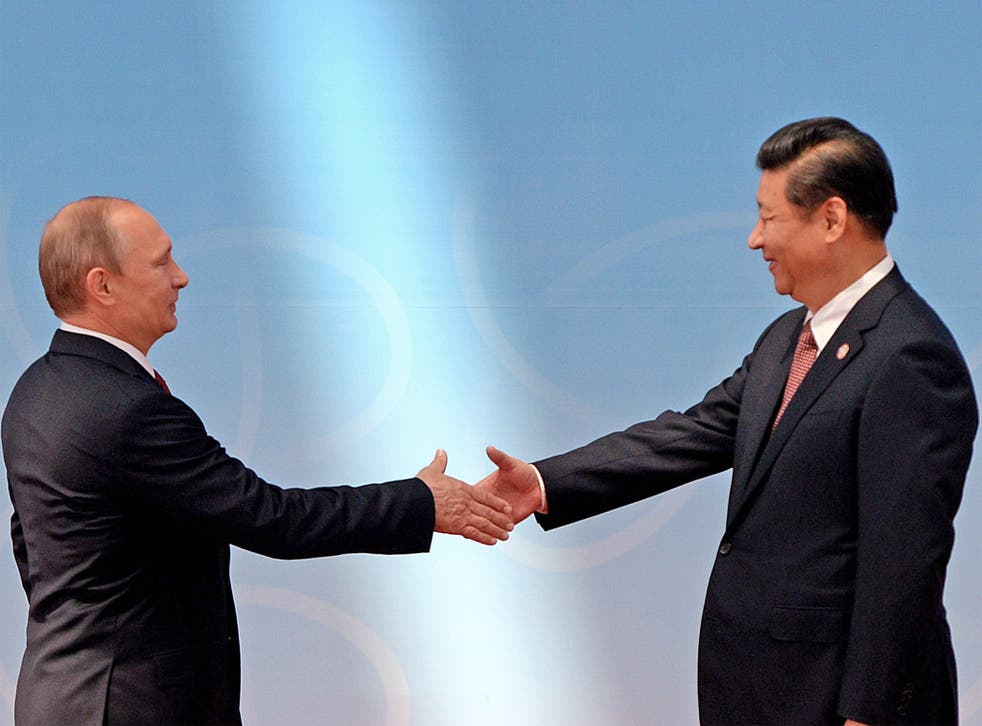 There they are, side by side, the masters of Asia: Vladimir Putin and Xi Jinping, abandoning their habitual poker faces for a moment of grinning harmony, as they announce their new agreement on military co-operation. It's intended, the Russian defence minister said, to evolve into a "collective regional security system" –a Nato, that is, of the East. The two nations' navies have already conducted exercises together: next year they plan to do so in the Mediterranean.
Is this what the future holds for us? Gengis Khan and Ivan the Terrible, preparing to wreak atavistic terror on the lotus-eaters of Western Europe?
It may not come to that, but diplomatically the agreement is a shrewd move. A fortnight after signing a historic deal with Obama on climate change, Xi demonstrates China's new-found global swagger by climbing into bed with the man who is arguably Obama's biggest problem.
For Putin, beset by dramatic economic difficulties which his belligerence in Ukraine have made much worse, it's analogous to Hitler's pact with Stalin: with his Asiatic rear protected, expect even fewer inhibitions about Russia forcing the pace in Ukraine, Georgia, Moldova, the Baltic States. Russia may no longer be China's ideological comrade but both are unashamedly authoritarian states determined to show who is boss in their respective regions, and to nip popular uprisings in the bud. Putin rammed the point home yesterday, telling his Security Council "what tragic consequences the wave of so-called colour revolutions led to", and declaring: "We should do everything necessary so that nothing similar ever happens in Russia." Both Russia and China are equally determined, in similarly ruthless ways, to stamp their authority on the smaller, weaker nations beyond their borders.
Tensions between Russia and the Western world

Show all 8
All of this poses a looming challenge to the West. But it may help calm nerves to recall that the alliance of Russia and China is itself an unnatural and improbable one. It may in fact be more in the nature of a Potemkin alliance – great for show, but with not much behind it.
Of all the 19th century colonial powers, it was Russia which obtained the greatest gain from China's weakness during what Chinese communists describe as the "century of shame". Hong Kong has returned to China's charge but Vladivostok remains Russian, an ugly reminder of how imperial Russia appropriated much of China's eastern seaboard while claiming to help extirpate the other Europeans. Mao's Treaty of Friendship with Stalin in 1950 briefly clad the Asiatic rivalry in communist solidarity, but within a few years a million Soviet soldiers massed on China's border told a different story. Mao extended the hand of friendship to Nixon for the express purpose of countering the Soviet menace to China's borders. In 1979 China invaded Vietnam – which had become a Russian ally – for the same reason.
Today the boot is on the other foot: China is the coming regional superpower, Russia looking increasingly fragile and beleaguered, its armed jingoism an all-too-familiar and dangerous route out of a domestic political quagmire. In the longer term, China's new geopolitical assertiveness is likely to be no more welcome for Russia than Stalin's was for Mao. While for the West, the pre-eminent challenge remains how to defuse the Russian bomb.
Register for free to continue reading
Registration is a free and easy way to support our truly independent journalism
By registering, you will also enjoy limited access to Premium articles, exclusive newsletters, commenting, and virtual events with our leading journalists
Already have an account? sign in
Register for free to continue reading
Registration is a free and easy way to support our truly independent journalism
By registering, you will also enjoy limited access to Premium articles, exclusive newsletters, commenting, and virtual events with our leading journalists
Already have an account? sign in
Join our new commenting forum
Join thought-provoking conversations, follow other Independent readers and see their replies