"Is this what you all do for a living?": How Russell Brand put the US news establishment in its place
The clip of "Willie Brandt" has to be seen in the context of broadcasting policy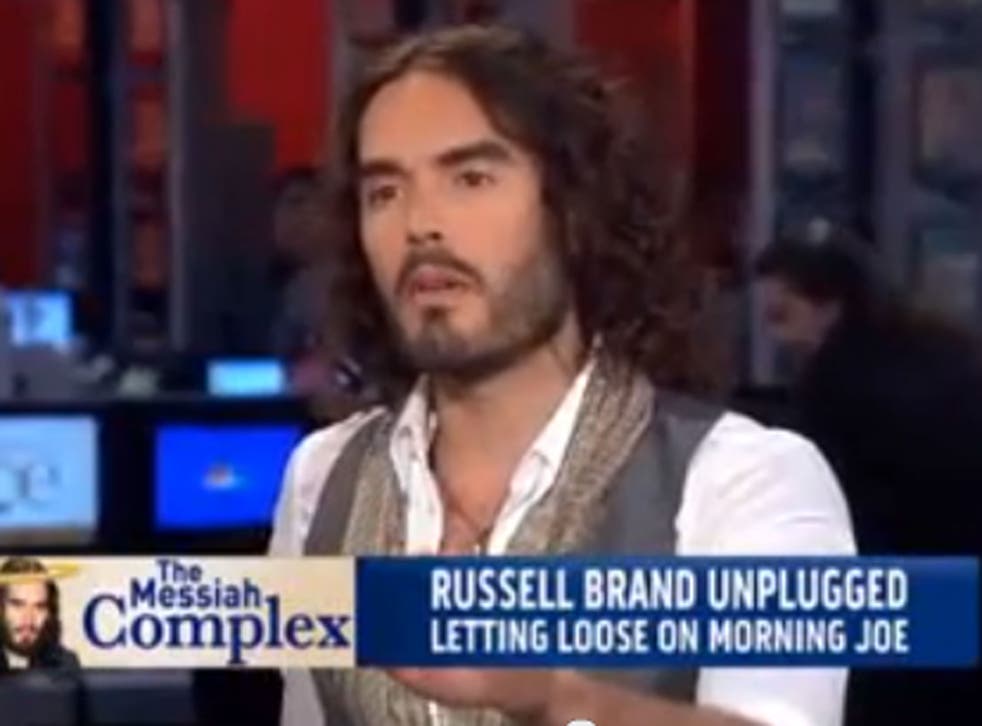 Russell Brand has made the news again – literally.
Appearing on the US talk-news programme Morning Joe on Tuesday, Brand offered his hosts an object lesson in the process – criticising his hosts' questions, their manners, their dress, their superficiality and their competence. ("Is this what you all do for a living?", he demanded at one point). The clip of the interview has had 3m views on YouTube.
The hosts deserved all the acidity Brand threw at them. Mika Brzezinski opened by saying she'd never heard of him ("I'm not very pop culture") but had been assured he was a big deal. The panel proceeded to comment on his dress, his accent, got his name wrong (astonishingly, one repeatedly called him "Willie Brandt"), and tried unsuccessfully to match wits with someone who challenged each of their conversational gambits, and was unscrupulous about one-upping them. The result was a fascinating display of cultural politics, in which Brand showed how brinkmanship works, seizing the upper ground wherever he found it. Unfailingly cheerful, he was a smiling assassin.
Online commenters were quick to offer their perspectives, which tended to focus on differences between the US and the UK: it was a savage satire of the vapidity of US television news, an egotistical bit of British grandstanding, an exposé of bad American manners, or of Brand's own discourtesy. In the UK the feeling was more that the segment demonstrated the superiority of the British educational system over the American. This seems a trifle self-congratulatory, not least because Brand was expelled from three UK schools, and one of his hosts was herself British.
If the incident reveals anything meaningful about the difference between the US and UK, rather than simply showing that Brand was much smarter than the people trying to interview him, it may, instead, be national broadcasting policies.
From 1949 until 1987, the US had a "Fairness Doctrine", requiring broadcasters to present controversial issues of public benefit and to do so in a manner that balanced conflicting viewpoints – in other words, precisely the mandates that still control UK broadcast news. In 1987, Ronald Reagan abolished the Fairness Doctrine in the name of free speech, just as Rupert Murdoch was setting up his Fox television channel. Anyone in doubt about the deleterious effects of 25 years of parti-pris echolalia and commercial advertising masquerading as "debate" – or about the benefits of a broadcasting policy that insists upon balance as well as controversy – should watch Russell Brand run rings around the hosts of Morning Joe.
Join our new commenting forum
Join thought-provoking conversations, follow other Independent readers and see their replies