It's taken politicians long enough to realise the scale of the housing problem. Now, we must act quickly
Miliband has pledged to build 200,000 new homes a year by the end of the next parliament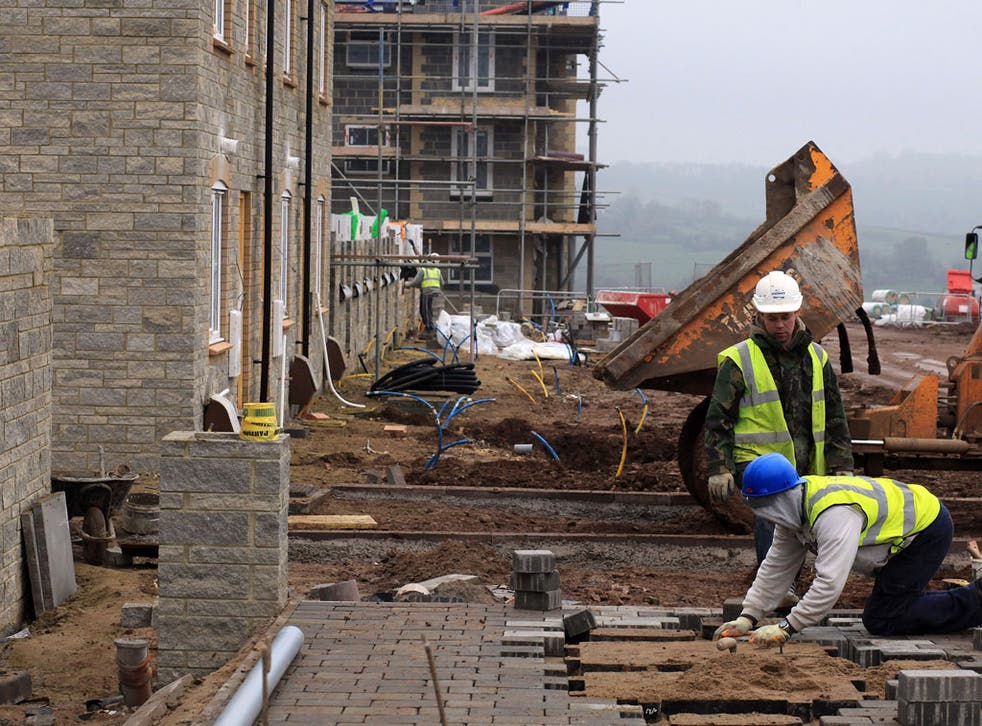 Margaret Thatcher's "right to buy" policy was one of the most totemic of her entire period in office. Previously affordable rented council housing became part of a booming private property market, while only a tiny number of homes were built to replace them. And the dire consequences are still being played out.
Few politicians dare to utter a word against the policy, but the lack of affordable rented accommodation that is a consequence of it means that in some parts of the country, young people struggle to find somewhere to live. Housing benefit has soared over recent decades as rents in the private sector have reflected the increase in demand. At the same time, the gap between supply and demand has fuelled the rise in house prices. This deranged chain of events is in marked contrast with the otherwise bleak 1970s, when hundreds of thousands of affordable council homes were built each year. Going a little further back, Harold Macmillan made his name as a housing minister in the 1950s by presiding over a huge expansion of affordable properties. Since the 1980s only a handful of such homes have been built a year. Of all the reasons why the UK economy remains weak, the lack of affordable housing is the most fundamental. It needs addressing as a matter of urgency.
Supposedly there is a political consensus about the need to build. Recent speeches from David Cameron and George Osborne have been peppered with references to their support for housebuilding. For Nick Clegg and Vince Cable such a focus is a priority. But building affordable homes is proving to be all too difficult for the Coalition. It is reluctant to sweep away restrictive planning laws, and any support it gives to capital spending tends to be theoretical. There is no Macmillan in the cabinet. The last Labour government was hopeless too – fearful of letting councils build, terrified of challenging those who did not want to see houses built in their backyard. The failure of successive governments in the face of such obvious need is proof that titanic political will is required.
Ed Miliband is showing greater ambition, although it is easier to be ambitious in opposition, where there is no need to specify precisely where all the additional homes will be built and how. In a speech yesterday he at least outlined some detail, pledging support for local authorities that want to expand but are being blocked by neighbouring councils. That is a start. He attacked the big private building companies for making huge profits while building fewer properties. That is a useful focus too. But we will have to wait for the bigger policies.
In Gordon Brown style, Miliband has commissioned an independent report from Sir Michael Lyons, the former BBC chairman, to come up with more recommendations. I am not suggesting such a move is necessarily a cop-out. Brown often used independent reports as protective shields to act radically. But sometimes he used them to kick an issue into the long grass. We cannot be sure of the degree to which the Labour leader will grasp this thorny but pivotal policy area until Sir Michael reports.
Miliband has pledged to build 200,000 new homes a year by the end of the next parliament. Perhaps the other parties will seek to match his pledge. In which case the next government should appoint a housing minister in the Cabinet. Macmillan was in the Cabinet when he made his name in this position. The role of local authorities also requires clarification. Most of them have a diminished role in the provision of secondary education. In the 1980s some of their other powers were contracted out to the private sector. So what are they for now? This is a much bigger question than one related to housing alone, but they must become more agile agents in promoting local economic growth, with a specific responsibility for the provision of decent but affordable rented housing.
Housing associations perform well, but there are not enough of them. Somehow or other we need the houses built. The big mistake in the 1980s was for ministers to obsess over ownership of housing rather than building homes. One minister after another hailed transfers of ownership from councils to the private sector or to housing associations. I recall one minister, Nicholas Ridley, describing such switches excitedly as a "housing revolution". It was a revolution without any additional housing.
Planning laws also need to be changed to reflect the urgency of the situation – not so that there is anarchy, with ugly buildings popping up in areas of beauty as happens in several other countries, but refined, so that housing can be built speedily in areas where there is high demand.
David Cameron proclaimed rightly when he was in opposition that the economy needed a rocket boost. It still does. Housebuilding and airport expansion can provide part of the boost. At last there is close to a political consensus that both are required. That is the easy bit. Now let's decide more speedily when, where and how.
Who better to fix the BBC than Hodge?
A former BBC manager who I respect recently criticised me for praising Margaret Hodge, the Chair of the Public Accounts Committee. He suggested that she played to the gallery and failed to understand the wider context in which the huge BBC payoffs to senior managers were made. Even outside the BBC I fear he underestimates the level of crisis caused by mismanagement. I worry also that his views reflect a tendency to place the blame elsewhere that still exists at the top of the BBC: Hodge is showing off; Murdoch seeks revenge; Dacre is anti-BBC etc.
Hodge is a Labour MP who is pro-BBC. I have been with her at social events when BBC employees have come up to her and thanked her for challenging what has gone on at the top, and offered her more scandalous examples of ineptitude. Her report on the BBC payoffs should be read by other publicly funded organisations too. She rightly points out that the key issues are responsibility and accountability. In the BBC, and indeed in the NHS and the police, it is absurdly difficult to study diagrams of the managerial hierarchies and pinpoint precisely how they relate to delivery of services.
As Hodge appreciates, such institutions will only be managed properly when it is possible to answer clearly the key question: who is responsible for what? If Labour win the next election, Hodge should be given a major ministerial role ensuring that every single penny of public money is spent efficiently.
Twitter: @steverichards14
Register for free to continue reading
Registration is a free and easy way to support our truly independent journalism
By registering, you will also enjoy limited access to Premium articles, exclusive newsletters, commenting, and virtual events with our leading journalists
Already have an account? sign in
Join our new commenting forum
Join thought-provoking conversations, follow other Independent readers and see their replies