Jeb Bush could be the third member of his family to become US President - but is that a bad thing?
He'd have to stop Hilary from becoming the second President Clinton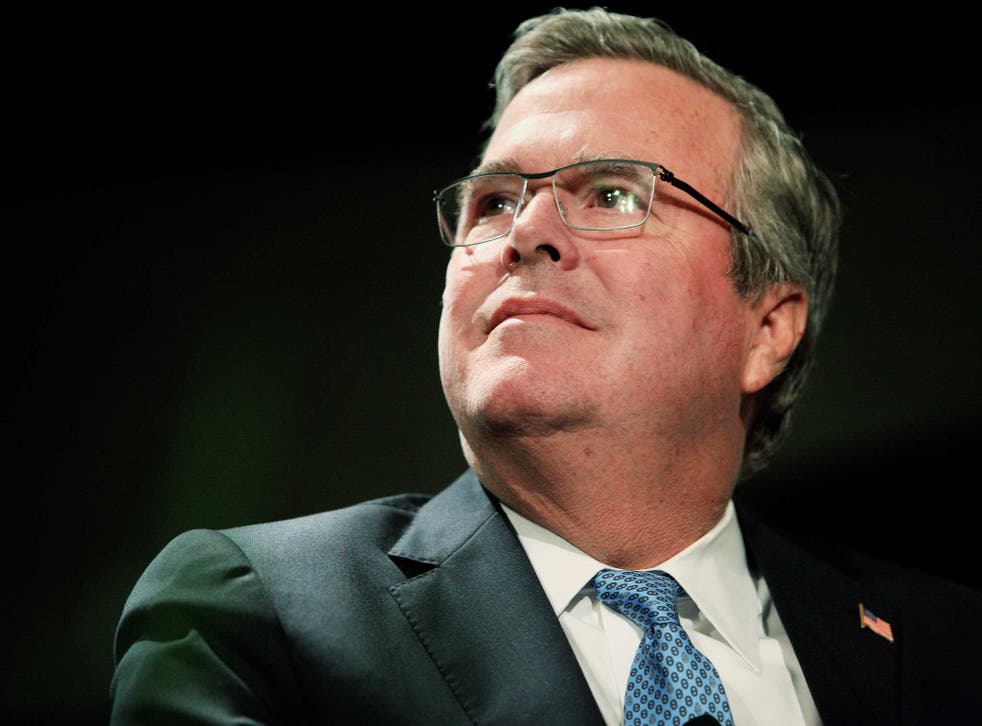 "If we can't find more than two or three families to run for high office, that's silly. I refuse to accept that this great country isn't raising other wonderful people." So said the matriarch of one of those families earlier this year – Barbara Bush – deflecting a question about whether a second of her children might run for president.
That would be Jeb Bush, of course, the son she and her husband, former president George H W Bush, had always thought was the more likely White House material until he was pipped to the prize by his brother. When George Jr left office in 2009 with his approval ratings in the Antipodes, the idea of Jeb aiming for the Oval Office seemed nearly silly.
Not so much now. The notion of the former governor of Florida running in 2016 gets more plausible by the day. Some Republicans are recoiling because Mr Bush is insufficiently conservative for their taste. They shouldn't, not because he is more conservative than they think – although on some issues that may be true – but because he is someone who might possibly win.
In the current midterm elections the party has muted its more extreme conservative voices and fielded candidates in key races who can appeal to the middle. It will reap the benefits when voters go to the polls next Tuesday. They should take the same approach in 2016, which means sidelining polarising figures such as Senator Ted Cruz and nominating a grown-up. They know this already, which is why the name Mitt Romney is popping up again.
And Jeb. The former governor, whose consulting firm in Miami counts Barclays amongst its biggest customers, has already been putting himself out there in the midterms. He has campaigned alongside Governor Rick Scott, who is seeking re-election here in Florida, and for GOP candidates in several other states. His water-cooler rating then shot up at the weekend when his son George P Bush, who is himself running for a statewide office in Texas, told ABC News that Jeb was giving "serious thought" about running to become the third Bush to move into the White House.
Hillary Clinton in quotes

Show all 11
"I think it's more than likely that he's giving this serious thought and moving forward," he said.
By all accounts what his family thinks matters to Mr Bush, who has said he will make a decision after Christmas. Most importantly both his mother and his wife, Columba, are said to have moderated their resistance to the idea.
Barbara Bush's distaste for dynastic rule in America is well put. Her observation, of course, referred also to the widespread belief that Hillary Clinton will make another run for the White House and that the Democratic Party will duly pick her. Both she and Jeb face possible name-fatigue problems (didn't we have a Bush-Clinton race in 1992?). But if Mrs Clinton is allowed to run again, who's to tell Jeb that he can't?
When attention turns fully to 2016 after the midterms are over, the Democrats and the Republicans will be in very different places. The former pretty much know who their candidate will be, while the Republicans don't have a clue. If there are "wonderful people" – or credible people – out there aching to grasp the GOP standard, I don't see them.
Jeb Bush would face a pummelling in the primaries because he is a moderate on immigration and has dared to speak of raising some taxes, which is anathema to the party's right. But the Republicans have shown this year that they understand that winning is more important than ideological purity. It is hard today to see who, apart from Jeb, would give Hillary a real run for her money – which is why he should run and why his party should choose him.
Register for free to continue reading
Registration is a free and easy way to support our truly independent journalism
By registering, you will also enjoy limited access to Premium articles, exclusive newsletters, commenting, and virtual events with our leading journalists
Already have an account? sign in
Join our new commenting forum
Join thought-provoking conversations, follow other Independent readers and see their replies