John Lewis Christmas advert: There's nothing wrong with Monty the penguin that a good scrub wouldn't sort out
This ad challenges the pact I have with myself never to get involved with any screen-based anthropomorphised CGI animal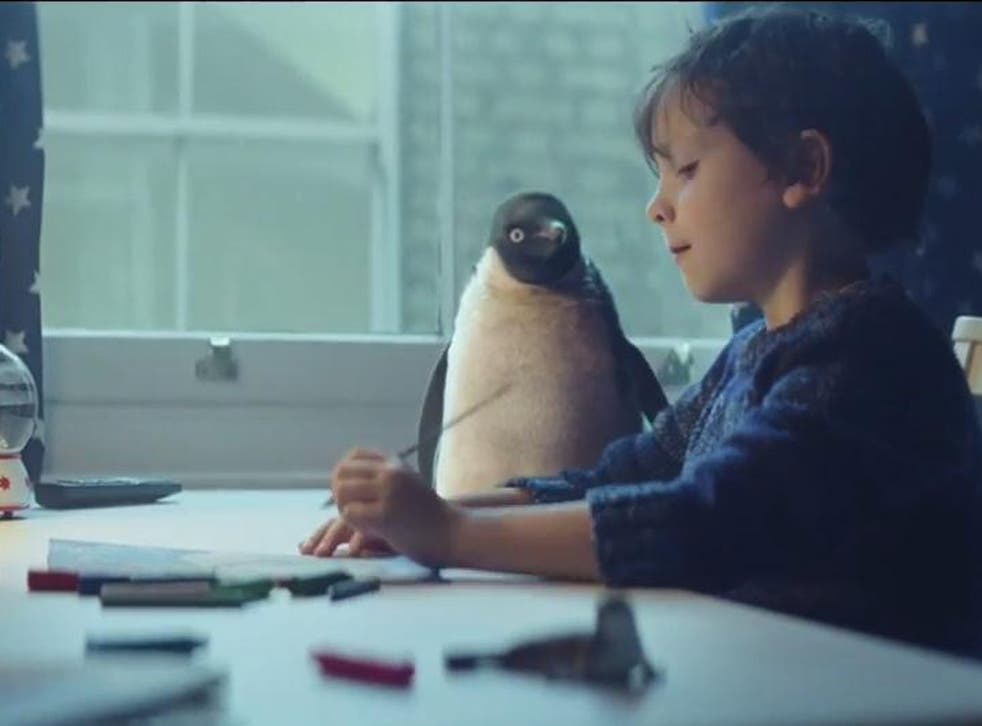 The strange thing about this new tradition of John Lewis firing out a sickly, sob-inducing Yuletide ad – like this new penguin wants a girlfriend piffle - is that it goes against everything the company stands for. John Lewis and its sense of stiff-upper-lip British decorum is exactly why so many people joke that in the event of a nuclear attack they'd head to the homes department and fondle the Bridgewater cake stands.
Nothing bad can happen in John Lewis. Only calm, orderly things. It's also an equal-opportunities retail haven. No matter who you are - moneyed metropolitan Alpha-gay, little old Nan with 19 grandchildren to buy for, the divorced, the deliriously in love, the "just passing and fancied a mooch around the Duilit 4-slice toasters" - there is something for you.
This is why catering their Christmas ads to cry-on-demand bedwetters - people who only need a penguin farting about to a limp John Lennon cover to provoke sobs - is so thoroughly strange. But hey, it's Christmas: different rules apply. We all behave differently at Christmas. I can be seen wearing antlers on a headband, drinking Malibu and getting a bit sniffly over Jona Lewie. It's the most wonderful time of the year.
Sweeping aside its broad clientele demographic, this year's John Lewis ad is aimed at parents who find the notion of their kids' raggedy, snot-festooned comfort toy really adorable. Me, not so much. I have looked into the one remaining glass-eye of many of these "We can't go anywhere without it" ancient, heavily chewed, rabbit/duck/frog stuffed companions, and I can confidently say they always smell of urine, saliva, Calpol, poo and miscellaneous other feg.
"He can't sleep without it," my friends always say, which is ironic as the toxic build-up of germs and micro-parasites that the kid is chewing will keep me awake till Easter too. I would have enjoyed an edit of Monty The Penguin in which I - Aunty Grace - appear and put Monty on a boil wash in her new Miele 9kg, 1600 spin, two-phase-detergent-system £1,799 washing machine she treated herself to from John Lewis. "Much cleaner now," I would say, sitting Monty on a radiator, pouring myself a massive eggnog and settling down for a lot of hysterical screaming.
But having watched the ad several times now, the real narrative isn't any less disconcerting. To the child, Monty isn't a raggedy stuffed animal but a delightful, real-life penguin who enjoys fish fingers and a nice kip at the end of his bed. Ok, I'll admit this is bloody adorable, but I have a pact with myself never to get involved with any screen-based anthropomorphised CGI animal, since this way heartache lies.
John Lewis Christmas advert 2014

Show all 13
The moment I saw Monty in the opening moments of the advert I prepared myself for his pissing off back to the Southern Hemisphere leaving the lad distraught, or being stolen by thieves, or crying for his Penguin mummy, or simply being squashed under Santa's sleigh. But it was stranger than this. Monty had hit puberty and wanted his own penguin girlfriend.
It was a bold and illuminating narrative. Now I think about it, there are few things that sum up the joy of the little baby Jesus and Matthew's Gospel account of the Adoration of the Magi than a penguin with a hard-on. Oh come all ye fluffy and faithful. I wish I'd been in the meeting when they convinced John Lewis to go with the festive message, "Don't spend Christmas masturbating alone! We sell women! Even if you're an animal!"
My heart goes out to Montina, penguin No 2, who is destined to spend the festive season being dry-humped by Monty the first, who we have established has the hygiene standards of a tramp. Of course, one could see the whole thing as a lovely story about a little boy and his stuffed penguin, and a narrative that Christmas is about love. Or one could simply watch it and get really het up about the Tom Odell track which is so awfully beige that it's like being drowned slowly in tepid Ready Brek. And perhaps then one could cry and go on the internet and type "I AM CRYING" and then buy a Monty from John Lewis and a spare Monty and then cry a bit more, allowing a major retail conglomerate to fiddle with your heartstrings for their own financial ends.
Personally, I'll be at Westfield Stratford, in John Lewis, looking at the Le Creuset ramekins. There won't be any of your sort in there.
Register for free to continue reading
Registration is a free and easy way to support our truly independent journalism
By registering, you will also enjoy limited access to Premium articles, exclusive newsletters, commenting, and virtual events with our leading journalists
Already have an account? sign in
Register for free to continue reading
Registration is a free and easy way to support our truly independent journalism
By registering, you will also enjoy limited access to Premium articles, exclusive newsletters, commenting, and virtual events with our leading journalists
Already have an account? sign in
Join our new commenting forum
Join thought-provoking conversations, follow other Independent readers and see their replies