Joseph Kony's child army and the ivory trade that pays its bills
Once, the Lord's Resistance Army preyed on elephants for food in the bush, but now it is 'white gold' they seek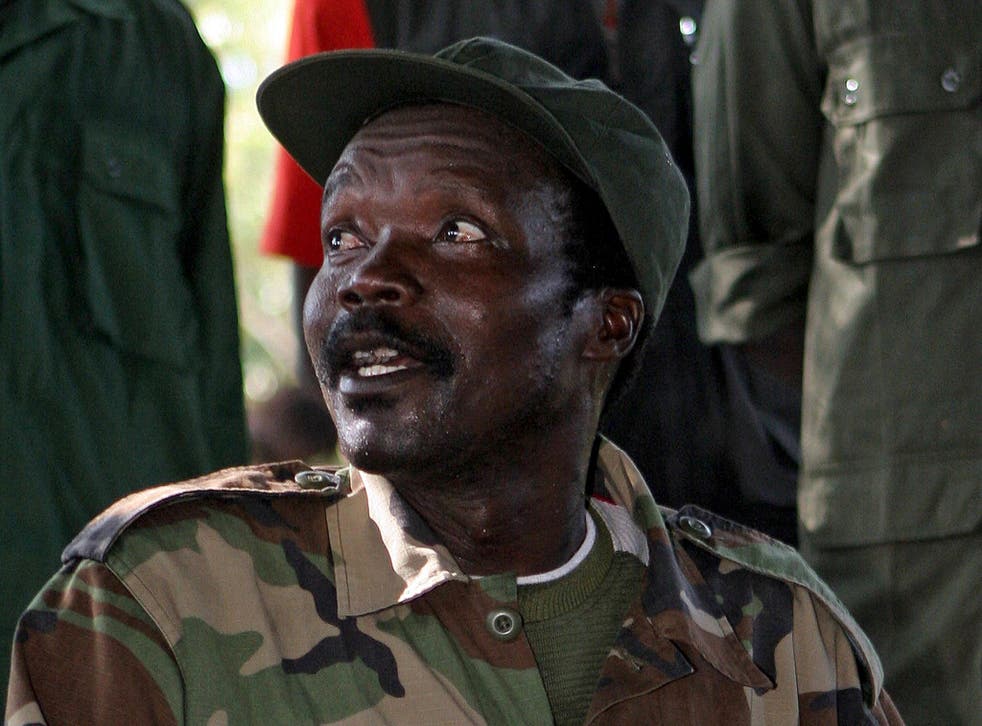 "We would kill animals big and small. We would just kill them. It did not matter what kind of animal. If we saw it, we killed it," admits Florence Amito, a recently returned abductee, forced to join Uganda's notorious Lord's Resistance Army (LRA) in 1995.
For 20 years, the Lord's Resistance Army terrorised northern Uganda under the leadership of Joseph Kony, still the International Criminal Court's most wanted man. Maimed limbs, children married off and raped, torture and massive killings are the cruel legacy of that war.
As his soldiers – many of them children – stalked the Ugandan bush, elephants, hippos and lions were an important source of food and medicine, Ms Amito says. The 29-year-old was abducted by the LRA aged 11, but managed to escape. She was married off at 13 to an old man and was punished for complaining about sex with him being painful. She moved with the LRA from northern Uganda to Sudan and was forced to participate in the killings of both people and animals.
But times have changed since then. The tonnes of meat on an African elephant are as nothing in value compared to the 'white gold' of its tusks.
A 2013 USAID report shows that Kony ordered his fighters to bring them to him.
"We do not know where they took the tusks. We heard that there are people who come and take them for money," admitted another defector, under the condition of anonymity, who says she took part in poaching.
The guns have all but fallen silent in northern Uganda, but Kony continues to destabilise Central African Republic (CAR) where he is believed to be hiding. Again, and more so than ever, the victim of the LRA's wrath is elephants.
Rangers in the Garamba national park in CAR have had running battles with Kony rebels as they try to poach. The rangers say that when hunting ivory, the resource-poor LRA uses ammunition unsparingly – an indication that the tusks are very valuable to them. Eyewitnesses have seen helicopters arriving to collect ivory, but the nature of the deals is known only to the LRA's commanders.
Critics compare the trade in ivory to Sierra Leone's blood diamonds – with every group, including national armed forces, cashing in.
In 2012, a Ugandan army helicopter was reportedly seen collecting ivory in Garamba national park. Officers denied any involvement.
Defections, depleted resources and a mysterious malaise have led to reports that Kony is moving closer to surrender. But those who have worked with him warn that he is cunning. "He does not have the heart to stop," says Ms Amito. "He told us he will fight even if he is the only one left."
Rangers insist that the trade could only go ahead through the involvement of people at the highest political levels. The 2013 USAID report implicates the South Sudanese, Sudanese and Ugandan armed forces in the trade.
The UN Secretary General Ban Ki-moon has described wildlife crime as a serious threat to the security, stability, economy, natural resources and cultural heritage of many countries. Indeed, in CAR, both rebel groups and the army have found ways to make money out of chaos.
Now, without intervention, Africa's elephants are on a fast road to extinction. The UN estimates that Africa has already lost 50 to 90 per cent of her elephants. Most of the ivory is taken to China where there is huge demand for it.
"It is a highly organised racket," says Julius Obwona, a warden in Uganda. For him, national laws remain weak, sometimes imposing lower fines than the value of the ivory. Poverty, corruption and instability create the perfect conditions for criminality.
But the biggest victims are the African people who live in a continent with enormous resources whose benefits they are yet to see and whose beauty is eroding fast.
To donate to the Independent's anti-poaching campaign now, go here
Register for free to continue reading
Registration is a free and easy way to support our truly independent journalism
By registering, you will also enjoy limited access to Premium articles, exclusive newsletters, commenting, and virtual events with our leading journalists
Already have an account? sign in
Join our new commenting forum
Join thought-provoking conversations, follow other Independent readers and see their replies