Labour needs to convince people that they too can 'aspire' to be non-doms and feudal lords
Or, if they ran local campaigns against the Bedroom Tax it would at least look as if it stood for something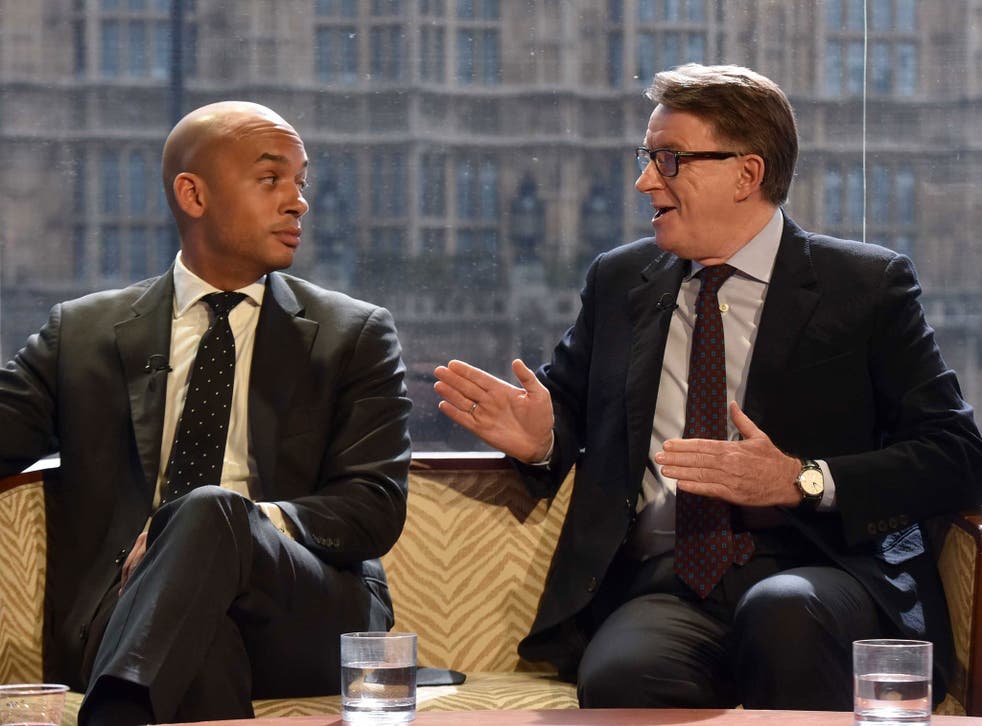 That's the answer – Peter Mandelson and Chuka Umunna are the people to win back the votes Labour lost. And as Glasgow was the place where Labour lost the most votes, I suggest they start there.
Focus groups in the city indicate that the most common refrain from ex-Labour voters who defected to the SNP was, "Labour are wee gobshite red Tory stuck-up pish with millionaire pals and nothing to say to folk like us."
So Peter and Chuka are just the pair to win them round. As they tour the estates of Govan, Peter could charm them with his line about being intensely relaxed with people being very rich, and when he gets the answer "would ye like me to bottle ye son?", Chuka can say "how delightful, he appears to be inviting us in for some wine. I hope it's not that cheap muck we always get at the Milibands'".
Chuka and Peter's argument is that Labour couldn't win the election because its policies to address inequality don't appeal to people with "aspirations". For example, Labour promised to abolish the non-domicile tax status used by characters such as Roman Abramovich. So this promise could only lose votes, because all of us aspire to be billionaire Russians, and we're hardly likely to vote Labour when we know that if we do succeed in owning a major football club and 90 per cent of the world's minerals, we'll have to pay a bit more tax.
Maybe Chuka should go further, and promise to reintroduce aristocratic privileges from the 11th century, as many of us aspire to be feudal barons and we wouldn't want to be told we can't force our peasants to look after our pigs.
This section of the Labour Party has already had one go at winning back Scotland, when Jim Murphy, a fan of Tony Blair, was elected as Scottish leader a few months ago. And as that's worked out so well it's no surprise some party members want to try the same method across the rest of Britain.
Jim is insisting that he stay on as Scottish leader, although it could be argued that going from 41 MPs to one was a slight disappointment. But his talents are wasted. He should be sent to North Korea, and put in charge of Kim Jong-Un's rigged election campaign. Then on election night the Supreme Leader would shout, "Oh no, I'm down to one seat, how you manage that you Scottish idiot", and the dictatorship would be over.
None of the leadership contenders appear to have grasped the scale of Labour's problem, which wasn't that they were too left-wing, or not left-wing enough, but that most people took no notice whatever they said as the party is so remote from people's lives. Labour could have pledged to get Rihanna to pop round and do your washing-up, and most people would have said "yeah, whatever".
Who will be the next Labour leader?

Show all 7
And the people who found the party most remote were those considered to be its "core vote". Tristram Hunt said the party needs to connect with "couples who shop at John Lewis". But Labour's vote held up most strongly in middle-class areas, so unless there's a change in the law, to allow John Lewis to give away an extra vote with a set of Wedgwood crockery, that won't help.
Labour didn't lose its vote to the Tories. As well as losing half its Scottish vote to the SNP, it lost one-eighth of its vote to Ukip, and hundreds of thousands more to the Green Party. So even if the Umunna/Hunt plan worked, after the next election Labour would say "It's been a marvellous night, we've won back Nuneaton. Unfortunately we've lost everywhere else but at least our one MP isn't ashamed of having a sideboard from John Lewis."
The Labour Party seems to think it can win voters back with a more charismatic leader, and slogans less likely to upset the middle class, such as "Forward to a new newness", or "Labour – for the improvement of up".
And Chuka must feel he can reconnect with the ordinary people who feel Labour has become a party of the "metropolitan elite", because as a millionaire City of London lawyer, he'll be able to speak up for the vast swathes of millionaire City of London lawyers who until now have had no-one to voice the concerns of them and their struggling families.
Perhaps it could have been different. For example, one of the best areas in the country for Labour recently has been Lewisham, where the Labour party helped organise a campaign that involved the community in saving the A and E unit. If the campaign had also demanded that the X-ray machine was supplied by John Lewis, they'd have kept everyone happy.
Instead, a more common response from Labour leaders to that sort of action is, "we can't go round increasing our vote like that, as by winning campaigns and getting more votes we'll lose the votes of people who have always hated us and would never vote for us anyway".
If Labour had run local campaigns against the Bedroom Tax, involving its victims and making a fuss, it would at least look as if it stood for something and meant it. If it aimed to enthuse its supporters, so that when the leader came into a town there was a real crowd, rather than 20 officials off the party bus pretending to be excited with a balloon, you might create a movement that could counter the torrent of abuse from the press.
Instead, their answer is to appeal to people with "aspirations". Because the way to win elections is to cater for the millions who go to John Lewis, not the handful that shop at Costcutters or Poundland, and have no aspirations because they love zero-hours contracts and the minimum wage and enjoy plenty of mould up the wall.
What a state a party is in, when its front runner for new leader is the chap saying "vote for me, because I'm going to be just like Tony Blair".
Register for free to continue reading
Registration is a free and easy way to support our truly independent journalism
By registering, you will also enjoy limited access to Premium articles, exclusive newsletters, commenting, and virtual events with our leading journalists
Already have an account? sign in
Join our new commenting forum
Join thought-provoking conversations, follow other Independent readers and see their replies