Labour's Simon Danczuk is flirting with Nigel Farage, but will he answer his prayers and defect?
Even if he doesn't, the MP could be trying to send a signal to the Rochdale electorate about his true stance on immigration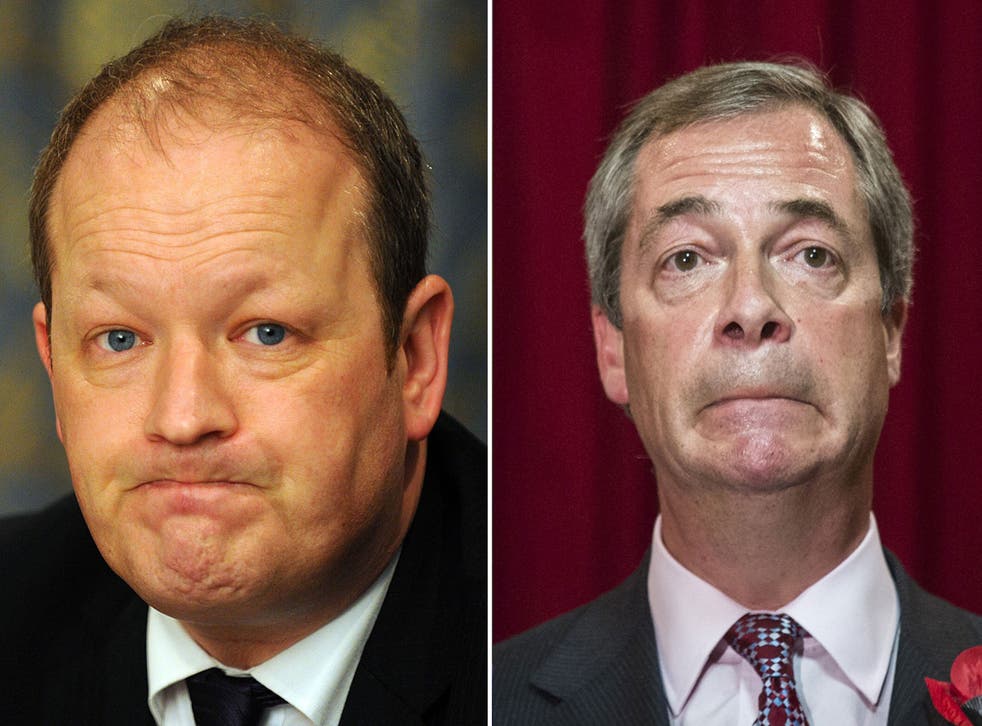 In what political observers acknowledge as the year's most eye-catching photograph, the Labour MP for Rochdale graced The Sun on Sunday.
The amazement had nothing to do with Simon Danczuk's choice of Nigel Farage as his drinking companion in the beer garden of a pub close to that time-honoured home of traitors the Tower of London: Simon has been flirting with Ukip so rigorously that his ritual denial of the intent to jump ship, as reiterated yesterday, sounds more coquettish than categorical.
All the shock came from seeing a picture of a fully clothed Danczuk. The cleavage-laden selfies of his wife, Karen, have become so wildly popular that she is now selling signed and scented mammorial portraits on eBay for a tenner. Simon also has his knockers (the old ones may not be the best, but we brook no ageism here).
Some criticise his reflections on the evils of immigration ("My son is one of six kids out of 30 who you would describe as 'white-English'," he declared of his boy's class) as the pandering of one defending a majority of 889 in Mrs Gillian Duffy's home town. Others may detect mild hypocrisy from the descendant of Ukrainian migrants, although this would be a mistake: Danczuk is an ancient Lancashire name (a 9th-century contraction of the original Danczukip, it means "keep 'em out or them foreigners will lead us a merry dancz") found in the Domesday Book.
Whether Simon is about to answer his drinking buddy's prayers by becoming Ukip's first Labour defector remains unclear. He must have foreseen that the pint-supping would have a public outing, and may well have given Farage permission to tip off the SoS. But perhaps he meant only to send a signal to the Rochdale electorate that, even if he does stand for Labour in May, his heart lies elsewhere. In a tale beset by doubt, the sole certainty is this. The only people drooling more than Farage at the prospect of signing up the Danczuks are the producers of that annual celebration of economic migration, I'm a Celebrity ... Get Me Out of Here!
Who's next? Conservative MPs who could defect to Ukip

Show all 8
Keep calm, James – Ed may not have meant you
I am distressed by speculation that James Murdoch's foray into adult education may have failed. According to The Mail on Sunday, the genius who left these shores after expertly steering the News of the World to closure may once have made livid threats against outgoing Ofcom chief Ed Richards. At his leaving do last week, Richards recounted how, during a high-minded dispute (possibly concerning the Murdoch plan to take a 100 per cent stake in BSkyB), an unnamed media chieftain screamed at him: "We know who you are, we know who your friends are, and we know where you live."
If he meant James – and spokespeople for both refuse to deny that he did – this reflects poorly on the residential anger-management course in which the young master enrolled after storming into this title's offices, with Rebekah Brooks, shortly before the 2010 general election. On that occasion, displeased by a reference to papa in an Independent poster, he told the then editor, Simon Kelner, "we thought you were our friend" before delving into his lexicon of niceties to call him a "fucking fuckwit". None of this is seemly behaviour from a pretender to the Murdoch imperial throne. We suggest a little less time with The Sopranos box set, and a bit more with the transcendental meditation tapes.
Miliband adviser sups with Martin McGuinness
With the post-election landscape threatening to be so chaotic that no two parties could form an effective coalition, we look for signs that unlikely maps to power are being drawn. So I am intrigued to hear that Stewart Wood, a key adviser to Ed Miliband, dined in London last week with Martin McGuinness. Sinn Fein MPs have no more been in the habit of voting in (or indeed attending) the Commons than SNP members have on purely English matters. With Alex Salmond strongly hinting that this will change next May, it would be naive to be overly obsessed with Celtic precedents.
Where's Mandelson when Hartlepool FC need him?
Even though Hartlepool United have said they will not sign the convicted rapist Ched Evans, guidance is sought from the football club's top-ranked superfan. I refer not to Jeff Stelling, the Sky presenter who became so excited when Hartlepool scored on Saturday that he lost his microphone, but to the noble Lord Mandelson. Mandy's altruistic duties as a globe-trotting adviser to foreign governments in the Mr Tony Blair tradition prevent him opining as much as you would hope on matters of national import, and until now he has not had a dickie bird to say about Evans. As Hartlepool's president, however, it behoves him to share his thoughts. The last thing Ed Miliband needs is to have the Labour Party portrayed, via one of its titans, as the possible saviour of rapists. Mr President, speak out before your beloved Hartlepool becomes another damned united.
Register for free to continue reading
Registration is a free and easy way to support our truly independent journalism
By registering, you will also enjoy limited access to Premium articles, exclusive newsletters, commenting, and virtual events with our leading journalists
Already have an account? sign in
Register for free to continue reading
Registration is a free and easy way to support our truly independent journalism
By registering, you will also enjoy limited access to Premium articles, exclusive newsletters, commenting, and virtual events with our leading journalists
Already have an account? sign in
Join our new commenting forum
Join thought-provoking conversations, follow other Independent readers and see their replies