Lampedusa, half way to broken-promise land
There are reports of ships failing to stop if they see migrant boats in trouble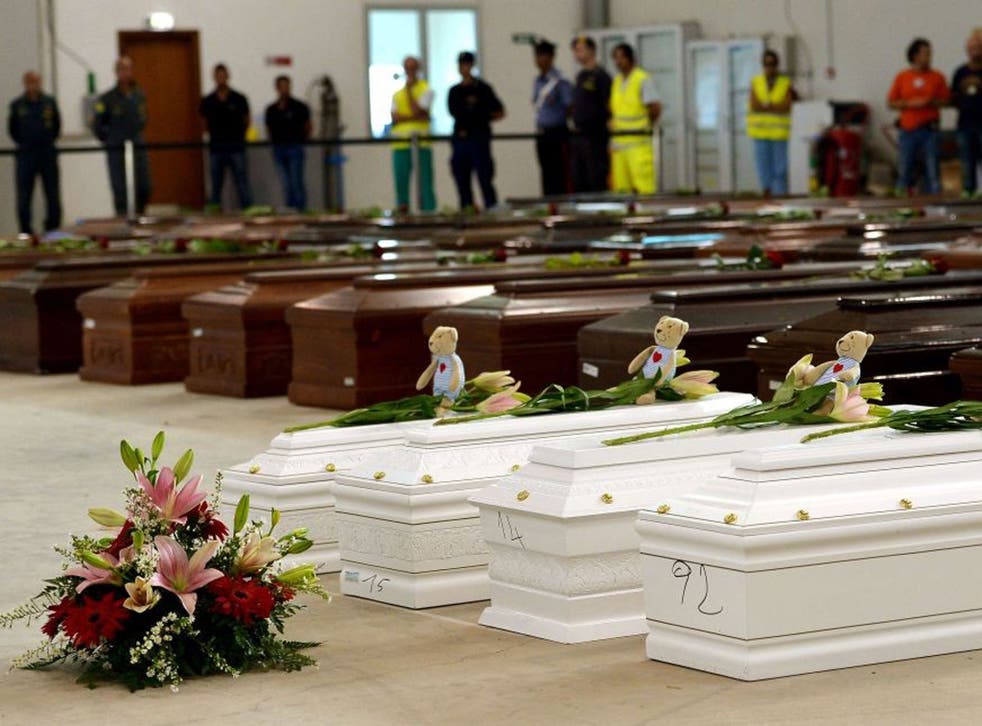 One evening last month I was in a beach café in southern Spain, looking out over the dark sea towards north Africa. Even at 10 o'clock at night, young African men were moving from table to table, their arms laden with carvings, watches and pirated DVDs. The same young men can be seen at the big market in Granada on Sunday mornings, arranging handbags with fake designer logos on a sheet while one of their number watches out for the police. They work for criminal gangs who supply them with cheap (and illegal) goods to sell while they pay off their debt to the people-smugglers who arranged their crossing from north Africa.
They are the lucky ones, unlike the hundreds of migrants who died in a fire and shipwreck off the tiny Italian island of Lampedusa last week. Such events are not rare but the potential scale of the disaster – around 500 were crammed on a 65ft boat – made headlines. Another shipwreck two days earlier, off Sicily, went almost unnoticed; according to Amnesty International, 13 Africans died when their boat ran aground off Ragusa and the smugglers reportedly forced them to jump to their deaths. Most of the 13 victims – as with the Lampedusa wreck – were from Eritrea, a country ravaged by war with Ethiopia and an inhuman, heavily militarised government.
It is clear that conflict, poverty and fear of the future drive people to this desperate gamble. Two years ago, as dictators toppled in North Africa, thousands of Tunisians attempted the crossing in unstable boats to Lampedusa. In Rome last December, I was shocked by the number of shabbily-dressed Asian men eking out a living selling umbrellas. Then there is the war in Syria: according to the UN, 7,500 Syrian refugees have arrived in Italy in 2013. That's on top of 7,500 Eritreans and 3,000 Somalis; in the midst of an economic crisis, Italy is struggling to cope with the arrival this year alone of more than 30,000 migrants.
Many are naïve, knowing little about Europe, and they are encouraged by people-smugglers to entertain unrealistic expectations. Hope turns to disappointment and rage as the benefits they anticipated fail to materialise. Two years ago, migrants threatened with being sent back to Tunisia fought running battles with riot police in Italy. Two days ago, French riot police arrived in Calais and confronted around 60 Syrians who had blockaded a gangway at the ferry terminal, demanding to be allowed to come to the UK. The French authorities said the Syrians turned down an offer of asylum, claiming they were treated worse than "animals" in France.
And I can't help thinking: it isn't a disaster on the scale of last week's loss of life, but the sight of young men hawking pirated DVDs to tourists on Spanish and Italian beaches is another kind of tragedy. It is a reflection of the sad fact that the outpouring of sympathy for shipwreck victims does not always extend to live migrants; many Africans who survive end up in camps, awaiting deportation, or bound by debt and illegal status to people-smugglers. Meanwhile, this exodus of young men – and they mostly are young men – drains countries of a labour force, as well as potential fathers and husbands; the Italian coastguard said the survivors of Wednesday's disaster included 40 unaccompanied boys aged 14 to 17.
David Cameron's commitment to protect the UK's international development budget has been attacked by some of his back-benchers and the former Ukip (now independent) MEP Godfrey Bloom, who achieved notoriety for his infantile rant about aid to "bongo-bongo land". But the argument that what happens in Africa is someone else's problem is disproved by the attempts of thousands of desperate souls to cross the Mediterranean. Even if the political right is not impressed by any moral imperative, it makes sense in economic terms to help developing countries educate their young and provide jobs.
The long-term answer is to cut the huge disparity in living standards which is driving mass migration. Other things can be done in the short term. There have been reports of ships' captains failing to stop when they spot migrant boats in obvious trouble, so every vessel should be required to assist under international law. Some African countries are trying to warn their populations about the people-smugglers' false promises, and European governments could do more to help get the message across. Identifying and arresting smugglers is essential, and heavy jail sentences would be a warning to others. It is also clear that front-line countries need help to cope.
As Italy observed a day of national mourning, the country's president, Giorgio Napolitano, talked eloquently about the deaths at sea as a "succession of true slaughters of innocents". But he also appealed to other countries to shoulder their share of the burden of migrants, while one of his colleagues observed that this is "not an Italian but a European disaster". He was right: it demands a concerted response from European governments, which need to work together to stop this evil trade. A world where such disasters are so frequent they become normalised, and go mostly unreported, is a challenge to our common humanity.
Register for free to continue reading
Registration is a free and easy way to support our truly independent journalism
By registering, you will also enjoy limited access to Premium articles, exclusive newsletters, commenting, and virtual events with our leading journalists
Already have an account? sign in
Register for free to continue reading
Registration is a free and easy way to support our truly independent journalism
By registering, you will also enjoy limited access to Premium articles, exclusive newsletters, commenting, and virtual events with our leading journalists
Already have an account? sign in
Join our new commenting forum
Join thought-provoking conversations, follow other Independent readers and see their replies