Like father, like son – is that the moral of Nicky Blair's career as a football agent?
Let's just hope any Middle East invasions turn out better than the old man's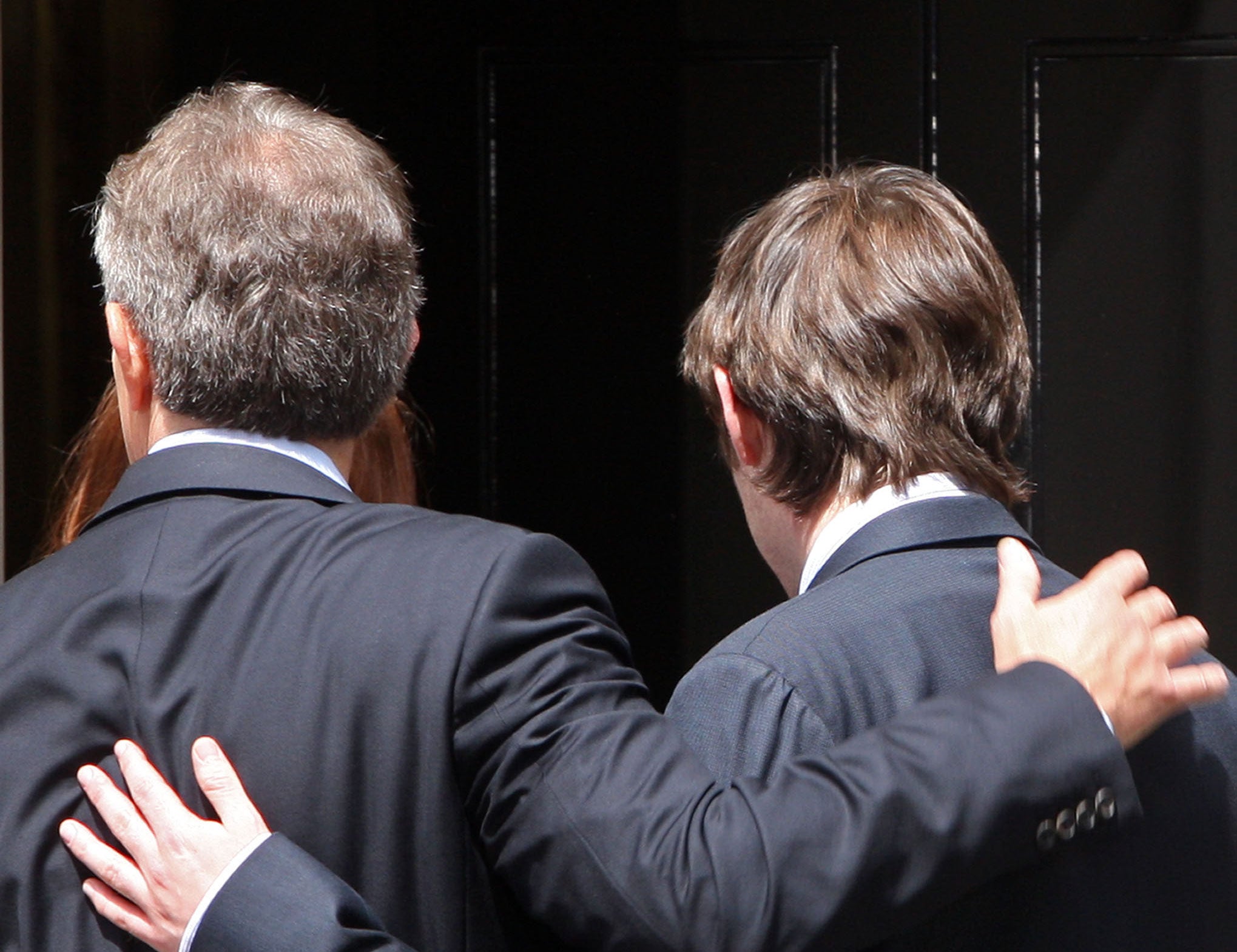 Anyone awaiting the clinching evidence with which to counter John Major's critique of Monday, when he bemoaned the collapse of social mobility under New Labour, did not have to wait very long. One short day after the former PM dwelt wistfully on the renewed centrality to career prospects of a public school education, heartwarming proof emerged that no one need attend Eton or Winchester to get on in this world after all.
By eeriest happenstance, this elegant rebuttal to Sir John came, indirectly, from the very creator of New Labour at whom he was having a pop. Nicky Blair, the 27-year-old second son of Mr Tony, went to a state school, Brompton Oratory, in a hotbed of urban deprivation (Fulham), and he is doing fine. Indeed, his career path since may strike you as an indecently perfect vignette of the altruistic Blairite age itself.
Having slipped the shackles of a non-public school education, Nicky first read history at Oxford, and then spent two years teaching it in a West Midlands comprehensive. He thought better of that, however, and became a football agent. On Monday it was reported that, after a slow start in maybe the noblest trade known to humanity (after journalism, estate agency, payday lending, nightclub bouncing and crystal meth production), he struck pay dirt.
In June, Nicky was involved in brokering the transfer of a Mexican, Hector Herrera, to FC Porto for £6.7m, which at the standard 10 per cent suggests that his Magnitude Limited pocketed £670,000. Apparently, he hopes to sell another young Mexican on his books to a major European club in the summer for £10m. He is also said to be ambitious to expand his endeavours – and here the proximity of the apple's landing zone to its mother tree comes to mind – to the Middle East. This may depend, of course, on the peace his father has miraculously sprinkled over the region sustaining a while longer.
Several aspects of this tale stimulate the lachrymals until my teardrops drench the keyboard. The escape from grinding poverty, needless to say, is one: during Nicky's formative years, the family had to live in state-subsidised housing, bang next door to nightmare neighbours. As that Brixton boy made good John Major appreciates, this takes a bit of gumption.
But what has me virtually paralysed with emotion is the reflection that he need not work at all. Since Mr T prefaced Nicky's career move by departing public service for private and pro bono consultancies, he has done quite well. The details of Papa Blair's endeavours, from advising such leaders of mineral-rich developing nations as the adorable Nursultan Nazarbayev of Kazakhstan, are obscured within a staggeringly complex web of companies. His office says he makes no personal profit from such work, which helps fund pro bono work. So we can't even vaguely guess how much he has made these past six years, although we do know that he and Cherie not long ago bought Nicky a £1.35m Georgian townhouse in central London. Given such parental indulgence, it may be assumed that if the lad preferred to idle away his life as a boulevardier, the senior Blairs would give him an allowance to ensure the electricity wasn't cut off, and that he could take the odd private jet to Ibiza for his hols. He could, in other words, be a parasite. Instead, Nicky decided to become a football agent.
As an expression of filial piety, this is inordinately touching. While his father hops from one Central Asian and African country to the next to help them with "good governance" and to flog their natural wealth (albeit apparently not for a healthy cut), Nicky does exactly the same in Latin America. To an agent, after all, a footballer is a commodity to be brokered, like Kazakhstan's gas and the bauxite of Guinea Bissau. This is both entirely legal and utterly blameless, and hardly makes him a second Mark Thatcher. Besides, we are all huge fans of the unfettered free-market capitalism of which football agency might be seen as the apotheosis – especially so, after the global financial triumph of 2008.
Nicky is by no means the only offspring to pay their sire the great compliment of following his career path. First-born Euan hopes to become a Labour MP, while daughter Kathryn is a barrister. Who knows what little Leo might do when he reaches man's estate now that all three of his father's three careers are already covered by his siblings. But if I had a Georgian town house to spare, I'd lump it on investment banking,
Anyway, his teachers at Brompton Oratory and his Oxford dons will join me in doffing the sombrero to Nicky on the Mexican deal, and offering best wishes that any future Middle East invasion works out better than the old man's. As for Sir John Major, he will be feeling foolish on discovering that social mobility does indeed thrive in Britain. The trick for all state-school pupils is to make sure you have for your dad an ex-premier on excellent terms with everyone from Alex Ferguson to Silvio Berlusconi.
Join our commenting forum
Join thought-provoking conversations, follow other Independent readers and see their replies