Like the Golliwog, Zwarte Piet is a racist relic, so why is it part of the modern Dutch Christmas?
Every year in the run up to Christmas, people in the Netherlands celebrate the festival of Sinterklaas by dressing up as a racist stereotype. So it's traditional, so what?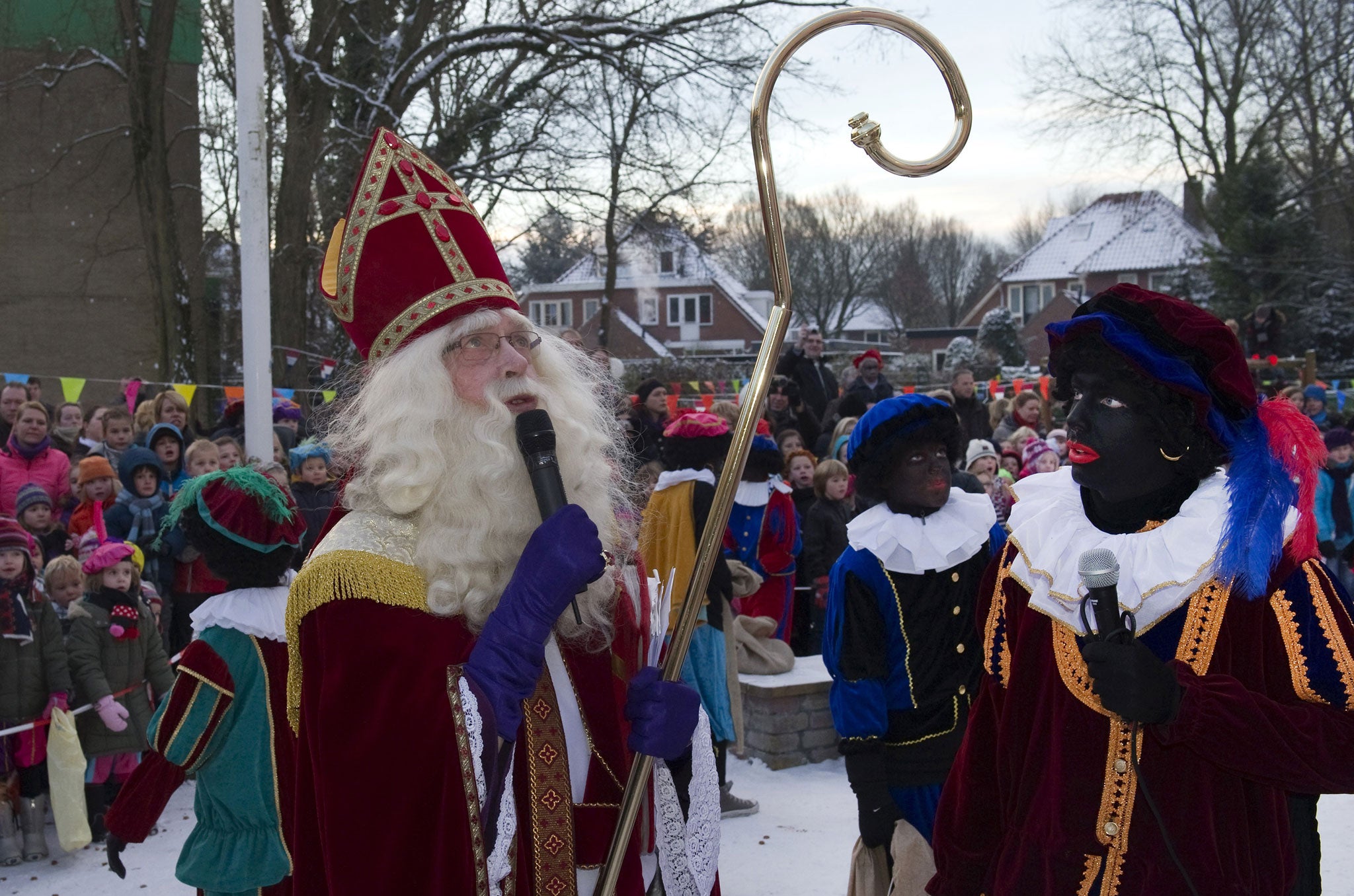 Winter is coming. In London, Christmas decorations adorn its shopping streets. Christmas is not yet foremost in Dutch people's minds though, as it is preceded by the Sinterklaas celebration on December 5th. In The Netherlands, the festival provides an excuse to get together for creative gift giving, eating sweets and reading poetry. More importantly, however, is the omnipresence of its two main characters, Sinterklaas (Saint Nicholas) and Zwarte Piet (Black Pete) in Dutch streets and other public places. These characters are either depicted in imagery or enacted by predominantly white volunteers adorned with black face paint, red lips and black curly wigs. The public display of a white saint (Sinterklaas) and his jolly black helpers (Zwarte Piet) occupying almost every public space is a continuous defamation of people of colour – especially those of African descent – a project started in the 19th century.
During the 1800s, when the print industry reached its peak, black figures were commonplace in popular Dutch illustrations known as the volksprent. Serving as educational and entertainment material, they often depicted black people as the "noble savage" or the servant boy. Similar images featured prominently in Sinterklaas children's literature of the time. Zwarte Piet - known as 'Peter my servant' ('Pieter me knecht') until the 20th Century - developed from a bogeyman that threatened naughty children, into a clownish fool. Today, this character remains intact and either largely unquestioned or fiercely defended by the Dutch majority.
In fact, as the celebration is a national tradition, criticism is often perceived as a threat to Dutch culture in general. Addressing its racist elements, for example by wearing a t-shirt that states "Zwarte Piet is Racism" during the televised national arrival of Sinterklaas, is considered threatening to such an extent that it led to the violent arrest of artists Quinsy Gario and Kno'ledge Cesare who wore t-shirts bearing the statement. Their unlawful detention, on the 12th November 2011, for six and a half hours included exposure to repeated remarks from police officers that: "this is our Dutch tradition" – a tradition two young black men are not entitled to criticise.
Racism thrives in the Netherlands, rearing its ugly head most explicitly during the debate on Zwarte Piet. Its institutionalisation is evident in the divisive policy categories of autochtoon, referring to a person with both parents born in the Netherlands and allochtoon, indicating a person with at least one parent born abroad. Allochtoon is further divided into western and non-western, but in popular media, allochtoon is adopted and used to indicate people of colour, ultimately separating those who belong and those who apparently do not.
Although it might seem to Brits that Zwarte Piet has nothing to do with them, he has a strong relationship to fellow storybook character the Golliwog.
Although it might seem to many Brits that Sinterklaas and Zwarte Piet have nothing to do with them, or that Zwarte Piet in particular is just a harmless Dutch character from a children's winter festival, in actuality he has a strong relationship to fellow storybook character the Golliwog. Florence Upton first introduced Golly in her children's book Two Dutch Dolls and a Golliwog in 1895, before eventually making his way into a whole range of books by Enid Blyton and becoming the face of Robertson's Jam between 1910 and 2001.
Their storybook origins are not the only associating features of these two characters. Both characters have huge, red lips spread across shoe-polish black faces, forming grotesque smiles. Interestingly, the similarities do not even stop there. Zwarte Piet was introduced during the Dutch slave-trade era with the Golly being introduced against the backdrop of the infamous European ' Scramble for Africa' - an imperialist effort, which took place between 1881 and 1914. During the occupation of African territories by European missionaries, artists soldiers, settlers and scientists, tales and images of the indigenous people floated back to Britain, filtered through a Eurocentric imagination, helping to construct a notion of the aforementioned "noble savage." He was simple yet subservient, primitive yet eager to become like his benevolent European master.
Blackface minstrel shows had been perpetuating a similar African character for most of the 19th century through song and dance performances that became extremely popular throughout the United States. As troupes gained popularity and notoriety they toured parts of Europe, where their depictions of African American life also proved to be a success. Blackface minstrels introduced a number of stereotypes that would go onto be associated with black people well into the 20th century, such as being musical, lazy, gullible, in awe of white people, irresponsible with money and hypersexual, therefore justifying their oppressed position in societies both within and outside of the "Western" world. The 'mammy', 'pickaninny' and 'coon' are notable characters to emerge from blackface minstrel shows in this period.
Cartoons in the early 20th century, such as Tom and Jerry, Fantasia and Dumbo also brought these caricatures to prominence, not to mention the continuation of blackface performance and mimicry by whites in film such as the anti-black propaganda film The Birth of a Nation (1915), and on television in the UK, for example The Black and White Minstrel Show (1958 – 1978). The development of Zwarte Piet can be linked to the change and expansion in blackface, and while the Golly itself never became an animated or live action character in film or on television, Britain has – in the past - enjoyed all of the above manifestations of blackface performance and mimicry, of which the Golliwog is a compelling artefact. Many Brits enjoyed the presence of the Golly in their homes and came to think of the character as a British institution in its own right. However, the prejudice inherent in the Golly – and other blackface manifestations mentioned here – could no longer be accepted as part of British life, as non-white ethnic minority communities continued to grow after the Second World War, and did not take kindly to being treated like the dumb, lazy buffoons the British public were so familiar with.
Eventually, The Race Relations Act was passed in the UK in 1965, following a period of racial strife that included the Notting Hill riots, to prohibit public discrimination on the grounds of colour, race, ethnicity or nationality. The act was updated in 1976, and led to the establishment of the Commission of Racial Equality. During the 1980s in the UK, the National Committee on Racism in Children's Books and the Commission for Racial Equality (now the Equality and Human Rights Commission) began a campaign against Golliwog-related imagery, stating that the character "reinforced harmful stereotypes in children."
Following their campaigns, social attitudes in Britain towards the Golliwog and its place within a multi-cultural British society have changed, leading to a decline in sale numbers as well as less public tolerance and support for the image. In the Netherlands, however, despite the work of many, such public awareness seems a distant prospect.
Amongst the Dutch majority, Zwarte Piet is not considered to be a racist character and international criticism is perceived as irrelevant to the Dutch context, despite the Netherlands' infamous colonial history. The London based Dutch Bar De Hems in Soho for example advertises its 5th December Sinterklaas celebration with a YouTube video containing images of the modern minstrel show. Aware of the issues, De Hems will refrain from having a Zwarte Piet in blackface on the evening itself. Yet when confronted with the issue of presenting the problematic blackface character in their advertisement while living abroad, the excuse was: "I have grown up with it and don't see a problem". Moreover, De Hems considers the loss of white Dutch costumers to be more important than the harm the use of this promotion material does to those at the receiving end of racism, as they replied: "A regular Dutch costumer did not want to come, because we don't have black Zwarte Pieten." Vereniging Neerlandia organises a Sinterklaas event targeted at children. The event will take place on the 1st December at the Dutch Church in central London and its promotion includes an image of Sinterklaas and Zwarte Piet. Ironically, all children between the age of three and a half and nine with "at least one Dutch parent" - a reversal of the Dutch divisive policy category allochtoon - are welcome.
Both in the Netherlands and the UK racial equality remains a goal we have yet to achieve. As long as racial imagery remains in public sight without more public criticism of the imbalance in representation and the existing denigration of people of colour, there is work to do. Abandoning racism is a continuous process in which the full scale of racist artillery needs to be recognised and dismantled. Let's urge the Dutch Church and De Hems to contribute to this process.
Join our commenting forum
Join thought-provoking conversations, follow other Independent readers and see their replies