There are two ways of growing old – and I'm taking Lord Sewel's
The peer laughs in the face of tepid Horlicks, squealing hearing aids and a mania about wheely bin collection times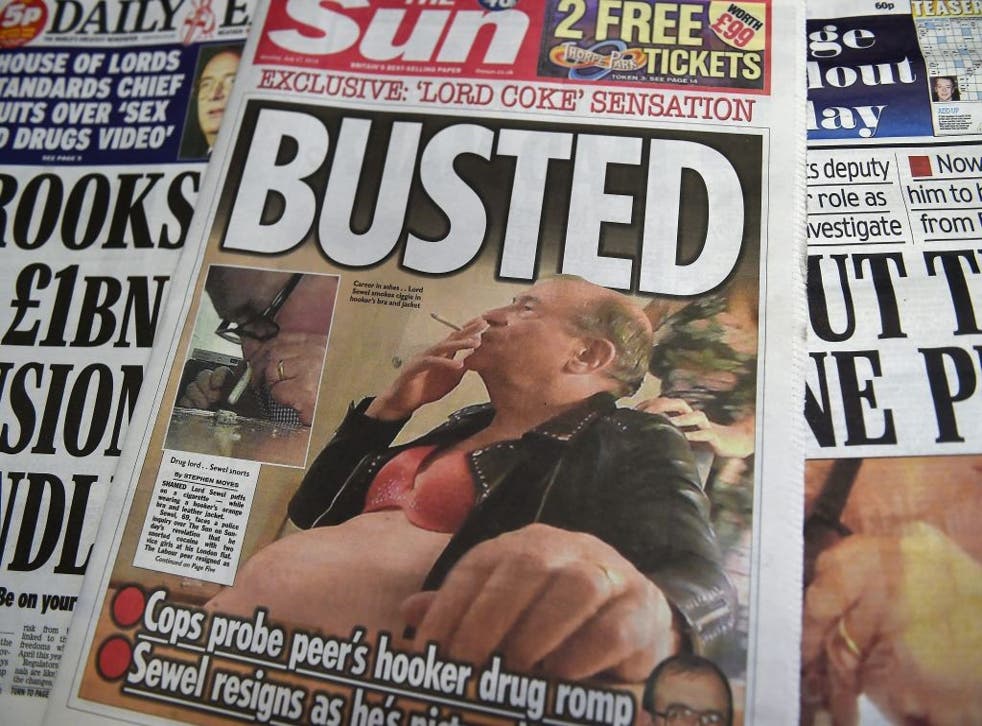 For each person chuntering furiously at footage of 69-year-old Lord Sewel cavorting in an orange bra, seemingly ripped on cocaine, nestling a large vodka, surrounded by jovial ladies of the night – I'll wager there will be others quietly impressed the old boy still has it in him. Because what are cocaine come-downs even like aged almost 70? They're bleak enough aged 27, which is why yoga studios are full of cowed, new-leaf-turning thirty-somethings, replacing MDMA and mojito splurges with the "downward facing dog". "On it all night" is a young person's game. Or at least, it was. How to Age Sensibly has got highly confusing of late.
Of course, many people won't consider Lord Sewel "old" at all. The springy, lithe 71-year-old Arlene Phillips CBE said on Sky News yesterday – while discussing negative attitudes to ageing – that, nowadays, many people don't consider themselves remotely old until they're at least 81. And even then, the tag infuriates them. You're as old as you allow yourself to become. Remember that period after 65? The part where we're supposed to sit quietly in a chair, "enjoying retirement", fading into a grey, disenfranchised husk with the TV blaring at full volume, while passing offspring and assorted hangers-on tap us for cash. "Sod this," many of us seem to be saying. Phillips suggests that our retirement should be the beginning of a new of challenges.
By this I took Phillips to mean "ballroom dancing, Alp-climbing and charity work", although Lord Sewel might comprehend this as a challenge to move into experimental drug use. Vice – a youth website run by terrifying, perma-disgruntled types, clad in gonad-strangling trousers – often run "tried-and-tested" features on new recreational drugs that would challenge even the hardiest Old Age Pensioner. Sewel should give Vice a quick scan. He'll have time on his hands while his wife, former bosses and the Metropolitan police decide what to do with him.
Sewel – ironically – fits into the "successful ageing" bracket that the British Medical Journal commented on last week in their report on later-life drinking. He is, or at least was, financially comfortable, on a wage of £87k per year. He is sociable, active and well-adjusted to the modern world. Indeed, there's little more "sociable" than inviting a group of near strangers into one's company, then wearing their lingerie and apparently sniffing cocaine off their bare body parts, while having a good old bitch about Boris Johnson.
Sewel laughs in the face of tepid Horlicks, squealing hearing aids and a mania about wheely bin collection times. No, he is a glorious worst case scenario of "successful" twilight years. It is hard to know whether to be appalled or to applaud the two-fingers attitude to what the world expects "nearly 70" to look like.
Obviously, there's a strong chance that booze, cocaine and hookers after the age of 65 will lead to a quick, slightly grotty death. A naive friend of mine who arrived in London to begin nursing couldn't quite understand why so many successful, ageing businessmen were expiring in gymnasium steam rooms at 3am. Where was this gym, she wondered? It seemed very dangerous. How was it passing its health and safety certificate? Eventually the penny dropped. The combination of hot steam, hookers and handjobs was clearly making these men feel very youthful indeed, right up to the point when the Grim Reaper arrived, typically followed by a wife. It is interesting to see that Sewel cunningly took his wife out of the equation during this infamous evening by placing her picture face down. She was out of sight while he was out of his mind.
Still, in my ongoing bid to live forever – so far, so good – I have scrutinised the lifestyle habits of the bright, beautiful Forever Young. Baltimore's Ernestine Shepherd, 79, looks 41, attributes her eternal youth to being the self-styled "world's oldest body-builder". Richard Kirshenbaum's newly published collection of essays Isn't That Rich? examines the behaviour of New York's vain and wealthy, who hold back time with extreme Paleo-style diets, leading to them storming the kitchen at dinner parties to whip themselves up an egg-white omelette as other guests look on aghast. Former model Christie Brinkley, now aged 61, looks younger than she did in the "Uptown Girl" video in 1983. But then, Billy Joel did specify that back then she was living in a "white bread world", whereas I'll guess that modern-day Brinkley hasn't touched white bread, gluten or refined carbs in the last decade. Boozing, ciggies, cream cakes and nocturnal carousing do not feature much in any bid to live to 87 in tip-top shape.
Fifty years of medical advances have given us the gift of extended life – here's looking at you, 102 – but on the condition we live like monks with sparrows' appetites. It is hardly surprising that many of us are reaching 70, spying decades ahead of pill-counters, friends with Alzheimer's and futile inheritance tax planning, and, instead of slowing down, speeding up. Sometimes with the use of speedy chemicals.
Obviously, many onlookers will say that Lord Sewel's downfall is a story as old as time: there's no fool like an old fool. And in a sense they are right. A younger man might have ordered booze, birds, and cocaine. He might even have put the bra on and lain about raffishly. But a younger man would have remembered to confiscate everyone's camera phone before things got started.
Register for free to continue reading
Registration is a free and easy way to support our truly independent journalism
By registering, you will also enjoy limited access to Premium articles, exclusive newsletters, commenting, and virtual events with our leading journalists
Already have an account? sign in
Register for free to continue reading
Registration is a free and easy way to support our truly independent journalism
By registering, you will also enjoy limited access to Premium articles, exclusive newsletters, commenting, and virtual events with our leading journalists
Already have an account? sign in
Join our new commenting forum
Join thought-provoking conversations, follow other Independent readers and see their replies