Machetes fail to maim this human spirit
Rafida Bonya Ahmed survived a brutal Islamic extremist attack; her husband did not ... yet she speaks only of compassion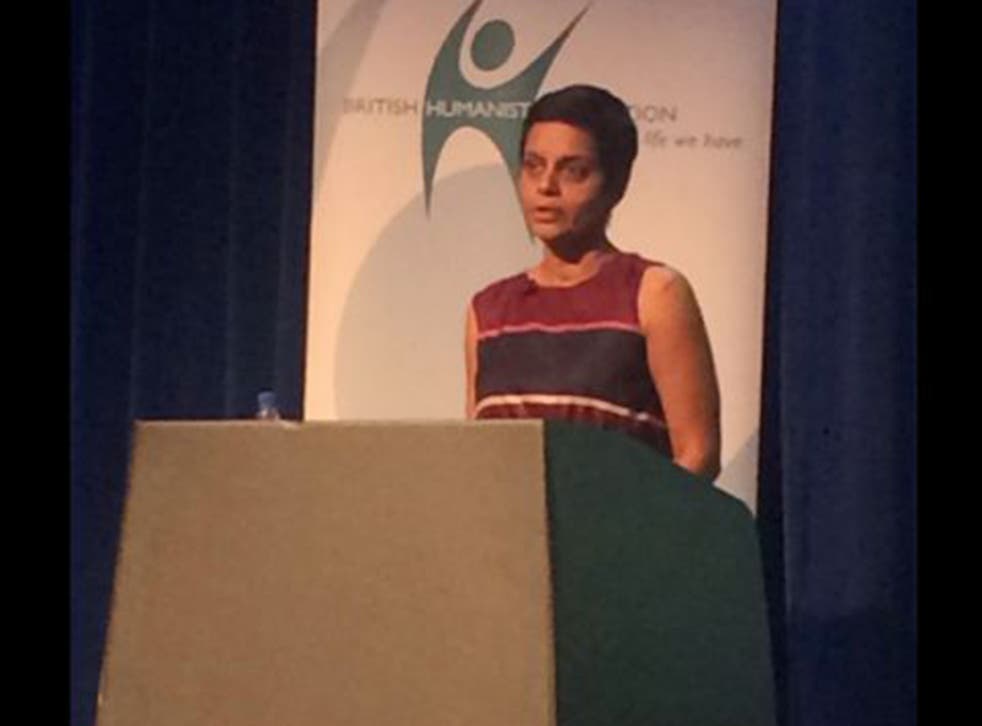 When a slight woman with cropped dark hair walked on to a stage in a London hotel on Thursday evening, she was greeted with an immediate standing ovation. Four months ago, Rafida Bonya Ahmed and her husband, Avijit Roy, were attacked with machetes by Islamic extremists in the Bangladeshi capital, Dhaka. Roy died and Ahmed was seriously injured, receiving deep wounds to her head.
At first glance, it is hard to believe that this lively and engaging woman has gone through such an ordeal. The only visible reminder is her left hand, which is missing a thumb after it was slashed off in the attack.
Ahmed travelled from her home in Atlanta, Georgia, to give the annual Voltaire Lecture, organised by the British Humanist Association – the first time she has spoken in public since the attack. The lecture took place, poignantly, opposite Edgware Road station, where six people died in an Islamist bombing 10 years ago.
Like her late husband, Ahmed is Bangladeshi-American. Last week, she described how the couple's ideas brought them together when she was living in the US and Roy was doing his PhD in Singapore; he came to her defence after she posted a critical comment about religion online. Roy later founded the Mukto-Mona ("Free Mind") website, which provided a forum for Bengali secular writers.
This February, Roy and Ahmed decided to visit Dhaka, where Roy's father is a retired professor of physics. They were leaving a book fair at Dhaka University when they were dragged from a bicycle rickshaw in a crowded street. Police officers made no attempt to intervene as the attackers rained down blows. The only person who came to help was a young journalist, who somehow managed to get the badly wounded couple into a car and drove them to hospital.
Shocking photographs later emerged of Ahmed, drenched in blood. Four months on, she still hasn't been interviewed by police or asked to give a statement. In a curious coincidence of timing, the Bangladeshi government suddenly announced on Thursday that it had arrested 12 members of an extremist group, Al-Qaeda in the Indian Subcontinent (Aqis), suspected of involvement in Roy's murder.
In May this year, the leader of Aqis published a video in which he said his group had targeted Roy and other humanist bloggers because they had insulted Islam. In an apparent reference to the murders at the Charlie Hebdo offices in Paris, the video was entitled "From France to Bangladesh: the Dust Will Never Settle Down".
Ahmed speaks about the most horrific evening of her life with astonishing composure, pausing to gather her thoughts and explaining that she is still taking heavy-duty medication. Her husband is one of three humanist bloggers hacked to death in Bangladesh this year: Washiqur Rahman was murdered in Dhaka in March and Ananta Bijoy Das was killed in the city of Sylhet, in north-east Bangladesh, in May.
The killings began almost two and a half years ago with the murder of another blogger, Ahmed Rajib Haider. Astonishingly, the Bangladeshi government reacted by cracking down on humanist blogs for supposedly "hurting religious feelings", and arrested several bloggers. While it is clearly the bloggers who need protection, ministers have been under pressure from Islamic extremists who want a new blasphemy law and have published death lists. One such list contained 84 names, including the real identities of individuals who had blogged under pseudonyms for their own safety.
What is going on is a struggle over the identity of the modern state of Bangladesh. Its roots stretch back to the war of independence in 1971 when a number of influential clerics, including prominent members of the main Islamist party, Jamaat-e-Islami, were accused of siding with Pakistan and committing war crimes. Three million people died and the accusations ranged from rape and torture to genocide.
In 2009, a war crimes tribunal was set up and nine Jamaat-e-Islami leaders were eventually indicted. The party's former leader, Ghulam Azam, was sentenced to 90 years and died in prison last year. Several other defendants, including its current leader Motiur Rahman Nizami, were convicted and sentenced to death. Controversially, some humanist bloggers supported both the trials and capital punishment for those convicted of war crimes.
Posts on social networking sites suggested that Roy would be killed if he returned to Bangladesh but, with the secular Awami League in government, the couple didn't think they would be at risk. Last week, Ahmed described their decision to return as a miscalculation, and said they were still suffering from jetlag when they were attacked.
She spoke eloquently about her sense of loss and outrage, which has not shaken her commitment to humanism. "Don't lose your faith," the owner of a restaurant in Atlanta advised her recently when she ate there with her daughter. Ahmed pointed upwards and said: "I don't see anything up there."
Ahmed seemed almost bewildered by the warmth of her reception in London. She is thoughtful and generous, acknowledging the depth of her grief and rage but insisting on the need to have compassion for others. "It is not just ourselves, but each other, every trafficked slave, every murdered writer, every lost and lonely mind, that are important and have value," she said.
She is still working out how best to continue the work she did with her husband, but it is hard to see such an extraordinary woman as a victim. With her quick mind and infectious laugh, Rafida Bonya Ahmed is a testament to the resilience of the human spirit.
Twitter: @polblonde Politicalblonde.com
Register for free to continue reading
Registration is a free and easy way to support our truly independent journalism
By registering, you will also enjoy limited access to Premium articles, exclusive newsletters, commenting, and virtual events with our leading journalists
Already have an account? sign in
Register for free to continue reading
Registration is a free and easy way to support our truly independent journalism
By registering, you will also enjoy limited access to Premium articles, exclusive newsletters, commenting, and virtual events with our leading journalists
Already have an account? sign in
Join our new commenting forum
Join thought-provoking conversations, follow other Independent readers and see their replies