Matthew Norman on Monday: What's Iain Duncan Smith doing running welfare?
Plus: Cameron remembers things differently, On election debates,  I agree with Ed, A fat lot of respect for poor Michael Gove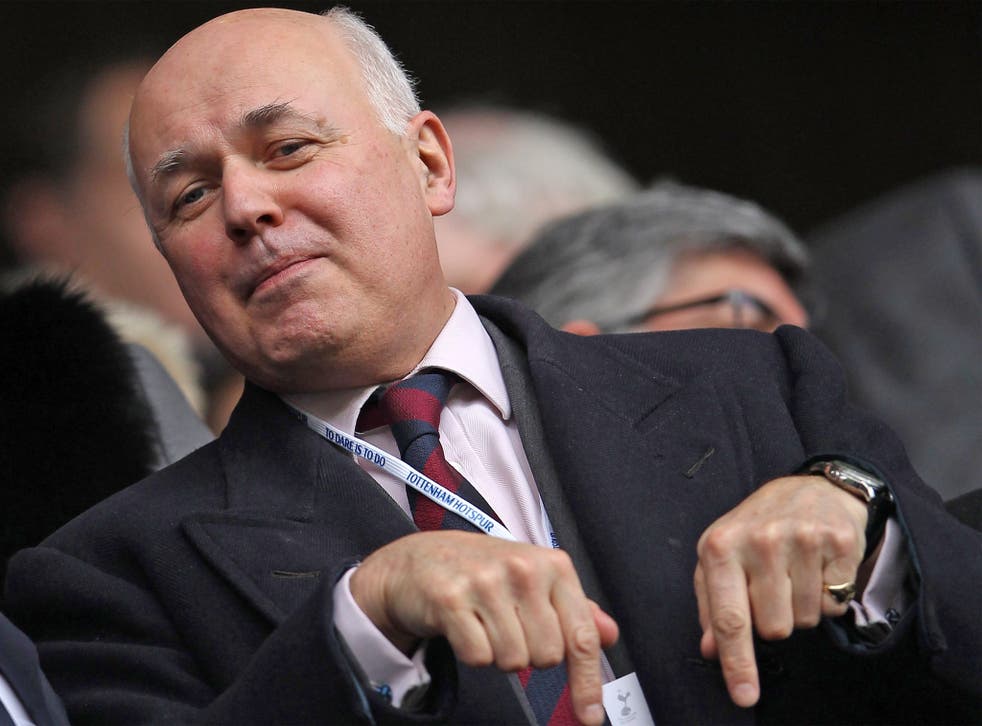 It has been so long since a book unveiled internal political strife that we must thank Matthew d'Ancona for reminding us that within a party all is not invariably sweetness and light. Among the enchantments in d'Ancona's In It Together is the revelation that the Chancellor does not share this diary's high regard for Iain Duncan Smith's mighty intellect. "You see Iain giving a presentation," George Osborne, right, is reported to have observed during a turf war, "and realise he's just not clever enough." The failure to spell out for precisely what Iain is not clever enough will lead to speculation. Were he late for a morning meeting, for example, the suspicion might be that he is not clever enough not to have spent 43 minutes struggling to tie his shoelaces before realising that Betsy had laid out a pair of slip-ons. If the Chancellor thinks Iain too dim to resolve a fiendishly complex area of social policy, on the other hand, this raises an intriguing question. If and when the Universal Credit IT catastrophe anticipated by the National Audit Office comes to pass, will George explain why, as the second most powerful minister in the Government, he stood by and permitted a man he regards as a bit thick such power over the lives of the most vulnerable?
Cameron remembers things differently
Other revelations in the book provoke questions about David Cameron's memory. Yesterday, asked by Andrew Marr about the impeccably sourced d'Ancona's claim that he discounted winning a majority months before the election and began formulating a coalition deal, the PM said: "That's not how I remember it." As for the confession that he would never have pushed gay marriage through had he foreseen the ensuing grief, he said: "No, I don't agree with that." Since a reported quote is hardly open to philosophical dispute, the likely explanation is that, as with the months spent planning the coalition deal, the memory escapes him.
On election debates, I agree with Ed
As for the PM's confirmation that he hopes to spread the live TV debates out over several months, Ed Miliband should send a junior in a giant chicken suit to follow Mr Cameron wherever he goes until he churlishly agrees to the three eve-of-election debates that gave the last campaign what minimal energy and fascination it had. We all know he had a total mare in the "I agree with Nick" first debate of 2010. But as Rebekah Brooks might have told him, with a gigglesome LOL, when he lost his seating on Raisa of the Met, sometimes you just have to get back on the horse.
A scoop from the Sun – well, almost
Hats aloft to Sun political editor Tom Newton Dunn, who on Friday gave us the "exclusive" about Ed Miliband being coached in delivering his conference tour de force by the film director Paul Greengrass. Admittedly, this fact did once appear in Mary Riddell's Daily Telegraph column. But since it was as far back as last Thursday, it would be prissy to remind Tom that the first rule of this trade is: read the papers.
A fat lot of respect for poor Michael Gove
Michael Gove's insistence that under no circumstances would he dream of accepting the Tory leadership is derided by the Mail on Sunday. It reports that the Education Secretary "has spent a week at an Austrian 'fat farm' to help him show off his leadership credentials..." It seems Michael was restricted to 600 daily calories of haute cuisine (soup and stale bread) and treatments on offer included bloodletting and colonic irrigation. He has since dropped two stone. Why the MoS wanted to embarrass him so soon after his missus, Sarah Vine, ascended to the post of the Daily Mail's resident Lynda Lee Potter is a mystery. Internal skirmishing may bedevil political parties, but one place you will never find it is among brother editors at Associated Newspapers.
The inspiring oratory of Eric Pickles
The year's most inspiring political quote came from Eric Pickles. Asked to comment on the Miliband energy-price freeze by Sarah Montague on Radio 4's Today, one minister who has not visited an Austrian fat farm of late replied: "I came on to talk about parking." Twice. There, you glimpsed the vignette of Eric practising his oratory as an idealistic lad in Keighley. All the great ones do it, as other boys play air guitar. But where we may imagine Martin Luther King miming "I have a dream", the 16-year-old Eric stood before his mirror preparing for political immortality with "I came on to talk about parking".
Join our new commenting forum
Join thought-provoking conversations, follow other Independent readers and see their replies