Mhairi Black has been patronised, vilified and lampooned — but she is everything that has been missing from party politics
Her 8 minute maiden speech has restored my faith in politcs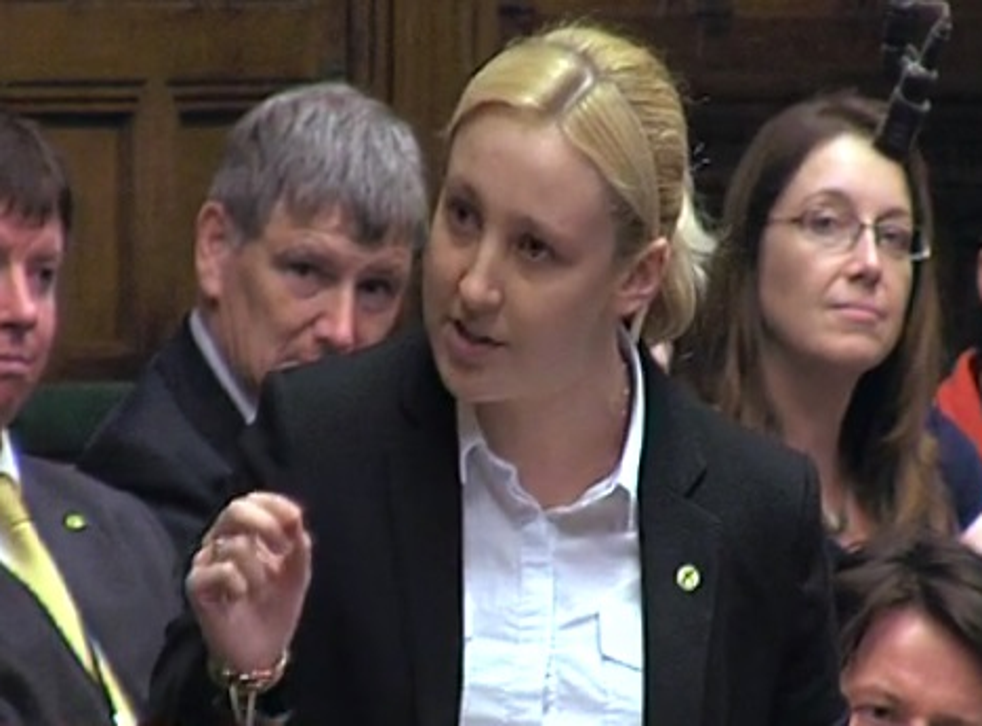 On the night of May 7, she symbolised a political earthquake, the 20-year-old who overturned a 16,000 majority and deposed one of Labour's most experienced and respected MPs. Mhairi Black took the seat of Paisley and Renfrewshire South on a tide of nationalist fervour, and became the youngest person to take a place in the Palace of Westminster since the 17th Century. She represented the astonishing rise of the SNP, but was seen as little more than a curio, an anomaly, a one-off whose victory illustrated the spectacular failure of the Labour Party.
She's been patronised, vilified (an emeritus professor at Edinburgh University called her "a foul-mouthed slut") and lampooned (she tweeted a picture of her lunch on her first day at Westminster: a plate of chips, two slices of white bread and a bag of cola bottles).
But, on the evidence of her beautifully-judged, powerfully-expressed, elegantly-written maiden speech to the House this week, it's possible that Mhairi Black may come to embody qualities that have been missing from party politics.
Like passion, for instance. Or conviction. Or, heaven forfend, idealism. It's about eight minutes long, and Ms Black's speech is worth watching in its entirety for many reasons. It was full of purpose, and drew spontaneous applause from the packed ranks of SNP members - they still, charmingly, don't know how to behave, and this drew a rebuke from the Deputy Speaker. But, most importantly, it was a confident expression of opposition to the Government, which, as Labour continues its introspection, is much needed.
Ms Black's most impassioned challenge was to the Labour Party, to which she claimed a formative allegiance, and which, she said, "has seemed to have forgotten the very people it is supposed to represent, and the very things it is supposed to fight for".
When Labour supports a Tory Chancellor's plans for benefit cuts, and when so many within the party believe that the left-wing MP Jeremy Corbyn shouldn't even be a voice in the leadership debate, this was a timely intervention. "I feel it is the Labour Party that left me, not the other way round", said Ms Black, more in sorrow than in anger.
In her maiden Commons speech, and in her last address to the SNP Conference, Ms Black shows herself to be a potent political force. I'd rather she didn't rely on unsourced and anonymised anecdotes - I'm not saying I don't believe her first-hand experiences of people on the poverty line: it's just that she doesn't need convenient tales to back up her invective - but she has a grace and a winning authenticity. She was generous towards the man she vanquished, Douglas Alexander, and in invoking both William Wallace and Tony Benn, betrayed a historical perspective that belies her age.
Beyond all this, she helped restore this jaded old cynic's faith in politics, and is the perfect reproach to those who believe that young people are interested only in consumerism and celebrity. She speaks with such ardour about social justice, and truly believes in the power of politics to change the lives of ordinary people. Mhairi Black has made an extraordinary start to her career as an MP. Let us hope that custom does not stale her.
Register for free to continue reading
Registration is a free and easy way to support our truly independent journalism
By registering, you will also enjoy limited access to Premium articles, exclusive newsletters, commenting, and virtual events with our leading journalists
Already have an account? sign in
Register for free to continue reading
Registration is a free and easy way to support our truly independent journalism
By registering, you will also enjoy limited access to Premium articles, exclusive newsletters, commenting, and virtual events with our leading journalists
Already have an account? sign in
Join our new commenting forum
Join thought-provoking conversations, follow other Independent readers and see their replies