Millwall: Once or twice a season the old violent myth takes hold
This Wembley punch-up did not mark the return of 1970s hooliganism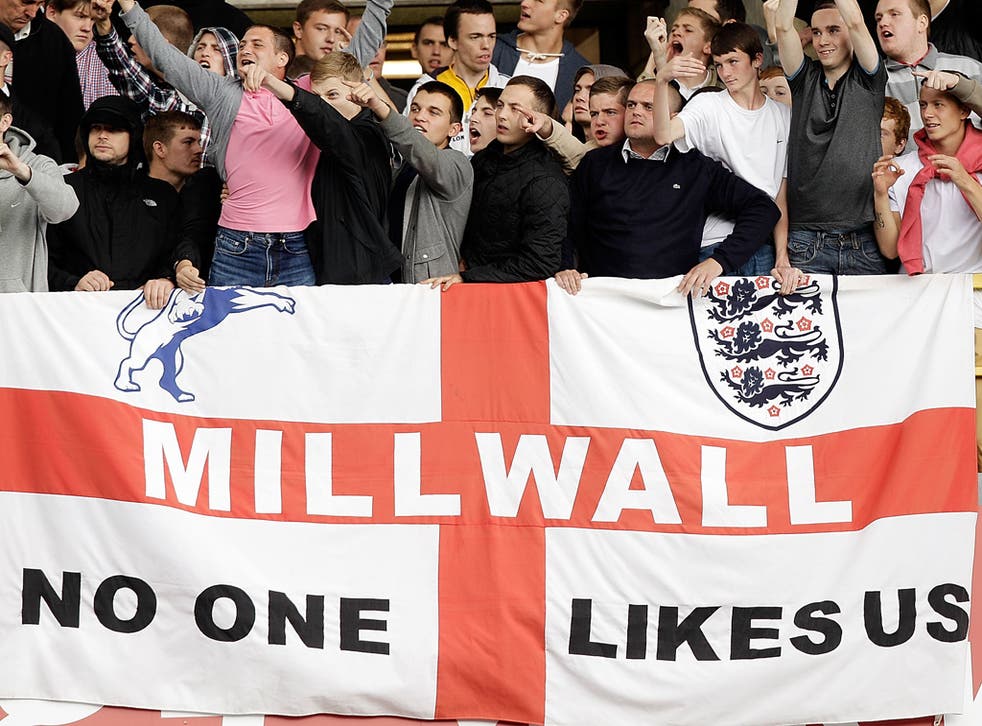 My teenage son was being watched on Saturday when he gave up his seat for an elderly woman on a raucous Tube to Wembley surrounded by fellow Millwall fans. A fiftysomething man in a faded Parka, studded with enamelled badges glorying 1970s Mod culture, fixed him with a gimlet stare. There was no hint of a smile as he reached inside his pocket and solemnly passed my son a sticker. Decorated with a retro lion, it read: "Treatment. Millwall." This was the calling card for an infamous hooligan gang from the days when Harry Cripps and Barry Kitchener patrolled the Lion's back line at the aptly called Cold Blow Lane.
The man reached in his pocket again and offered my son a disposable surgeon's mask. Jake looked bewildered, as anyone would who hadn't seen the BBC's Panorama exposé of Millwall's infamous hooligan culture four decades ago – a distant world when, for the cameras at least, Millwall's lunatic fringe supposedly dressed up in surgical gear before going on the rampage.
The retired hooligan, with a shrug, then muttered by way of explanation: "It's yours if you want it, 'cos you did a good thing." So when the weekend headlines screamed again about Millwall's "shame" and the return of the English disease, I thought of a middle-aged man reliving his inglorious youth by doling out stickers to reward public-spirited acts of generosity by today's teenagers.
Yet the mythology of Millwall is hard to escape: violent, racist, a hooligan cancer threatening the national game. It's an easy narrative regularly trotted out by television and newspapers. The reality today is different. Three generations of my family have watched decades of mediocre football sparsely punctuated by fleeting moments of success.
The crowd is tough, ageing and hard-bitten. It's drawn mostly from what's left of south-east London's white working-class, although thousands of supporters now commute from north Kent. They scream more at their own players than at the opposition – this is anger-management therapy, but here screaming obscenities costs £25 per 90-minute session, hardly Hampstead prices.
Millwall is a club tied fast to its past. Its supporters are bound by loyalty and a shared history. For the most part, this is a strength when so many old London rivals are busy trying to build global brands. Millwall is instead striving to foster links with the new communities which have now taken root in what used to be London's Docklands. A tough-tackling black Muslim is player of the year, voted for by the fans. An evangelical Christian from Nigeria, Danny Shittu, is the much-fêted captain ("He's Shittu and he knows he is", goes the chant).
Yet once or twice a season – in a good year – the old myth takes hold again. The ranks of the faithful are swelled for a big match by the drunken, drugged dregs of south London and beyond. When 30 of these people have a punch-up under the press box at Wembley, it is neither a national calamity nor does it mark the return of 1970s hooliganism. It is simply Millwall's misfortune.
Ben Preston is editor of the 'Radio Times'
Join our new commenting forum
Join thought-provoking conversations, follow other Independent readers and see their replies