Mother country: The harrowing truth behind Thai 'fertility tourism'
A surrogate Down's syndrome baby abandoned by an Australian couple, exposes the First World's double standards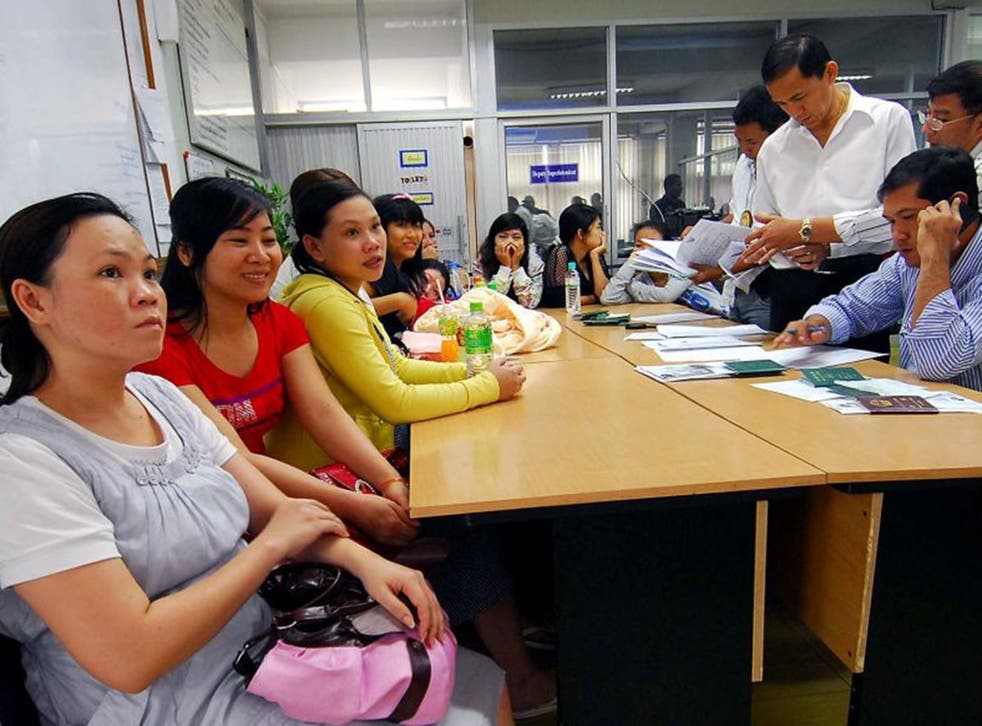 The websites show state-of-the-art equipment and laughing parents with babies. The couples are, without exception, white – for the websites are aimed at Australians and Europeans who want to have fertility treatment in Thailand. The services on offer include not just IVF, but treatments illegal in many developed countries, such as commercial surrogacy and gender selection.
"Women in Thailand are the perfect candidates to become surrogate mothers," promises one website, suggesting that clients might even like to combine treatment with a holiday. A "vacation with benefits" is how the clinic describes it, but critics use harsher words. They call it "fertility tourism".
According to the organisation Families Through Surrogacy, there are usually about 20 Australian couples awaiting the birth of their child in Thailand at any one time. Surrogacy is legal in Thailand, but only when a married couple ask a blood relative to carry their baby. The law has not been widely enforced and the country has become an attractive destination for Australians unable to have children, including same-sex couples.
Last week, the result of one such arrangement between a Thai woman and an agency – not the one mentioned above – made headlines around the world, even though the details have not been independently verified. Pattaramon Chanbua, who lives about 60 miles from Bangkok, told reporters she was struggling to look after a seven-month-old baby with Down's syndrome after his Australian parents abandoned him. She said the couple took the boy's healthy twin sister, but left him behind when they returned home.
The circumstances of Chanbua's pregnancy and its aftermath, as she tells them, are certainly harrowing. She is poor, works on a food stall and, at the age of 21, already has children aged six and three. She agreed to act as a surrogate for the Australian couple only because she needed money. She says: "I asked the agency, did I have to sleep with the man? The agent told me, 'We are going to make a glass tube baby', but I didn't understand. My husband agreed because we didn't have money to pay our debt and I didn't need to have sex with another man."
Chanbua was paid almost £9,000 to bear a child for the couple, and they were initially pleased when she discovered she was having twins. But she says they changed their minds and told her to have an abortion when tests revealed that one of the foetuses had Down's syndrome; she refused and gave birth to both babies. She says she was then threatened with not being paid if she refused to lie to the Australian embassy in Bangkok about the circumstances of the birth, enabling the couple to take the female infant out of the country.
This is not quite the scenario given to potential clients on fertility clinic websites offering surrogacy services in Thailand. The surrogates "are mostly middle-class women, which [sic] view surrogate motherhood… as a way to safely and comfortably earn extra money", says one website. It reassures potential clients that the surrogates lead a healthy lifestyle and live in "ecologically clean neighbourhoods". With a sudden flash of candour, it goes on to acknowledge that "the main focus of this medical clinic is of course the European customers" who are attracted by the "affordable prices and favourable legal system".
Since Chanbua's story was first published by a Thai newspaper, strangers have offered to donate over £100,000 to a webpage set up to pay for the treatment the boy needs for a congenital heart condition. The Australian Prime Minister, Tony Abbott, has described it as "an incredibly sad story" illustrating "some of the pitfalls involved in this particular business". Sam Everingham, director of Families Through Surrogacy, told The Sydney Morning Herald that it was not the only case he had heard about. "There have been recent tragic cases of foreign parents not accepting disabled children born through surrogacy," he said.
Thai officials have now cracked down on the illegal surrogacy trade, saying that anyone who tries to remove a child from his or her mother to another country without permission from the government is violating Thailand's human trafficking laws. This may seem harsh to people who can't have children, but it puts the surrogacy business in a wider context, highlighting the way impoverished south-east Asian women are seen by some foreigners just as a useful resource.
Many wealthy families in the Gulf states and Europe don't give a second thought to employing Filipina women as domestic servants or nannies, assuming that they will leave their children at home to be cared for by relatives. I'm not sure that renting the womb of a young Thai woman is any better, but both practices say a great deal about the First World's double standards towards motherhood.
Register for free to continue reading
Registration is a free and easy way to support our truly independent journalism
By registering, you will also enjoy limited access to Premium articles, exclusive newsletters, commenting, and virtual events with our leading journalists
Already have an account? sign in
Join our new commenting forum
Join thought-provoking conversations, follow other Independent readers and see their replies