Chris Grayling, how do you account for these prison suicides?
The Justice minister needs to explain why prisoners are taking their own lives at a record rate of six a month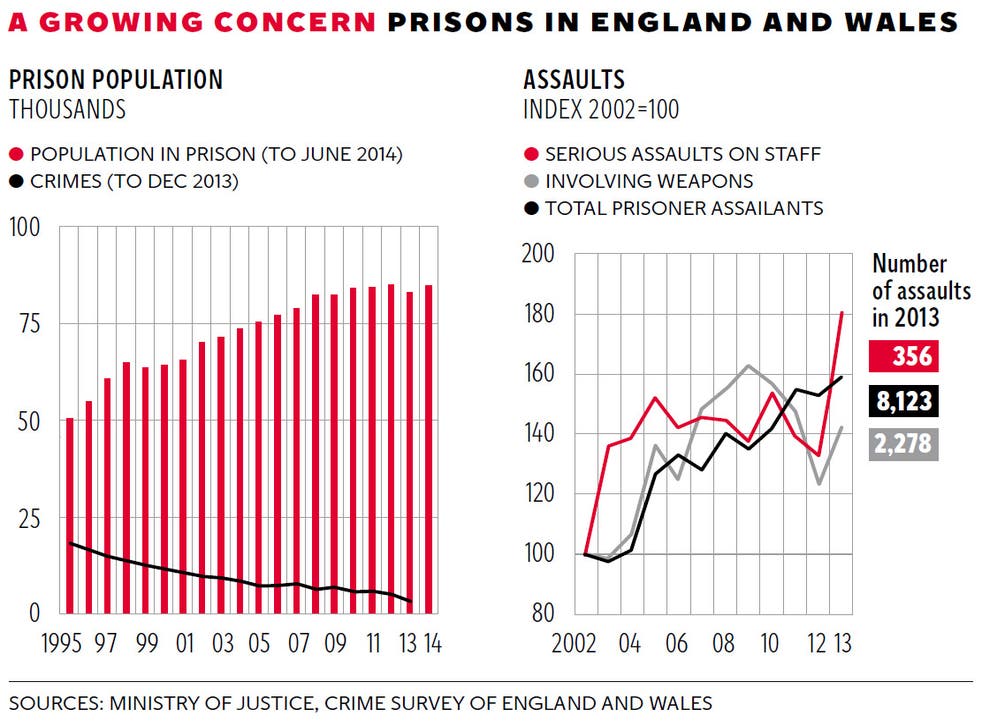 Not long ago I asked a governor from one of Britain's largest prisons what she thought of her boss, Chris Grayling, Justice minister since September 2012, under whom the prison system has experienced the most severe crisis for at least 25 years. She grimaced and shook her head. Sometimes silence says more than words. The way Grayling seems to go missing when the issue of prison suicide crops up speaks volumes about him. "There is," he insisted in an interview on the subject, "not a crisis in our prisons".
One might have expected him to make an appearance – or at least be quoted – on Friday's Today programme on Radio 4, in which Lord Harris, the Labour peer charged by the Government with investigating the reasons behind the 50 per cent rise in prison suicides since 2011-12, presented some of his preliminary findings. A fear of pre-empting that review's findings is surely not a good enough excuse.
Deborah Coles, the co-director of Inquest, a charity that helps those left bereft by deaths in custody, expressed frustration at Grayling's absence. "All these people charged with the inspection and monitoring of prisons are warning ministers that there is a crisis," she said, "ministers' indifference to this issue is really concerning … I'm surprised that he [Grayling] isn't here to address these issues."
Lord Harris clearly felt he should have been there, too. His initial findings – that too many people are being sent to prisons which lack the resources needed to facilitate effective rehabilitation – point the finger of blame pretty squarely at the coalition government. Its counterintuitive policies, which have cut the prison service to the bone then loaded it to breaking point, have brought us to this crisis. "But where was the minister to respond?" read a post, cattily re-tweeted by Lord Harris shortly after the programme aired.
The man, as they say in the legal profession – and incidentally, Grayling is the first Lord Chancellor in 440 years to have no background in law – has form. Back in late July, on the day his own department published damning figures showing that the rate of suicide in prisons had gone up by 69 per cent in a year, Grayling chose to deliver a speech on the pressing issue of party funding. This set off a much-publicised mud-slinging competition with Labour – which looked like a smokescreen.
Then, when Newsnight covered the scandal, the long-suffering chief executive of the National Offender Management Service, Michael Spurr, was grilled by Kirsty Wark instead – which is a bit like sending a litter-picker to be taken to task for the state of the country's landfills. For a man whose job, to a certain degree, involves holding people to account, Grayling himself seems to feel remarkably little obligation to face similar levels of scrutiny.
Inside Broadmoor Hospital

Show all 7
In August Nick Hardwick, chief inspector of prisons, said it was "not credible" for the Government to deny a link between pressures on the prison system and the surge in the number of self-inflicted deaths, though that still seems to be its position. But evidently we'll have to carry on guessing how Grayling explains the rise in suicides. (Hardwick, incidentally, is reportedly unlikely to have his contract renewed next year.)
Perhaps the bashfulness is because Grayling has so much to answer for. Since the coalition government came to power, 18 prisons have been closed down, but the prison population continues to rise. In some of the worst cases, cells intended for one are being crammed with as many as three men – shut in together for as much as 23 hours a day.
According to reliable prison sources, conditions are so filthy that some inmates have resorted to greasing their bed legs in an attempt to stop cockroaches climbing on to them at night. The presence of rats is well documented, and anecdotal evidence suggests some prisoners have built special covers to stop rodents crawling out from the plumbing and infesting their cells.
Not that the rats would find much worth eating. At HMP New Hall, inmates found it so hard to choke down their dinner that they joked they were being fed the horsemeat products that supermarkets had been forced to take off the shelves. When the Ministry of Justice's Independent Monitoring Board investigated, it found the meat – "consisting mainly of fat and gristle" – to be "inedible".
Through petty rule changes, Grayling has made sure that prisoners have been deprived of their own choice of books, and that female prisoners can no longer be sent underwear. In scenes that call to mind Officer Healy's paranoid, homophobic rants about "lesbian conspiracies" in hit US prison drama Orange Is the New Black, he called for individuals in same sex relationships to be banned from sharing cells, while at the same time blocking an investigation by the Howard League for Penal Reform into sexual abuse inside prisons. It is little wonder that David Cameron is so reluctant to give prisoners the vote – and that suicides in prison are now running at an average of six a month.
Until Grayling is willing to take responsibility for his actions, the situation will only get worse. The tragic irony of the situation is that our prison system is infinitely more violent than the majority of people who end up inside it. Unlike Grayling, most prisoners are a hazard only to themselves. The ongoing suicide crisis is sad proof of both of these claims.
As Lord Harris observes, prison is massively over-used. The mental health problems and drug addictions that afflict so many inmates would be better dealt with by the social services, with prison itself saved for the most serious cases. Sadly, nobody will be sending Grayling to prison for his policies. But with more than 100 deaths on his watch in the past two years alone, perhaps in another, more just world, there's an over-crowded cell with his name on it.
Charlie Gilmour served four months in prison for violent disorder in 2011 following the student protests against austerity
Anyone seeking confidential support on suicide can call the Samaritans on 08457 90 90 90.
Register for free to continue reading
Registration is a free and easy way to support our truly independent journalism
By registering, you will also enjoy limited access to Premium articles, exclusive newsletters, commenting, and virtual events with our leading journalists
Already have an account? sign in
Join our new commenting forum
Join thought-provoking conversations, follow other Independent readers and see their replies