My great-uncle Alan Turing was just one of 49,000 gay men who had their lives ruined by the Government — where are their pardons?
Alan's legacy will not be be fulfilled until all men receive justice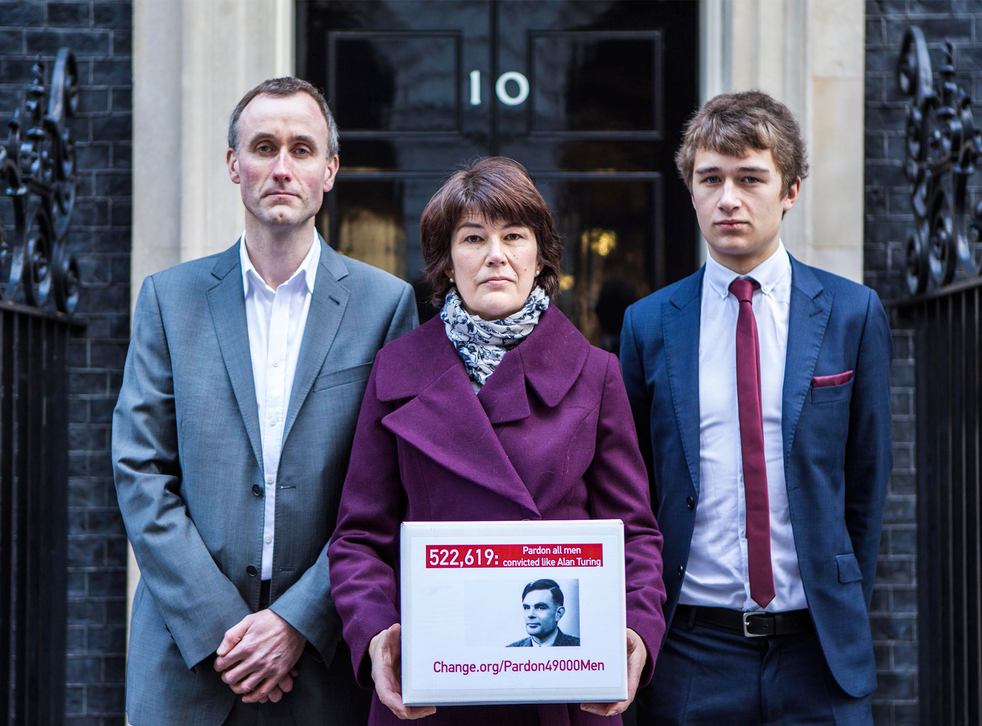 By cracking the Enigma Code, my great uncle Alan Turing is believed to have saved around 14m lives, and to have shortened the Second World War by two years.
However, until recently most of the world didn't even know his name, and he was still on record as a criminal. This hung over our family for decades. But then came his Royal Pardon in 2013, and the release of The Imitation Game earlier this year. There is now suddenly so much more awareness around his life, which has brought us a great deal of peace.
The team behind The Imitation Game did an incredible job, and Benedict Cumberbatch's performance was just brilliant. All 25 members of the Turing family were invited to a private screening of the film before it was released. At the end Alan's niece turned around to her son and said, "Benedict is Alan". And she was right; when I'm watching the film, I feel like I'm almost watching him.
But Alan's legacy still hasn't been properly fulfilled. He wasn't the only gay man to receive such shocking treatment by the government. An estimated 49,000 other men were also charged with gross indecency, and have never been pardoned by the government. And 15,000 of these men are still alive. If the Government believes in justice, then they must receive the same pardon as Alan within their lifetimes. It would make such a huge difference to them and their families.
Alan's treatment by the government was absolutely horrific. After being convicted he was made to choose between a two-year prison sentence or being injected with female hormones. Having chosen the latter, both his mental and physical health deteriorated. He ended up with severe depression and was unable to continue his work. In the end, he committed suicide, at the age of 41.
For nearly 50 years my family was kept in the dark about his work. During the war he told his mother that he was working in the Foreign Office, but it wasn't until the late 1970s when we received a letter saying he had actually broken the Enigma Code. I was 18 when it arrived in the post, and the feeling was immense. We always knew that Alan was a brilliant mathematician and had helped aid the war effort, but we never actually knew what he had done.
When he was finally pardoned two years ago, we were elated. But one pardon is simply not good enough. Justice must be served to everyone, regardless of whether they cracked the Enigma Code or not. I cannot understand how our current Government could pardon one person who was so badly treated, and not the others. It is just illogical, and is why my family and I are supporting Matthew Breen's petition to grant the rest of these men the pardon they deserve.
As far as the Turings are concerned, this can only be achieved if the other 49,000 homosexual men are pardoned. It's not just what we want as Alan's family but, without a doubt, it's what Alan would have wanted too.
To sign the petition go here: http://chn.ge/1FwMeI1
The many faces of Benedict Cumberbatch

Show all 12
Register for free to continue reading
Registration is a free and easy way to support our truly independent journalism
By registering, you will also enjoy limited access to Premium articles, exclusive newsletters, commenting, and virtual events with our leading journalists
Already have an account? sign in
Join our new commenting forum
Join thought-provoking conversations, follow other Independent readers and see their replies