Nadine Dorries, I'm a Celebrity, and why the Tory MP's vanity is an insult to everyone in Britain
Think of who she's insulted with this stupid escapade - from Parliament and party to the constituents who employ her. I hope they sack her, just like ITV's viewers did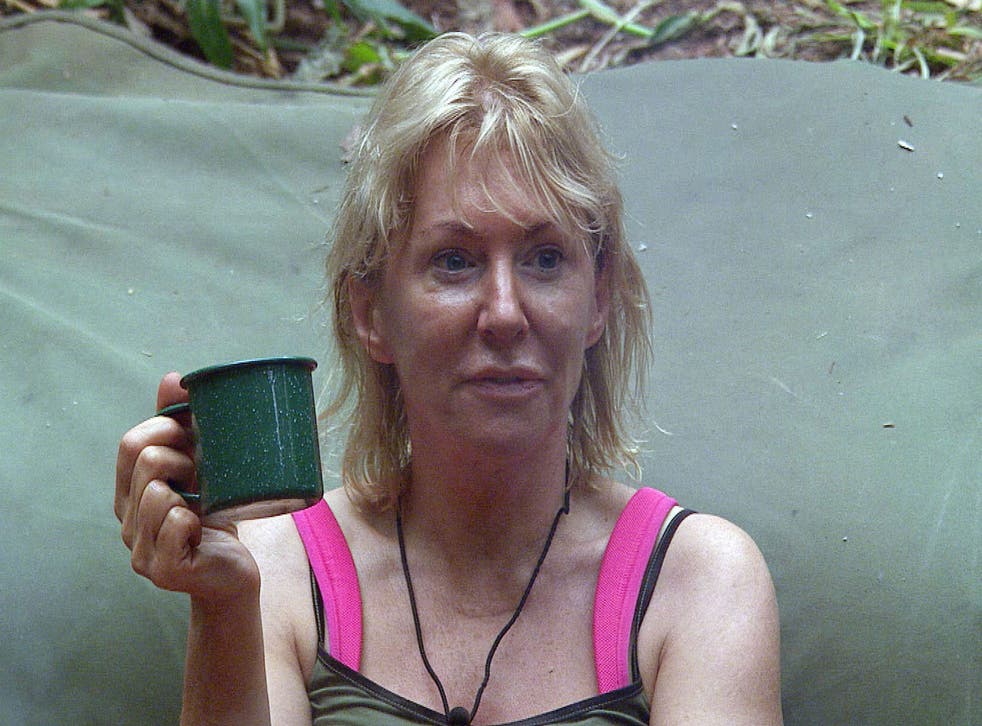 OK, let's be generous and fair to Nadine Dorries, the Conservative MP for mid-Bedfordshire who has become the first contestant to be voted out of the latest series of ITV's I'm a Celebrity, Get Me Out of Here! Let's hear her out.
When she took leave of her job to enter the Australian jungle and engage in such sport as eating ostrich arse, camel toe, and cattle bollocks, she argued that she wanted to engage directly with voters. I actually watched the episode in which she explained her case.
We MPs are constantly told we're out of touch with the public, she said. We're constantly told to go to where the voters are, she said, so what's wrong with coming out here – Australia – and speaking to them about issues I care about, such as abortion.
Let's also be generous and fair in recognising that she will give the salary she receives as an MP during her time on the show to charity. And let's grant that perhaps she did indeed discuss abortion with her fellow contestants, along with the finer points of Kierkegaard and Nietzsche, but ITV disgracefully edited those out.
And now let's examine the merit of her position.
At the very least, Nadine Dorries was spectacularly and stupidly naïve in thinking that the producers on ITV would give air to what, as it happens, are repulsive political views on range of topics, with abortion high on the list. She has – deservedly – been used as a tool in the pursuit of ratings. And just think about the people she has insulted with her atrociously vain escapade.
She has insulted her constituents – her employers – by telling them that their concerns can be put on hold for a month, if not more. I often feel like taking a month off work, but my bosses wouldn't allow it. Her bosses happen to have voted for her. What a slap in the face to them.
She has insulted the Prime Minister and fellow Tories, by taking leave of her duties to them. And above all, she has insulted everyone in Britain who cares for, or has a stake in, politics – which is to say, everyone in Britain. The logical implication of her position is that, because she can't engage with voters intellectually, with inspiring ideas and robust positions, she needs to eat kangaroo droppings, or whatever it is, to reach out to them. What does that say about her respect for politics? What does it say about her?
On leaving the show, she compounded her terrible error by saying banging on about how she grew up on a council estate, but it took a trip to the jungle to realise how self-important she previously was. Has this witless woman no shame at all? Where does her vanity end?
By bringing shame on parliament and injuring politics, Nadine Dorries has brought ineradicable shame and injury on herself. I hope her constituents follow the viewers of ITV by extracting the maximum possible from her, laughing in her face – and then sacking her at the earliest available opportunity.
Register for free to continue reading
Registration is a free and easy way to support our truly independent journalism
By registering, you will also enjoy limited access to Premium articles, exclusive newsletters, commenting, and virtual events with our leading journalists
Already have an account? sign in
Register for free to continue reading
Registration is a free and easy way to support our truly independent journalism
By registering, you will also enjoy limited access to Premium articles, exclusive newsletters, commenting, and virtual events with our leading journalists
Already have an account? sign in
Join our new commenting forum
Join thought-provoking conversations, follow other Independent readers and see their replies